Imagine a place where you can order Moroccan couscous with raisins to start off your dinner, followed by a spicy Korean taco and then an oversized French crepe with strawberries for dessert. You linger after your meal, making new friends, watching a rock band perform and sampling other people's dishes.

Then, at the end of the evening, an engine roars and the restaurant drives away.

Patrons enjoy lunch at gourmet food trucks congregated at the parking lot of the Crowne Plaza Hotel in Los Angeles, California
Patrons eat tacos from the Dow Chow truck at a food court on wheels in Los Angeles.

---

Paul Kreibich (from left), Allegra de Peralta and Rod Rozzelle, members of Mad Dogs and The Lady rock band, perform while patrons eat lunch at a food court on wheels in Los Angeles
India Jones Chow Truck owner Sumant Pardal heats a roti to make a Frankie. Photograph by Candice Yacono

A gourmet food truck trend that started in Los Angeles, California has spread through the United States. A combination of low overhead, devoted customers and room for creativity has allowed the trend, once mocked by many, to flourish into a viable business for thousands of entrepreneurs.

Food trucks have long been patronized by Americans seeking cheap lunch options—typically Mexican tacos or burritos. But in the last three years, a new crop of chefs have achieved fame and fortune serving delicious, healthy, gourmet meals at low prices to a diverse, often hip, clientele.

These mobile entrepreneurs use Twitter and Facebook to broadcast their schedules, as they cart their offerings from business offices to bowling alleys.

"Social media is the reason that the trend gained popularity this fast," chef and India Jones Chow Truck owner Sumant Pardal says. "We can give minute-by-minute updates on Twitter. Every time we go to a location, we send a tweet, and people are really interested in that tweet."

Gourmet food trucks got their start about three years ago when they parked in front of top Los Angeles bars and nightclubs, and customers began lining up for delicacies like Korean barbeque tacos.

When the first trucks' success skyrocketed, other would-be chefs quickly started buying up used food trucks and developing portable menu items that would appeal to the young people of Los Angeles, who grew up in a multicultural world where souvlaki and samosas are as familiar to them as hot dogs and French fries.

'Location, Location, Location'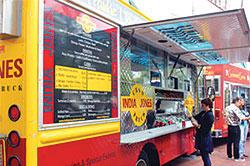 India Jones offers daily curry and naan specials. Photograph by Candice Yacono
For entrepreneurs like India Jones Chow Truck owner Sumant Pardal, the business of selling gourmet street food across a huge, densely populated tract of land means the opportunity to create many local customer bases, rather than being constrained by geography.
The grand majority of traditional restaurants, especially in sprawling metropolises like Los Angeles, rarely see customers from beyond a narrow geographic radius around their restaurant, unless they are one of the few to achieve "superstar" status. But even superstars see the value in food trucks.
"I've been in the restaurant business since I was 17, back in India," Pardal says. "I've owned many different restaurants in Los Angeles over the past 20 or so years. I started the truck in '09, and we were one of the first 15 trucks."
The name, India Jones, draws inspiration from fictional archaeologist Indiana Jones and the fact that Pardal is from India and his wife is from the U.S. state of Indiana.
India Jones' staple menu item is the Frankie, a roti wrap that is a major part of the street food scene in Mumbai.
Pardal's goal is to make the Frankie as much of a household word in the United States as hamburger. A Rajasthan native, Pardal says he grew up eating Frankies at a stand at the Churchgate railway station in Mumbai. "India is full of street food," he says. "There have been food truck operators in India for the last 40 to 45 years—even Chinese food trucks; they're just not as many or as sophisticated as [in America]. But Frankies have not been popularized here in the United States, yet." That said, his truck has been responsible for introducing the food to a new fan base. "Singlehandedly, we've made it so thousands and thousands of people walk up and say, 'Hey, let me have a Frankie,' " Pardal says. "We offer six different types, like chicken, shrimp, paneer and veggie."
But the term is so unfamiliar that many customers call Pardal "Frankie," assuming that the food is named after him.
In addition to cruising the streets, the India Jones truck makes frequent appearances in a parking lot across the street from Sony Studios, where motion picture cast and crew members line up during their lunch break for a samosa or mango lassi. Pardal purchased the lot and allows other trucks to sell their food there as well, he says. Pardal says business is going quite well for him. "The best part is location, location, location," he says. "We go…where the people are." —C.Y.

The queues of people waiting to try the food trucks' wares can sometimes be staggering: Dos Chinos, a Mexican Asian gourmet fusion food truck, frequently sees hundreds of patrons who stand in line for an hour or more, to try the truck's signature dishes.

French cuisine truck, Crepes Bonaparte, attained fame when it competed on a Food Network reality television show, "The Great Food Truck Race."

"It was an absolutely amazing and life-changing experience. We learned a lot through it," truck co-owner Danielle Garcia says. "I think food trucks are just something very fun and different. L.A. is very welcoming to new and different things. There are such diverse people here, and they like to be up on the latest trends. We believe that this trend has room to grow."

The food truck owners have formed a tight-knit community. In an otherwise abandoned empty lot in an industrial area with no traditional restaurant offerings, it's not uncommon to see two long rows of food trucks facing each other during lunch hour, while hundreds of people in business attire wander from truck to truck to peruse each vendor's menu.

At Los Angeles' Union Station, a monthly food truck event sees dozens of trucks parked around the historic building; local bands perform live music all day, and clothing and art vendors ply their trade as well.

The Next Best Thing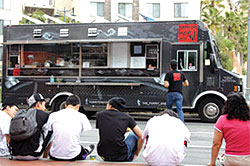 Local youths sit in front of the Yummy One truck. Photograph by Candice Yacono
Indian American entrepreneurs have been quick to pick up on the food truck trend. Currently, about six Indian food trucks roam the streets of Los Angeles. Some are operated by first-time restaurateurs. Others were created by well-established chefs. "People in L.A. are always looking for the 'next best thing,'" No Tomatoes! truck co-founder Kim Billingsley says. "The newest trend. The hottest style. They're very open to new ideas and concepts. Anything to save them time; Angelenos are very busy people. They don't like being told there is only one way to do something. They like options."
Southern California is a hotbed of fusion cuisine, which perfectly suits the No Tomatoes! truck. Started in October 2010 by Billingsley and Neeraj Patel, who both came from corporate environments, the Indian food truck has become very popular. "Neeraj always wanted to open a restaurant [or] bar and for several years had tried to find the perfect location at the right price, but was not having much luck," Billingsley says.
Then, last summer, she saw a Food Network show and had what she called an "a-ha moment." She called Patel and suggested they try out a food truck to see if they liked the food business. Patel sidelined the idea until Billingsley lost her job; they met the next day at a bar and created their business plan on a white bar napkin.
"Neeraj wanted to offer Indian food that isn't typically found in a restaurant, but that is representative of the food eaten on the streets of [Mumbai]. Then we added our own twist to make it more appealing to Angelenos," Billingsley says. They offer Indian burgers, a top seller, and other fusion dishes in addition to the more traditional offerings.
"Most of our customers haven't eaten at a food truck before, or they've had a very limited experience with Indian food," Billingsley says. "It's...fun to watch their expressions and hear their feedback once they've tasted our food. The majority of people, even those that have dabbled in Indian food before, have a perception that it's only curry and it's too spicy…" she adds. "We often encourage people to try a sample, and if they don't like it, no harm, no foul, but if they do like it their surprise is priceless. It's so amazing to watch someone's face light up when they smell the spice and get the sweet flavors on their tongue, and they love it! The best is when they go and get their friends or family to come and taste, when just a short while before they wanted to just pass by our truck—that's very rewarding!" —C.Y.

Truck operators must obtain permits for every city they work in. Although Los Angeles residents love the trucks, some traditional restaurants have fought bitterly to keep them from parking on the street in front of them, particularly in popular areas like Miracle Mile.

Some business owners have gone so far as to buy old cars and park them in front of their restaurants, in order to keep the food trucks out; they say they will gladly pay any parking tickets, as long as it keeps their competition down the street.

But despite these setbacks, the excitement shows no sign of stopping, or even of slowing down. "I think, when all is said and done, it's such a growing trend," Pardal says. "People wondered how long it would last at first, but now it's spreading all over [America]."
—Courtesy SPAN