Deep ties with India is what keeps Barjinder Sodhi attached to his roots. Mr Sodhi's rise to his current stature as one of the leading diaspora figures in Germany is a tribute to his virtually ceaseless work in furthering India-Germany bilateral relations. Born in the bustling northern Indian town of Amritsar, Punjab, Mr Sodhi went to school and college in the same town, going on to acquire a Master's degree in Economics from GNDU University, Amritsar.

It was in 1984 that he left India to pursue higher studies in Germany. He got into the hospitality sector in 1994 and acquired German citizenship in 1997. Today his thriving hospitality business comprises three restaurants, a catering company and an apartment hotel. It is a measure of his standing in the industry that Germany's Hotel and Gaststätten Verband has authorised him to teach or give training to students for a three-year degree course in hospitality management.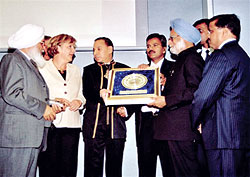 Mr Barjinder Sodhi, GOPIO Berlin Chapter President (centre), honours Indian Prime Minister Dr Manmohan Singh in the presence of German Chancellor Dr Angela Merkel (second from left) during a business conference on the sidelines of the world famous Hannover Technology Fair in Germany in 2006. India was the Partner Country at the fair
---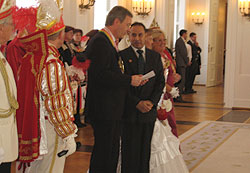 Following an invitation, Mr Sodhi briefs German President Mr Christian Wulff inside the President's House about the activities of the Indian commuity as well as the Berlin Chapter of GOPIO
---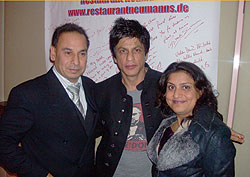 Mr. and Mrs. Sodhi with Shah Rukh Khan. During the production phase of Don 2 (Oct-Nov, 2010), Mr Sodhi catered to and cooperated with 60 people on the unit, including other actors like Priyanka Chopra, Hrithik Roshan, Lara Dutta, Boman Irani, Om Puri and Farhan Akhtar

Despite his busy workload, Mr Sodhi has never shied away from contributing to Indian-German cultural activities in Berlin. He has been working since 2001 on improving relations between the two countries across a wide range of sectors.

In January 2003 then Indian Prime Minister Mr Atal Bihari Vajpayee invited him to his New Delhi residence to congratulate Mr Sodhi for his contributions to furthering Indian-German relations. Two months later, Mr Sodhi welcomed Mr Jagmohan, then Minister of Tourism and Culture, along with the Mayor of Berlin during the International Tourism Festival.

In 2005 Mr Sodhi became GOPIO President as well as a trustee of the Indian Film Institute. As a sign of his arrival as a major NRI office bearer, then German Chancellor Dr Helmut Kohl invited Mr Sodhi on his birthday. In September at the Indo-German Business Summit, Mr Sodhi was invited to a meeting attended by Indian PM Dr Manmohan Singh along with Chancellor Dr Angela Merkel. Mr Sodhi presented Dr Singh with a plaque on behalf of the Indian community.

On the request of the Indian Embassy in Berlin Mr Sodhi organised a cultural programme by hosting a group of Bollywood stars, including Ms Ila Arun. Mr Sodhi hosted a group of 25 members from India for three days. In 2006 on the request of the Embassy, he hosted a group of Punjabi bhangra performers and a Bollywood team and organised a programme, inviting more than 700 German nationals.

Mr Sodhi, in association with Semmelmans Event Management, organised a spectacular Bollywood show. The choreographer was the famous Miss Vaibhavi Merchant and Salim-Javed. In September 2007 Mr Sodhi helped organise the Miss Bollywood show with stars that included Ms Shilpa Shetty and Dinesh Hegde.

The importance of these shows cannot be overstressed. By hosting regular cultural pageants Mr Sodhi has sparked a huge interest in Germany for India. It has caused a huge interest in "Indien" culture among Germans.

The German Government has recognised Mr Sodhi's work by honouring him and bestowing on him the title of "Ambassador of India". German MPs, ministers and officers seek Mr Sodhi's advice and resources to improve relations between India and Germany. President and first Lady, Mrs and Mrs Johannes Rao, have discussed bilateral relations with him.

In September 2007 Mr Sodhi, on behalf of GOPIO, hosted a dinner at his restaurant Neumanns in Berlin for a high-powered business delegation from India. The delegation comprised 30 top business dignitaries who were accompanying Mr P. Chidambaram, the then Finance Minister and presently India's Home Minister. Among the delegates were Mr K.K. Modi, Chairman of FICCI, Mr Saroj Podar, Mr Sunil Bharati Mittal and Mr Khorakiwala.

In 2008 GOPIO marshalled 400 supporters of all races, who marched through Leipzig and raised their voice against violence on Indians by giving flowers to Minister of State in PM House Dr Maria Böhmer. Justice came quickly: a fast track court was appointed and the culprits were jailed for eight months. Later Dr Böhmer invited Mr Sodhi at Adenauer House and thanked him for his efforts in helping the Government take immediate action.

Mr Sodhi is proud of the fact that Sri Sri Ravi Shankar of the Art of Living Foundation celebrated his 50th birthday in his house. Mr Sodhi invited German Defence Minister Mr Volker Ruhe and MPs from all parties in Germany. When the Art of Living Foundation organised the World Culture Festival in Berlin in July 2011, Mr Sodhi was deeply involved in the project. He helped the Foundation by planning, organising and arranging a grand welcome for Sri Sri Ravi Shankar by German MPs. He and his team also served Indian vegetarian Yogi Food to more than 10,000 participants during the Yoga Festival.

When senior BJP leader Mr Nitin Gadkari visited Berlin, he assured Mr Sodhi of his full support to GOPIO for its stand against corruption in India.

Indeed, whether in India, in Germany or anywhere in the world, his list of NGO activities is long. Mr Sodhi is also a Gold Member of GOPIO International and has got many awards in different fields.