At a time when most are busy planning their retirement, Indian Foreign Service (IFS) officer, Paras Shahdadpuri embarked on an entrepreneurial journey. The year was 1988 and the place was Dubai. Shahdadpuri set up a commodities trading business, which he later expanded to importing and distributing home appliances. In less than a decade, he established his own brand of consumer durables under the name Nikai. By early 2000, the Nikai Group had established itself as a global company with operations in 60 countries and business interests in general trading, electronics and appliances, retail foods and information technology.
"Whether it is diplomacy or a business, there are some basic elements that define success. Sound fundamentals, strength of conviction, good analytical skills, deep passion and an unsurpassed commitment to what you do. If you have these, you can reach for the skies," says Shahdadpuri. His successful consumer durables products, which gave tough competition to the Japanese and Korean brands, earned him the sobriquet of, "Mr. Reliable".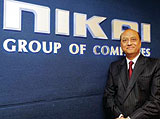 It wasn't an easy journey for Shahdadpuri. He was a foreigner in an alien country. There were challenges ranging from cultural differences to regulations that are usually skewed in favor of the locals. And while his experience as a diplomat made him comfortable dealing with people from a variety of cultures, he adds that there are certain qualities that make Indians successful. "Indian entrepreneurs succeed because they have tremendous skill, forbearance and perseverance. We are smart people who do not shy away from working hard," he says.
Even though he is living miles away from his country, Shahdadpuri is clued into every development in India. "Every day there is an itch in our head and mind to establish and grow in India. The country is booming and there is a huge market. For the next 50 years, India will be the world country," says Shahdadpuri. Even in the consumer electronic space that he operates in, he sees India growing faster than any other country in the world, as the unmet demand is huge and will expand over time. He believes that for India to grow rapidly and in an inclusive manner, it is important that the manufacturing and agriculture sectors grow.
To finance the growth and meet India's investment needs, the NRI/PIO community can be the ideal source. "The Government needs to make the process very smooth and have a single window system. And then you'll see investments trickle in very rapidly. It is the country to be in. Had Indian economy been liberalized in the mid-eighties, I wouldn't have moved out," he signs off.
—Powered by OIFC