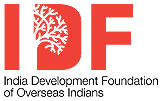 The IDF-OI has successfully interacted with the global Indian community at the Pravasi Bharatiya Divas 2012 and 2013. The online platform of IDF-OI (www.idfoi.org) was launched by Hon'ble Prime Minister during PBD 2012 in the presence of almost 1,500 non-resident Indians and persons of Indian origin from across 54 countries.
The India Development Foundation of Overseas Indians (IDF-OI) under the auspices of the Ministry of Overseas Indian Affairs is a not-for-profit trust to serve as a credible window to facilitate overseas Indian philanthropic propensities into human development efforts in India. The Foundation enables members of the overseas Indian community to contribute to the cause of education, health and rural development in their erstwhile home villages, districts or states. It partners credible NGOs and philanthropic organizations actively engaged in social development, thus providing a strong public-private partnership bridge between the philanthropists and their target beneficiaries.
The IDF-OI has a two-tiered structure comprising the Board of Governors and the Executive Directorate. The Foundation is chaired by the Hon'ble Minister of MOIA. Of the 8 board members, four each would be represented by eminent Indians and distinguished overseas Indians. The Executive Directorate led by a full time CEO works towards realizing the objectives of the Foundation.
BOARD OF TRUSTEES
Eminent Indians
• Ms. Shobhana Bhartia
• Mr. TP Sreenivasan
• Dr. Prathap C Reddy
• Mr. KMI Mather

Eminent Overseas Indians
• Dr. Narendra Kumar (US)
• Mr. CK Menon (Gulf)
• Mr. Anand Satyanand (NZ)
• Mr. MA Yousuf Ali (Gulf)

The main benefits that the Overseas Community can avail from IDF-OI are as follows:
Overseas Indians will not have to file for FCRA as IDF-OI is exempt from the provisions of the Foreign Contributions Regulation Act (FCRA) under Section 31 of the Act.
Every rupee of donor contribution will go towards the specific project/cause. The trust will not charge any administrative/execution cost from contributions.
IDF-OI will facilitate transfer of funds either directly to the NGO/ project/ cause of choice located within India or route it through IDF-OI to projects in specific areas of interest. The Trust provides flexibility of cause, geography and the manner of engagement.
IDF-OI encourages retail contributions. So, the majority of 'middle class' donors will have a credible, FCRA exempt avenue to engage in philanthropy.
Focus areas
The immediate intervention areas for IDF are:
I. Healthcare
II. Education
III. Empowerment of Women
IV. Sustainable Livelihood with special focus on water and energy

Current Status
Country presence: IDF-OI will have a local presence in countries with a significant overseas Indian population, viz. the USA, Canada, the UK, Germany, Australia and in the GCC States.

Backend partnerships
IDF-OI has identified the states of Bihar, Rajasthan, Gujarat, Punjab, West Bengal, Kerala, Karnataka, Andhra Pradesh and Tamil Nadu for working closely with the State Governments and local level institutions for interventions in the areas of education, healthcare, women empowerment and sustainable livelihoods especially solar energy and water.
The Foundation is in the process of short listing recognized and credible international, national and state-level organizations with an established track record of implementing philanthropic projects in Health Care, Education, Self Help Groups for women and sustainable livelihood. Since projects will be implemented by partner institutions, independent evaluation and feedback will be undertaken by IDF-OI to ensure transparency and performance.
The foundation will subject all the philanthropic activities to International Accounting Standards on the one hand and through objective criteria, 'Credibility Assessment Framework', encourage credible philanthropic partnerships while eschewing the less credible organizations in India. This will ensure accountability, protect the overseas Indian philanthropists from dubious organizations currently in play, provide accurate information on 'good practice' projects and ensure proper utilization of funds and achieving targeted outcomes in their philanthropy.
Backgrounder
Diaspora philanthropy is not a new phenomenon. Overseas Indians have responded to India's development needs too, as catalysts, by connecting with and contributing to initiatives in the social development sectors. Their contributions come in the form of philanthropic capital; time, effort and knowledge; contribution to civil society and direct participation in projects in the social sector including education, health care, women empowerment and rural development.
Till date, however, the overseas Indian community's philanthropy in India has been characterized by systemic constraints which have hindered its growth. These constraints need to be addressed through an appropriate institutional arrangement to enable overseas Indians to fully engage in philanthropy as well as maximize its benefits. The barriers to this important area of engagement currently are that:
a) Diaspora Philanthropy has been sporadic with a few groups or individuals participating, primarily through individual networks such as alumni groups, family trusts and faith based associations, rather than through a sustainable, credible and accountable institutional arrangement. As a result, the philanthropic capital flow has been far short of the potential that the community holds.
b) The flow of philanthropic capital has been fragmented and dispersed across several social causes and geographies with less than optimal outcomes. Often these flows have not converged with need-based social sector development priorities thus falling well short of attaining critical mass in making a visible impact in transforming the lives of those most in need of help—the poor and the disentitled.
c) The absence of a credible single window that can lead philanthropic capital into need based social sectors has resulted in a mushrooming of several small 'less than credible' private institutions and 'causes' with poor accountability seeking Diaspora philanthropy. This can and has, in some instances, eroded the confidence of the overseas Indian in engaging more proactively in philanthropy in India.
d) The larger or wealthier overseas Indian philanthropic organizations or individuals are able to overcome the several hurdles, the considerable delays and the bureaucratic red-tape that affects philanthropic activities and institutions in India. The vast majority of the overseas Indian middle class, however, despite strong philanthropic propensities and the ability to individually commit smaller resources, which taken as a group can be considerable, find it difficult to fulfill the cumbersome regulatory compliance requirements and often choose not to participate. As a consequence the large overseas Indian middle class remains outside this area of engagement.

To address these systemic constraints through an institutional arrangement, the Ministry of Overseas Indian Affairs set up IDF-OI.