DEWANI TO BE EXTRADITED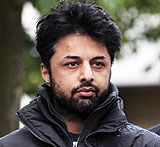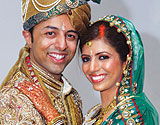 Shrien Dewani Shrien Dewani and Anni Dewani
NRI businessman Shrien Dewani, accused of plotting the murder of his Indian-origin wife during their honeymoon in 2010, will be extradited from Britain to South Africa to face justice, a UK court has ruled.
A judge at Westminster Magistrates' Court here decided that it would not be "unjust or oppressive" to extradite the 33-year-old, accused of plotting to kill his Swedish-born Indian wife in South Africa in November 2010.
Anni, 31, was shot when a taxi in which the couple were travelling was hijacked in the Gugulethu township near Cape Town while the couple were on their honeymoon. She was found dead in the back of the abandoned vehicle.
A spokesperson for the Dewani family said the defence team would review the judgment and lodge an appeal, during which time he would remain in the UK. "Shrien Dewani remains unfit to be extradited or to face trial," said the spokesperson.
The Bristol-based businessman, who denies any involvement in his wife's murder, was seeking to delay his extradition on account of his mental health. He had been excused from appearing in court, having been diagnosed with post-traumatic stress disorder and has been receiving treatment.
"It is not in question that Shrien Dewani will be returned to South Africa. The treating clinicians continue to state that Dewani will recover," said District Judge Howard Riddle in his ruling.
"It may be a long time before Mr Dewani is fit to plead, but he may be closer to that point," he added.
---
HANS HONOURED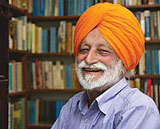 Professor Surjit Hans
Surjit Hans, an 82-year-old Indian professor who translated all works of William Shakespeare into Punjabi, has been honoured with a bust of the 18th century Bard of Avon at Ealing Mayor's parlour in the U.K.
Ealing Mayor Kamaljit S Dhindsa and deputy leader of the Labour Party of Ealing Council Ranjit Dheer presented the bust to Hans in appreciation of his works including translation of 38 plays of Shakespeare.
Hans who taught history at Amritsar's Guru Nanak Dev University says he is currently translating Charles Darwin's 'The Origin of Species' into Punjabi.
---
PRINCE FUNDING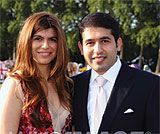 Cyrus and Priya Vandrevala
An Indian billionaire couple in the UK are planning a mega birthday bash for Prince Charles when he turns 65 in November. The London-based entrepreneur-philanthropists Cyrus and Priya Vandrevala will splash out hundreds of thousands of pounds on a concert by the Philharmonia Orchestra as part of a champagne reception and dinner at Buckingham Palace in honour of the heir to Britain's throne. A palace spokesperson confirmed the event would be take place on November 21, a week after the Prince of Wales' birthday on November 14. Cyrus is a private equity investor and his wife, Priya, is founder and chairman of the Hirco Group.