EMPIRE BUILDER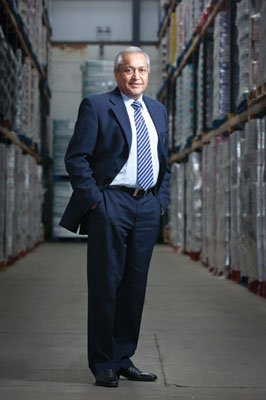 Dr Rami Ranger: Doing India Proud in London
Dr Rami Ranger, MBE is a British Indian businessman who has set an outstanding record that will be difficult to emulate. In the capacity of Chairman, Sun Mark Ltd., he has been conferred the Queens Award for Enterprise for five years in a row. No other firm in Britain has ever achieved this, let alone a firm owned by an NRI. Overall, the honours and recognition by the Queen that he's received number 7. Over the past nearly one decade his firm has grown in double digits, which taking into account recession in Europe and Britain, is highly commendable. The company today markets a variety of products in over 110 countries. More recently, he has been recognized as the Director of the Year (2012) by the Institute of Directors, U.K. It is a prestigious professional recognition by fellow directors in Britain. Considering that he started out from a shed with two pounds as capital his achievements are quite staggering. In an exclusive interview with India Empire's Editor Sayantan Chakravarty, Dr Ranger speaks on his success, his values, his abiding love for India, and the greatest influencers of his life
You have been an outstanding business ambassador for India in the U.K. While we often hear of the Mittals and Hindujas, the contributions of businessman such as yourself who've risen the hard way are often overlooked. Your views…
Firstly I am an admirer of both the Mittals and the Hindujas and the way they have grown their business empires is a matter of great pride and inspiration not just for me but for every Indian as well. My own story is very different as my background and circumstances were worlds apart from theirs. I was a posthumous child and born shortly before the partition of India. My father was killed while trying to fight against the division of Mother India on the basis of religion. He believed that we were Indians first and should followed our religion second. My first home was a refugee camp and my mother brought me and my seven older siblings up through great hardships but she instilled the right values in us which to this day are the bedrock of my success. I came to the UK to study law but was unable to afford the fees and slowly worked my way up through large British companies until eventually I decided to go it alone and started my business from a shed with just £2 of capital. As I had the right values I always worked hard to ensure that If my customer was successful then I too would be successful. It was through this single-minded approach to customer satisfaction that no matter what I did in business I was able to make it a great success. I am not necessarily in agreement that businessmen such as myself are overlooked as there are many bodies using our examples to inspire people from less privileged backgrounds to have hope for the future. In fact, I was invited by the Princes Trust, the charity of Prince Charles the Prince of Wales, to become a Fellow and to work with the underprivileged youth in Britain to show them that one does not need to be from a privileged background or have great wealth or even a great education to succeed; just the right attitude, values and hard work can make us all successful. I feel the more we can highlight this approach the more success stories we will have.
---
"It is a very proud moment when you open the letter from Her Majesty's office which tells you that you have been conferred this greatest of honours"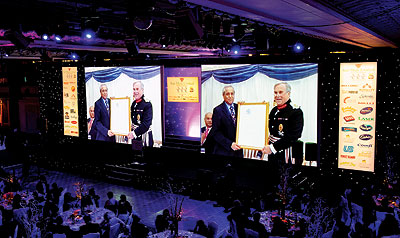 Her Majesty's special representative The Lord Lieutenant of Greater London Sir David Brewer CMG, JP, presenting a third Queen's Award for Enterprise in International Trade to Dr. Rami Ranger MBE, FRSA Chairman, Sun Mark Ltd.

| | |
| --- | --- |
| | |
| Dr Rami Ranger MBE being greeted by Her Majesty the Queen at Buckingham Palace | Dr Rami Ranger presenting the Queen's Award cufflinks to British Prime Minister David Cameron |
---
Please tell us about your awards and recognition in chronological order…
I have been fortunate enough to have been recognised on many occasions and by numerous bodies which is greatly a humbling experience. My own community has honoured me several times for my business, charitable and social work. On the business front my proudest moment was winning an unprecedented 5th consecutive Queens Awards for Enterprise, a feat which no other company in Britain has ever achieved and I dare say this accolade may never be equalled. On a personal and professional level I was honoured to be named the Director of the Year for a Large Company in London and South East region by the Institute of Director which is arguably the most prestigious professional recognition by fellow directors. I am also involved in social and political reform in the UK and have been recognised by her Majesty the Queen for my work when in 2005 she conferred me with an MBE and made me a Member of the most excellent order of the British Empire for my services to both business and community service. I have been honoured many times by various bodies and organisations. I have received honours from Her Majesty the Queen on 7 occasions. It is a humbling experience for me as not too long ago I had nothing.
How do the Queen's awards work? Please walk us through the selection process?
The Queens Awards are the most prestigious business awards in the country and as a result the selection procedure is very rigorous. We are initially invited to make an application which includes our business strategy, financial standing, performance, corporate and social responsibility and other factors which make one's company the best amongst the rest. The Queens Awards office also conduct their own due diligence to the highest standard and also come to meet you to understand at close hand what it is that makes your business different to others and worthy of being able to bear the Queens Award logo. It is a very proud moment when you open the letter from Her Majesty's office which tells you that you have been conferred this greatest of honours.
---
| | |
| --- | --- |
| | Dr Rami Ranger receiving an honour from Minister Vayalar Ravi and Senorita Isaac at Le Meridien, New Delhi |
---
Please tell us about your business. How did you build on it, and expand it globally?
Business is a game of people, staff, suppliers and customers working in harmony. If we can all work together, then success will follow. Our motto is, "we only succeed when our customers succeed". As a result, we work for the success of our customers which in turns becomes our own success. We are now marketing our products in 110 countries with staggering results and business is still growing in double figures.

You seem to have been born to become an entrepreneur. How important is it to find the entrepreneur in oneself? Is it a road to self discovery?
We are all special and gifted by Almighty to achieve great things in life. All we have to do is to try our instincts. If we do nothing then we also achieve nothing. In other words, "efforts are in our hands and the rewards are in the hands of God"

You have dearly loved your father whom you never saw. You've founded the Shaheed Nanak Singh Foundation whose functions have been attended by many meritorious persons in India and overseas. What is the essence of your father's message that you are trying to project before the world?
My father was a great man and a visionary. He could foretell the consequences of religious disharmony. He believed in a united India where we would collectively make our destiny. He was fiercely against India's partition and advocated that all should consider themselves to be first and foremost Indians and then could follow any religion for peace of mind.
He warned the then Muslim leaders not to cut and run. They were united for the wrong cause and once the cause was not there to unite them, they will turn on each other. A mother land cannot be divided without dire consequences for all concerned. We can see what is happening in Pakistan now. Unfortunately, he was assassinated by separatist fanatics whilst trying to save the lives of 600 students of DAV School, Multan who had become caught up in religious riots. The students were saved but my father lost his own life at the young age of 42 and was hailed a martyr. His actions were for the sake of Hindu-Muslim unity in India. Inheriting the principles of my father, I constantly put efforts for the unity of India. I feel his message is as important for India today as the day he fell. My mission is to carry his message of unity and harmony in India so that we remain a united and credible force in the world. Together we stand and divided we will fall.

Please tell us a little about your background. You are a first generation immigrant from India, aren't you?
Whatever I am today it is due to my mother. It was Gandhiji who said, "A mother would never by choice sleep in a wet bed but she would gladly do so in order to spare the dry bed for her child", and this selfless image sums up my mother. We may not have had money but we had a remarkable mother who brought us up through immense difficulties. It was her love and sense of solidarity which helped me through the hard times both in India and as a first generation Indian immigrant in Britain, in the 1970's which was far less cosmopolitan and a lot less friendly than it is today.
We were a struggling community and had to work twice as hard as the locals to succeed. Though we had come from a poor country we had a rich philosophy, hence our success against all odds.

Why is the diaspora story important for India?
Every Indian abroad is an ambassador for India with their values. No mother can remain strong by losing her children. I am glad to say that in the main, NRIs have been a source of pride for India and are considered responsible citizens in their adopted countries. As our influence is growing in the world, so is that of India as after all we are Indians and champion the cause for India whilst remaining loyal to our adopted countries.
Like Lord Krishna, we feel we too have two mothers. One from where we originate and the other where we now live and work.
We are products of secular India where equality is enshrined for all, irrespective of race, religion and gender in the constitution. As a result, we do not use religion to surge ahead. Instead, we use merit and we have become wealth generators, home owners and assets for our adopted countries rather than liabilities and fly the flag for India all over the world. Besides, one can take an Indian out of India but cannot take India out of an Indian.
What is your expectation from your engagements with India, apart from your family engagements? Kindly give me a couple of lines on which to lead on this.
We Indians cannot enjoy respect in the world unless India is strong and prosperous. I wish to advocate to Indian leaders to put the interests of India above else. We are all temporary in this world but we should try and leave a permanent legacy like Mahatma Gandhi, Bhagat Singh and Subhas Chander Bose did.

Which person has shaped your world view, and given a chance who would you not miss out having lunch with, and why? Please advise on this? Gandhi or someone else?
The biggest influence on my life has been Mahatma Gandhi Ji and Guru Gobind Singh Ji. They changed India for ever.
Guru Gobind Singh Ji for religious freedom in India and paid supreme sacrifices for human liberation and freedom.
Gandhi Ji showed us a non violent way to achieve objective. He knew is that if people become violent to achieve their objectives, then they would remain violent even after their achieved their objective. He not only brought change in India but also in the world. If it wasn't for Gandhi Ji, there would be no Dr Martin Luther King, Nelson Mandela or Barak Obama.