Some stories are magical. We have tracked the growth of Dr Rami Ranger for several years now, and we find his entrepreneurial journey has been nothing less than extraordinary and staggering. For a man who emigrated to the U.K. about four decades ago and started a business many years later with a capital of two pounds, his story is both awe-inspiring and rare. You may even have to pinch yourself to believe that here is an Indian who started out inside a shed, and today is chairman of a firm—Sun Mark Ltd.—that has received the Queen's Award for Enterprise for a fifth year in a row. No other British firm, including NRI-owned one in Britain, has this kind of an impressive track record (not even of winning four years in a row).
British Business and Energy Minister the Rt. Hon. Michael Fallon MP has said that "the Queen's Awards for Enterprise are one of the most internationally-recognized and sought after awards that a U.K. business can achieve. They give companies prestige, an edge overseas and a well-deserved boost." Sun Mark that incepted in 1995 distributes famous supermarket products to over 110 countries. The company represents top international brands like Unilever, Nestle, Heinz, Premier, Fox's, Burton, PepsiCo and Kraft among others.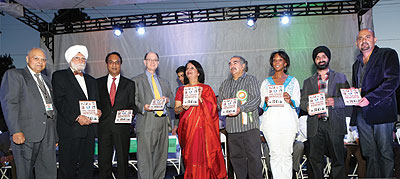 India's ambassador to the USA, H.E. Nirupama Rao, releases The Gadar Heroics authored jointly by GOPIO Chairman, Mr Inder Singh and India Empire's Sayantan Chakravarty in Los Angeles in August 2013
More recently, Dr Ranger has been recognized as the Director of the Year (2012) for a Large Company in London and South East region by the Institute of Directors, U.K. It is a prestigious professional recognition by fellow directors in Britain.
Dr Ranger is involved with social and political platforms in the U.K. and with charity. He has set up the Shaheed Nanak Singh Foundation in the name of his father, whom he never saw. He was in his mother's womb when his father was assassinated by separatist fanatics while trying to save the lives of 600 students of DAV School, Multan. The year was 1947, and India was in the throes of a painful partition. The foundation works with various sectors in India, including the armed forces, for improving lives.
Talking of U.K. and Indians, another extraordinary piece of news that has emerged is that Prince Charles' 65th birthday party will be hosted at the Buckingham Palace by a London-based Indian billionaire couple. Entrepreneur-philanthropists Cyrus and Priya Vandrevala will splash out thousands of pounds on a concert by the Philharmonic Orchestra as part of a champagne reception. To think that Indians would one day fund the birthday of the heir to the British crown is quite fascinating and incredible.
Staying with entrepreneurs, we've an interview with the Washington-based founder of I-Create, Mr Harsh Bhargava. The not-for-profit creates entrepreneurs and spots talents mostly from India's less privileged classes. The work is noble since it is about empowering the individual to become independent. Even someone of the caliber of former President APJ Abdul Kalam has noticed the power of I Create. He has said, "Entrepreneurship incubation institutions need to be developed all over India and the developing world." President Kalam lauded I Create's programme publicly and quoted the example of one of I Create entrepreneurs, Abdus Samad. He was a poor man from a village who, following on his I Create training, started a seed farm business 6 years ago. His business volume is Rs 10 crore today and 450 families earn livelihoods from his enterprise.
Let's salute our entrepreneurs. Happy reading.