MAESTRO LIVES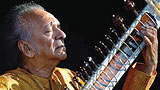 Pandit Ravi Shankar
Indian music legend Pandit Ravi Shankar has been named a Lifetime Achievement Grammy Award recipient, a day after his death at 92 in a US hospital. The sitar maestro will be honoured along with six other artists at an invitation-only ceremony in Los Angeles Feb 9, just one day before the 55th annual Grammy Awards are to be telecast live from the Staples Centre in Los Angeles.
Ravi Shankar last week was named as one of the Grammy nominees for Best World Music Album. It is a category in which his daughter, sitar virtuoso Anoushka, 31, is also nominated, marking what appears to be the first time that a father and daughter's albums will be competing for the same honour at the Grammys.
---
MALAYSIA VISIT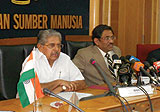 Minister Ravi with Datuk Subramaniam
Shri Vayalar Ravi, Minister for Overseas Indian Affairs had a very fruitful meeting with the Malayasian Human Resources Minister Datuk Seri Dr. S. Subramaniam in Kuala Lumpur.
Shri Ravi and Dr. Subramaniam had detailed discussion on various measures taken with regard to illegal workers under the 6P programme, and other issues concerning the Indian community. They have also agreed to have further discussions on social security scheme for Indian overseas workers. The Malayasian Government has reiterated their cooperation and support to strengthen the relations between both the countries.
---
INDIAN BALL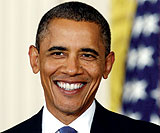 READYING FOR THE SWEARING-IN
An Indian-American inaugural ball to rejoice the re-election of Obama would be held in Washington two days prior to his oath taking as the President.
"Join the world's oldest and largest democracies in congratulating President Barack Obama as he is sworn in to his second term as President of the United States. Leaders from the 3-million-strong Indian American community, compatriots from India and American well-wishers will celebrate the combined achievements of the two nations and cultures," organisers of this 2013 Inaugural Ball have announced.
The party, which has been named 'Indiaspora Ball' will be attended by members of the Indian American community.
---
BATTLE LINES

An NRI from Britain is engaged in a tug-of-war with the Andhra Bank, alleging that the bank has attempted to shut down his business and dispose of his residence and prime office premises in the name of unpaid dues.
Hirji K. Patel has moved the Debt Recovery Tribunal (DRT) seeking relief from what he claims "unlawful NPA account (non-performing assets) declared by Andhra Bank," and release of his prime properties in Andheri and Malad suburbs.
When contacted, Andhra Bank deputy general manager (Mumbai) B.V.S.N. Murthy denied any fault on the part of the public sector bank.
---
DIVIDED WE DIE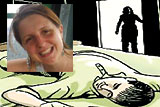 Dr Emma Wrighton
An inquest on Monday confirmed that an Indian doctor working at a Swansea hospital in Wales committed suicide because his parents objected to his desire to marry a British woman. A spokesman for South Wales police told TOI: "The incident occurred in April 201 and the inquest hearing took place last week."
Dr Madhu Honnaiah, 33, from Bangalore, who is an anaesthetist, injected himself with two drugs used in surgery after being compelled to part with his fiancee Dr Emma Wrighton, 32.
The coroner was told the heartbroken doctor killed himself after his parents objected to 'cultural differences' between the pair.
---
PRAYERS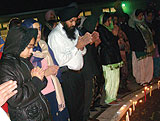 Sikh Religious Society (SRS) of Palatine Illinois held a Neighborhood Community Interfaith Candle Light Vigil and prayers on December 19, to honor the 20 first grade children and 6 adults killed at Sandy Hook Elementary School in Newtown Connecticut on December 14.
The vigil was arranged to share the grief and in conjunction with funerals of the child victims that had begun to take place in Newtown CT that week.
The terrible tragedy took place when a 20 year old Adam Lanza forced his way into the elementary school with his assault weapons and started shooting to kill children and teachers.
---
INDIA WAS ONE

India Was One was submitted to be considered for inclusion in ALL the School Libraries across America (over 26,000). There were 15,000 books submitted, and after passing through all the rounds, India Was One entered the final round."AABV is so proud of how far your book got in the process," said a spokesperson from American Authors Book Vending (who submitted the book).India Was One is a work of fiction interwoven with real events, thus labeled a realistic-fiction. Each chapter of the book begins with an artwork, giving us vignettes of the characters' lives in Mumbai and later in the US.
---
TIWARI ELECTED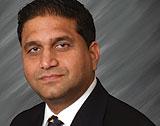 Mr Rajiv Tiwari

Rajiv Tiwari, an architect based out of New Jersey, has been elected to two major global professional associations. They are the APICSs where he is now on the board as a director.  He is also been elected as a vice president to the Institute of Management Consultant.
Mr Tiwari's skills include those of merging business processes and supply chains with technology. He is an architect practising for the last 17 years. Son of an Indian Railway Service officer, he grew up in New Delhi of which he has many fond memories. "My basic degree and education in India has helped me reached where I am today," he told India Empire.