The WOHAA programme runs as a national schools competition that sees secondary and sixth form students design and create innovative fund-raising programmes in order to support poor and underprivileged children with a free education through a school project in Chennai. The Awards offer a unique path for maintaining a healthy and happy relationship between Britain and India, in-keeping with the Commonwealth partnership, by raising awareness of the poverty and lack of education faced by many in India amongst the next generation of UK policy-makers. After joining in celebration of the Queen's Diamond Jubilee last year, the synergy between India and the UK is being felt more strongly than ever by the charity, with over 1,180 U.K. students already signed up to fundraise this year.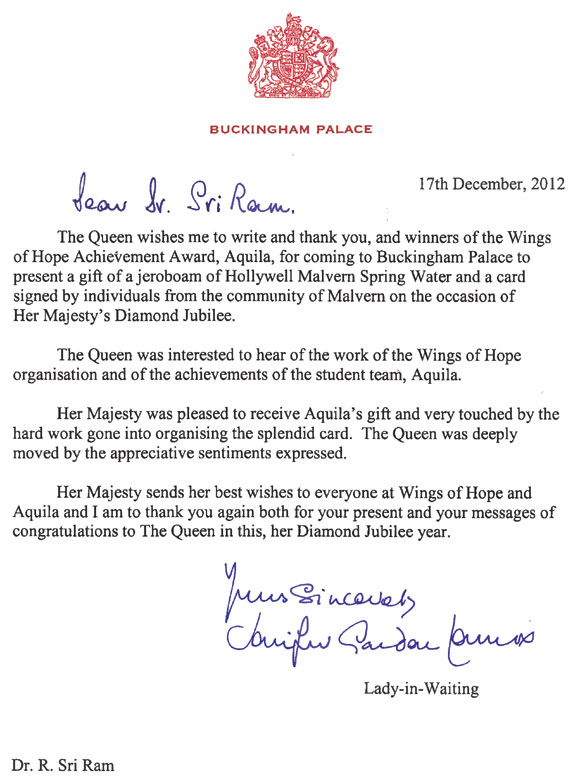 Participants in this year's competition will be offered a fantastic set of opportunities, as Wings of Hope seeks to reward them for their charitable work. As the students set about securing sponsorship, organising events, setting up mini-businesses and raising awareness via social media campaigns, they all keep in mind the prizes that are on offer to them—work experience positions with top UK employers and an all-expenses paid trip to India to visit the school in Chennai that has so benefited from their hard work and dedicated fundraising. Co-Founder of Wings of Hope Dr. Sri Ram believes that "the trip is not only a once-in-a-lifetime opportunity for our winners, who deserve an unforgettable experience after their amazing fundraising efforts, but a climactic way of bringing together two very different sets of students to learn about one another's cultures and day to day lives." The competing teams are also offered the chance to attend corporate-led workshops throughout the course of their fundraising, ensuring that the WOHAA programme develops all important transferable and work-related skills in these committed students. Wings of Hope seeks to 'empower through education', and this is something that it is achieving in all countries in which it works.
WOHAA is not only extremely popular amongst UK school children, but is fully supported by parents and school teachers alike. Both stakeholders recognise the fantastic relationship-building and global citizenship that is demonstrated by British youth through this project. Dr Seymour of Queen's College School, London, has directed a number of successful WOHAA teams, noting that hearing about Wings of Hope's work "invariably makes a strong impression on the girls at Queens" and that "they are shocked by the vast contrast between their own educational opportunities and experiences and those of the children described, and are always instantly inspired to do something to make a difference." Parents have also testified to the strength of WOHAA, describing the way in which it has transformed their children into young, responsible adults and opened up a wealth of opportunities for them to explore upon completing their programme.
When it comes to high-profile support for Wings of Hope's work, the charity is not in short supply. Students who reach the semi-finals of the competition are invited to a presentation day at the House of Lords, where they explain their WOHAA projects to a panel of guest judges. In the past the charity's patron Sir David Jason ('Only Fools and Horses' actor), Robert Peston (Business Editor, BBC News), Clarke Carlisle (Chairman, Professional Footballer's Association) and Lord McNally (Ministry of Justice, Deputy Leader of House of Lords) have all come to support the students and find out about the work that they have been doing. A dedicated supporter of the charity, Jackie Cooper—Global Vice Chair at PR giant Edelman—runs workshops for the participating students, developing skills related to her sector and teaching students how to apply them to WOHAA.
She says, "I chose to support WOHAA because I love the entrepreneurial and educational aspect of the awards. Awareness is raised and funds are nailed for this wonderful education resource for kids in India…" Sir Richard Stagg, previous British High Commissioner to India, has also judged at the House of Lords. He believes that the charity has "made a major breakthrough in getting such a high level of engagement from U.K. schools."
In the 2011-2012 competition, one team took the idea of Jubilee unity amongst the Commonwealth countries to another level and, as part of their WOHAA project, organized delivering a gift and card to the Queen, raising awareness on behalf of Wings of Hope in doing so. The team, "Aquila" from Malvern College in Worcestershire, was invited to the Palace and met with the Chief Clerk, who was interested to hear about their fundraising and the work that it would support. Wings of Hope was delighted to receive a letter of support and gratitude from the Queen in response to Aquila's visit—once again reiterating, in the Jubilee year, the strength of and commitment to relations between India and the UK.