USD 33,000 FINE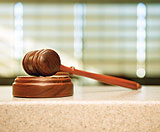 A boy has been granted approximately Rs 20 lakh as maintenance by a Delhi court, payable by his NRI father who allegedly deserted his wife and child and remarried abroad.
Metropolitan magistrate Jyoti Kler awarded maintenance of Rs 35,000 per month to the boy and asked the father to pay arrears from the date his estranged wife and the mother of the boy filed the petition in court in 2009. The court has given the husband nine months time to arrange the arrears.The court, after considering the arguments and the salary of the NRI father which was found to be around 3,800 Canadian dollars, awarded the amount towards maintenance and residence.
---
SABAN 2013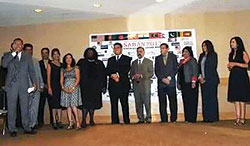 Nikki Kardar of Kardar Insurance and Smita Goel Bagla of Amritt, Inc bagged the best women entrepreneur prizes at the 7th South Asian Business Alliance Network Awards (SABAN). Among others, Sunny Kalara of Kalara Law Firm received the professional award, Dr. Sonia Singh of Psychological Health & Well-Being Consulting, Inc. claimed the women professional award; Atiquer Rahman of East Asiatic, Inc. was feted with the best Bangladeshi American entrepreneur. The best entrepreneur award went to Anil Verma of Anil Verma Associates. The best South Asian Bankers award went to First Choice Bank, according to SABAN founder Mohammed Islam.
---
TULSI TO TAKE OATH ON GITA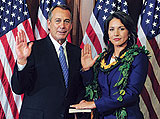 Tulsi Gabbard (right) with John Boehner, Speaker of the United States House of Representatives
She is neither an Indian-American nor has she ever visited India. But she has become America's first-ever Hindu-American Congresswoman.
Meet Tulsi Gabbard, a 31-year-old Democrat, just elected to the US House of Representatives from faraway Hawaii . Endorsed by Hawaii-born President Barack Obama, she defeated her Republican rival by a landslide (80.6% to 19.4%).
A practicing Hindu, Gabbard frequently recites from the Bhagavad Gita. So when she takes her oath in January as a newly-elected member, she will do so, placing her hand on a copy of the Hindu scripture. It will be the first of its kind in the history of the 223-year-old House of Representatives and the Hindu-Americans are excited about it.
Born in American Samoa to a Catholic father and a Hindu mother, Gabbard moved to Hawaii with her family when she was two years old. Her parents gave all their five children Hindu names — Bhakti, Jai, Aryan, Tulsi and Vrindavan. Keen to visit India at an early date, Gabbard has pledged to work for closer US-India relations.
"It is clear that there needs to be a closer working relationship between the United States and India," she said in recent remarks, quizzing: "How can we have a close relationship if decision-makers in Washington know very little, if anything, about the religious beliefs, values, and practices of India 's 800 million Hindus?"
Defending her Hindu faith, which came under attack from her Republican rival David Kawika Crowley during the campaign phase, Gabbard believes her faith would be an asset in Congress.
"Hopefully the presence in Congress of an American who happens to be Hindu will increase America's understanding of India as well as India's understanding of America," commented Gabbard, who was feted by Indian-Americans at a recent fundraiser in Washington.
Gabbard's victory was a foregone conclusion from the time she easily defeated her rival Mufi Hannemann in a party primary in August. Hawaii, being a predominantly Democrat territory, few doubted her chances against her Republican rival.
"Hindu-Americans have run America's major companies and universities, won Nobel prizes and Olympic gold medals, directed blockbuster movies, and even flown into space. But one profession has so far been out of reach: Member of Congress," wrote the Washington-based Religion News Service, ahead of Gabbard being declared the winner.
Although there have been two Indian-Americans in the US Congress to date, neither of them were Hindu. The first, Dalip Singh Saund, who was elected thrice from California back in the 1950s, was a Sikh. The second, Bobby Jindal, who was elected twice, beginning 2004, had converted to Christianity in his early years.
In 2002, at the age of 21, Gabbard became the youngest person to be elected to Hawaii State House. The very next year, she joined the Hawaii National Guard and was deployed to Iraq in 2004 as a medical operations specialist. Awarded the Meritorious Service Medal for her service, she currently serves as a Captain. Between her two deployments to the Middle East, Gabbard served as an aide to long-time US Senator Daniel Akaka.
Gabbard, who fully embraced the Hindu faith as a teenager and follows the Vaishnava path, has said that her faith helped her through her posting in Iraq, where there were daily reminders that she could be killed any time.
"First thing in the morning and the last thing at night, I meditated upon the fact that my essence was spirit, not matter, that I was not my physical body, and that I didn't need to worry about death because I knew that I would continue to exist and I knew that I would be going to God," she said.
---
NRI POLICING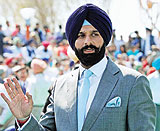 Mr Bikram Singh Majithia
Punjab is setting up nine more dedicated NRI police stations across the state, that will help in quick disposal of law and order issues pertaining to the community and time-bound redressal of their grievances. Announcing this in July, Punjab Minister for NRI Affairs Bikram Singh Majithia said they were being set up keeping in view the demand for more such police stations by the NRI community. Earlier in 2008, six police stations for NRI's were set up at Jalandhar, Hoshiarpur, Ludhiana, Moga, Nawan Sehar and Kapurthala, he added.
With the help of community affairs division and women commission, the state government has been able to solve a number of marriage-related disputes involving NRIs.
---
E-MAS SIGNS LANDMARK MOU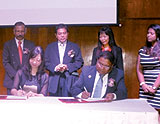 Deputy Minister YB Datuk Seri Dr. Hilmi Yahya (centre), Major General Dr. Mohanadas (left) and Jenny Choong (right) witness the signing of the MoU by Dr Kamalanathan (seated right)
On 4th of July 2013, Eximius Medical Administration Solutions (e-MAS) and Assist America have signed an MOU to be the sole Agency Representative for Assist America in Malaysia. The two parties aim to make available global emergency assistance services widely available in Malaysia. Members in Malaysia, who now travel beyond 150 km from home or to a different country, will have their Assist America Shield activated.
The signing of the MOU between the two companies was witnessed by YB Dato' Seri Dr. Hilmi Bin Haji Yahya, Deputy Minister of Health who also officiated e-MAS' 3rd Anniversary luncheon. The deputy minister reiterated that high quality care should be provided at reasonable cost.
The travel and medical assistance services, such as 1) medical evacuation 2) repatriation to home country or major hospital for treatment, 3) compassionate visit, 4) care of minor children 5) return of mortal remains, etc., as a value added service. These will be offered with no monetary caps or chargebacks to the holders of health, life, or other policies issued by insurance companies and other employee benefit programmes. These benefits will be extremely useful when one is "stranded" with a crippling health problem and even more so when accompanied by the family.
This will be especially useful to Malaysians who "balik kampung" in droves during festive seasons, for students and employees who are away from home studying or working respectively.
e-MAS is reinforcing their commitment in the medical billing administration & audit space and are looking to expand their presence in Malaysia with the appointment of its first Chairman Maj. Gen. Dato' Pahlawan Dr. R. Mohanadas (Rtd) on 6th of May 2013. Dato' Pahlawan Dr R Mohanadas is the retired founding Vice Chancellor & Chief Executive of Perdana University after having served the Malaysian Armed Forces for 30 years and retired as the Director General of the Armed Forces Health Services with the rank of Major General.
The Chairman as well as the Managing Director, Dr S Kamalanathan spoke passionately about not just financial audit of medical bills, but as well as medical audit on the outcome of medical procedures and patient safety. It is about maintaining that delicate balance to ensure equitable benefits for all stakeholders in the healthcare industry as well as supporting Medical Insurance Companies and Employers to ensure employees are provided affordable healthcare benefits. e-MAS is also looking to establish an independent Peer Review Committee to ensure best practices and appropriate charging for medical services as well a National Health Seminar on Medical leave.

About e-MAS & Assist America
Eximius Medical Administration Solutions Sdn Bhd was founded in 2009 by experienced, senior registered medical doctors who were highly concerned about escalating medical bills and lax auditing of healthcare providers. e-MAS provides a platform to assist with the administrative and auditing of medical claims for insurers, employers, employees, and medical service providers alike.
Assist America; founded in 1990, provides global emergency assistance services in partnership with various benefit plans. The company, headquartered in Princeton, New Jersey, serves more than 30 million members and over 300,000 enterprises through programs from the world's most prominent group benefit providers. For more information about Assist America, visit
www.assistamerica.com.

Excerpts YB Dato' Seri Dr. Hilmi Bin Haji Yahya's speech
It gives me great pleasure to be here with you today as we celebrate a significant milestone in the history of e-MAS, i.e. your 3rd anniversary. I am pleased to note that a company, formed mainly by doctors, has embarked upon this mission of providing medical billing audit services as well as the noble endeavour of also ensuring that appropriate, high quality care is being provided for patients at the clinics and hospitals.
We are "A Nation Working Together For Better Health" and e-MAS is considered as an important stakeholder of health in Malaysia. The government, under the inspirational leadership of our PM is committed to protecting interest of the rakyatand to ensure they get the best care available. The Malaysian public has had the satisfaction of being provided with high quality and easily accessible health care since Independence and in recent years, the services provided by the Government has improved even further. This is despite the ever-increasing demand from an even more discerning and empowered public. The fact that the public hospitals and clinics are extremely busy is a testimony of the excellent services provided in our hospitals. While the cost to the public has been minimal i.e. almost fully subsidised by the Government, which we are very proud of and which I believe, all Malaysians should consider themselves fortunate to have such a caring Government, the fact is that health care costs continue to rise due to many factors. These include increased demand, higher medication costs as well as technological innovations in medicine which are proving to be quite expensive to procure and maintain.
In this regard, I am pleased that you are objectively auditing the costs of health care while balancing the need for quality. Quality is often synonymous with high costs but I believe that we can provide high quality care at reasonable costs. However, I would like to remind everyone that quality should never be compromised for the sake of costs and cost-cutting should never be disguised as "Quality Improvement" as has been done in a number of countries in this world. It is a difficult task, I know but patient safety is always paramount.
The prominent American businessman, Harold Geneen, who was once the successful CEO of the International Telephone and Telegraph Company, once said, "In business, words are words, explanations are explanations, promises are promises but only performance is reality." Performance equals action and the only way we can confirm, and further build upon our present achievements is through audit and objective measurement. "It doesn't count if you can't count it". Thus, measuring performance objectively must thus become a part of our culture.
---
NEW BRIDES' NEW TROUBLES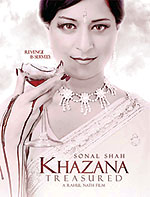 Khazana comes at an appropriate juncture, a time when Indian women are increasingly standing up to post-nupital harassment by her new family members, especially overseas.
Khazana is proving to be a controversial independent package that is creating quite a stir way ahead of its release. The poster itself indicates that the story is not going to be a sweet and fairytale film, but also gives us the hint that this movie will surely make some kind of mark on its release.
The movie that is being presented by Rahul Nath and the independent production house Nik/Nak Productions will focus on the troubled time a new bride faces as she is subjected to abuse from her new family and those around her, until the day arrives where the main protagonist takes a stand and fights back with a vicious and revengeful plan.
The awareness of domestic violence and abuse within the South Asian community is what the movie will explore, however Rahul Nath has gone on record to mention, that even though the film centers around a South Asian diaspora, the subjects and the issues dealt with are universal and are seen in every culture and community.
With recent events in India that have taken place with the abuse towards women, Khazana is hoping to be a voice for those women who either have been in abusive relationships and/or are in current abusive situations.
---
6TH ASIAN VEGETARIAN CONGRESS
SOME INDICATIVE SPEAKERS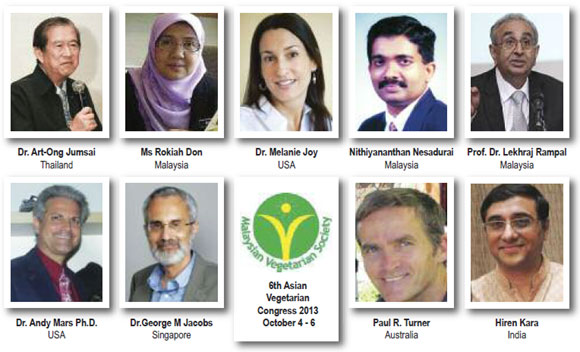 ---