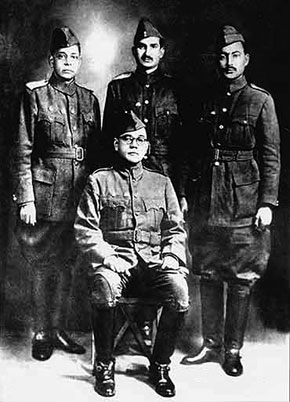 You have filed a case on Netaji Subhas Chandra Bose in a court in Faizabad. What is the basic petition before the court?
In April Netaji's grandnieces Jayanti Rakhit and Tapti Ghosh, Chandrachur Ghose, who runs www.subhaschandrabose.org, Amiya Rakhit, Jayanti's husband, and myself visited Lucknow, Faizabad and around with a view to understand more about the Bhagwanji angle to the Netaji mystery. For a background, I would like to recount that there lived a mysterious mostly unseen holy man in several parts of UP from 1955 to 1985 by the name of Bhagwanji. He has now come to be known as Gumnami baba. After he was reported dead in 1985 controversy about his identity hit headlines. Consequently, Lalita Bose, a niece of Subhas Bose, filed a writ petition in the Lucknow Bench of the Allahabad High Court. In January last year the court gave a decision on a case file by the person on whose house Bhagwanji stayed as a tenant from 1983 to 85. Late Lalita Bose's case was also clubbed with it. The court observed that "there appears to be no room of doubt that there was substantial oral and documentary evidence which prima facie makes out a case for scientific investigation with regard to identity of late Gumnami Baba". The court therefore ordered that the belongings left by the holy man, mostly books and correspondence, should be secured and displayed at a local museum. It also suggested that the UP state government should set up a commission of inquiry to figure out who Bhagwanji really was.
Now, the UP government has acted on the first part of the order but is dodging on the second. Hence, Netaji's family and we friends who go by the name of Mission Netaji have decided to approach the court. Our petition, which is being worked out, would seek an inquiry by a Special Investigative Team under the supervision of court. When it comes to Netaji, you cannot trust the authorities in India.

Going by your books and from your interviews and articles it is clear that you are completely disenchanted by the UPA Government's policy of keeping Netaji a National Secret…
Who wouldn't be? In 1999 the Government of ours was compelled to form a commission of inquiry into Netaji's fate following an order of the Calcutta High Court. By 2005 the inquiry, headed by a reputed former Supreme Court judge, had concluded what had so far been dismissed out of hand as a conspiracy theory: that Bose's reported death in an air crash at the close of WWII was actually a ruse to allow him to escape to Soviet Russia. The Government dismissed this report without assigning any reasons, mocking all democratic norms. Thereafter, Mission Netaji filed Right to Information applications to dig out the truth. The results were bewildering. The Prime Minister's Office, Ministry of External Affairs, Ministry of Home Affairs admitted that they were holding several classified records about Bose's fate, but refused to make the records public citing national security clauses. The Ministry of External Affairs admitted that there had been some correspondence between India and Russia but wouldn't make it available under the Right to Information Act, which has its limitations. The Home Ministry, at the prodding of the Central Information Commission, stated that releasing some Top Secret records about Bose's fate would lead to "law and order problem across the country, especially West Bengal".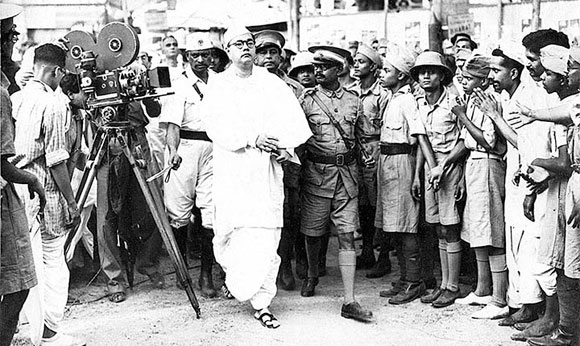 Tum Mujhe Khoon Do Main Tumhein Aazadi Dunga
—Netaji Subhash Chandra Bose
You do know that there are a number of files with the Government of India and the West Bengal Government that have classified information on Netaji. Do you believe that they establish that he did not die in an air crash at Taipei?
There are two types of secret files. One those whose existence is accepted and the second ones are those whose very existence is denied. According to an estimate made by me on the basis of information made available under the Right to Information Act and other means, some 150 odd files are with different departments in New Delhi. Bulk of these files concern the controversy surrounding Bose's reported death. I am also sure that apart from these files, there is much more information available with our government, especially with our intelligence agencies which work beyond the peripheries of law. But even taking the extant "admitted" files into consideration, I do feel that their full disclosure will explode the myth that Bose died in 1945.
Your contention that Netaji lived in Faizabad but never came out in the open needs to be explained elaborately. Do you think you have enough evidence to tell the Indian public your side of the story?
I have simply narrated the facts as they are in my book India's biggest cover-up and drawn conclusions that are obvious. There are but just three theories explaining what really happened to Bose. The first of course is the air crash theory. The second holds that Bose was in Soviet Russia after his death and he met his end there. It is commonplace in India for people to allege in private talks that Bose's end had something to do with his political rival and the man who harvested the fruit of his struggle, Jawaharlal Nehru. The third theory puts Bose in India as a holy man in disguise. Some people opinion that Bose was always mystic and others say that it had something to do with his having been branded a war criminal.
I don't think the air crash theory is true. There's a lot going against it. Even the Americans, who first looked into the matter, stated that there was "no direct evidence" of Bose's death, though his Japanese benefactors claimed that he had indeed died as he was flying to Tokyo. But Japanese hid from the world that Bose was actually on his way to Soviet Russia where he hoped to get a sanctuary. Records declassified in the 1990s have filled in lot of details in this regard. Bose had foreseen the onset of the Cold War and had written to the Soviet ambassador in Tokyo for help. Months and probably years before the war came to end, he knew that the Axis were losing. He had to continue fighting in the interest of India.
As a journalist, I am convinced that Bose was in Soviet Russia after his death. But if you ask me for evidence as defined in the Indian Evidence Act, I am afraid, there is none. We can only say that the story of the air crash was planted, a Japanese soldier's body was passed off as that of Bose and Bose flew towards Russia. Russian experts have been saying in private conversations and in media report that Russian intelligence organizations are holding relevant records but the same cannot be released unless the Government of India seeks access at the highest level. The Government of India has neither shown any interest nor inclination to do so. It has made the best of public apathy in this regard.
On the face of it, the third theory appears preposterous, but it is backed by evidence, some of which is admissible under the Indian Evidence Act.
For starters, Bhagwanji angle doesn't not rule out the Russian theory. It just negates that "he" was killed there. The holy man has left quite a few interesting details, including how "he" escaped after "concocted" news of air crash was planted. He spoke about his time in a central Siberian gulag much before the world read The Gulag archipelago by Aleksandr Solzhenitsyn. Many details left by him gives one goose bumps. He said that war crimes charges and India's becoming a part of Commonwealth prevented him from returning to India and taking his "rightful place". From 1949 onwards, much as he disliked communists, he became part of Russian and Chinese covert operations to undermine the hegemony of the Anglo-Americans that this man, whoever he was, came to oppose because they had run down his efforts in the Second World War in the aid of Indian freedom. Well, Netaji never got along well with the Americans, who sided with the colonial British never mind the American commitment to freedom which was being denied to India.
Bhagwanji said that his post-1945 activities were the reasons why he could not surface. If all he said was right, the Russians, the Chinese, the Vietnamese and the Americans would have records about him. The CIA, we learnt this year, received reports about Bose as late as 1964. When the news of Bhagwanji's death came in 1985, the Foreign Broadcast Information Service (FBIS)—an open source intelligence gathering component of the CIA which is now called Open Source Center—took a small note of it.
Bhagwanji would say "my coming out is not in India's interest" and "India would face sanctions from the world powers if I emerged". To best of my understanding from late 1960s the authorities in India were aware of Bhagwanji and maintained secret contact with him.
Well this may sound like a plot from a movie, but then I always like to quote a dialogue from the movie Tinker Tailor Soldier Spy which depicts the hunt for a Russian mole in the highest echelons of MI6. "Things aren't always what they seem!"
One has to explain how come not one or two but more than a dozen or more people of integrity, those with close connection to Bose, came to accept Bhagwanji as Bose. None of them publicised their belief and nor gained anything out of their conviction. And how come Bhagwanji's handwriting in English and Bangla matched with Bose's? I have demonstrated in my books that the DNA tests carried out in Government lab on the teeth assumed to be of Bhagwanji's and blood samples provided by Netaji's family members were fudged.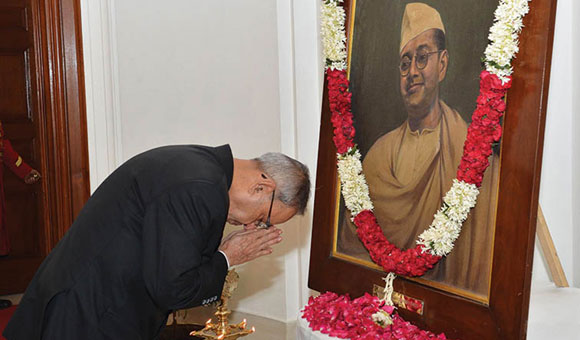 In this context one has to appreciate that the Allahabad High Court in its January 2013 accepted a link between Bose and Bhagwanji. Why would the court seek an inquiry if there was no substance in the Bhagwanji theory?
All the same, since the whole Bhagwanji saga is a very complicated, entails far too many details and is devoid of clear cut photographic evidence as the holy man did not allow anyone to take his pictures nor record his booming voice, anyone going through sketchy details about it would find it incredible.
But anyone who has gone through my book would agree that Bhagwanji angle is the most formidable of all theories attempting to explain what happened to Bose. To get at the truth one would need declassification and a final inquiry, which I propose should be carried out under the court supervision. In the last few years Indians have brought heaven and earth together in their quest to get facts about the deaths of gangsters, terror suspects and people dying or getting killed because of love affairs or sleaze. The same level of attention in Netaji case would be sufficient to establish the truth.

Why did political leaders who you claim met Netaji never admit having met him, even after all these years?
Whoever Bhagwanji was he was secretly visited by several famous people, the names of some of which I can tell. There are many more that I don't know. Dr Sampoornand, the chief minister of UP in 1955, someone who had known Bose since 1920's. His successor in the 60's Charan Singh was a favorite of Bhagwanji's. According to rumours and claims by Bhagwanji's followers, Indira Gandhi also came and so did her ministers, some of whom are still alive. Ma Anandamayee Ma and Sitram Onkarnath Thakur were among some reputed saints who were secretly maintaining contact with Bhagwanji. Madhav Golwalkar, RSS chief and the guru of the entire current top BJP and RSS top brass knew Bhagwanji and so did some "Aulia sahib" whose identity is not known to me. Bhagwanji often talked about matters relating to military and intelligence affairs and appeared to have inside knowledge. He seems to know things that were then classified.
Local journalists I met spoke of intelligence officials hovering around the places Bhagwanji stayed. From Kolkata, several of Bose's close aides, most prominently Leela Roy, maintained links with Bhagwanji. Leela Roy's follower Professor Samar Guha went on to agitate in Parliament about the need to find out the truth about Bose. It is because of late Guha that today Indian state accords some honour to Bose and the matter has reached this stage.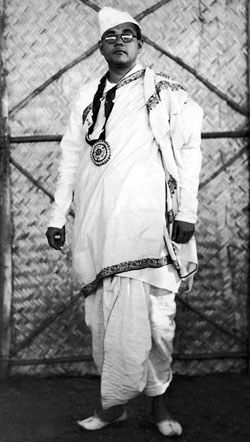 Even the CIA declassifies information on sensitive subjects, such as the Watergate issue, after a few decades. What prevents the Government of India from declassifying information on him, especially after three commissions have tried to unearth the truth about his mysterious death?
Cover-up is resorted to only by those who want to hide. If my government had nothing to hide it wouldn't have resorted to gratuitous secrecy and machinations to prevent the truth from becoming known. The Netaji mystery, make no mistake, is a political issue and it won't be resolved till such time a prime minister has mustered the courage to open the proverbial Pandora's Box.

What does the Government of India gain by withholding classified information? What kind of secrets will topple out of the cupboards?
The cover-up in the Netaji matter, I repeat, involves many details and concerns many people since the establishment as a whole saw to it that the people do not know the truth. I think someone at one point in time made a wrong decision and the same was carried forward to cover-up the original mistake. The political masters dictated their stand and bureaucrats carried it out. As to how bitter the truth would be, secret files available to our government reveal that the INA treasure, the war chest Bose had created with the help of expat Indians, was looted. The worse thing is that the looters were not only not touched, one of them got a promotion in government job. Secret files also show that over the years India has been paying some money to Renkoji temple, where the so-called ashes of Netaji have been enshrined. Also, the government of ours has not been able to answer a question why it ratified a UN treaty concerning war criminal in 1971. There's much more. The Watergate scandal was marked by obstruction of justice, destruction of incrementing material, misuse of intelligence agencies, spying on journalists and others. When you go through the murky details of the cover-up of the Netaji issue you'd come across all of that.

You claim that the chief reason for the British to leave India was not Gandhiji's non-cooperation and non-violence, but the threat from Netaji. How do you back up this claim?
No one can deny the wonders Gandhiji did for India or his contribution to the freedom struggle. But to say that the Quit India movement led to the British departure in 1947 is stretching it too far. The movement was crushed within months of its launch and there was no trace of it in subsequent years. On the other hand, declassified records and observations made by those who knew the best, including the then Intelligence Bureau Director, make it clear the British left India because the war had weakened them considerably and Bose's INA had caused much turmoil in the Indian Army, the tool that had enabled them to keep a strong grip on India. In February 1946, Prime Minister Clement Attlee was told by a delegation of British MPs that "we should arrange to get out" or "we should wait to be driven out" as "the loyalty of the Indian Army is open to question". Ten years later Attlee visited India and admitted that Gandhi's tactics had "minimal" impact on his decision to grant India freedom. At the same time, Dr BR Ambedkar too opined that it was the impact of Bose's INA on the Indian Army not Gandhi's ahimsa that brought freedom. In the 80s would be governor Lt Gen SK Sinha, one of the three Indian officers in British dominated Directorate of Military Operations of 1946, disclosed that the colonial rulers concluded "that the Indian Army could no longer be relied upon to remain a loyal instrument for maintaining British rule over India".

Do you expect a Government other than one led by the Congress to declassify information on Netaji, and tell the nation the truth as it was uncovered?
No. I am somewhat hopeful about Narendra Modi. That's why I have sent him several feelers in past and he is aware of the issue, though not in detail. Netaji's family members also met him and he seemed quiet interested. In January this year the BJP president Rajnath Singh announced that when the BJP is in power it will settle the mystery. Well, in view of BJP's own not to so sterling role in past and other complications, it won't be that simple. But then there is a hope.
.