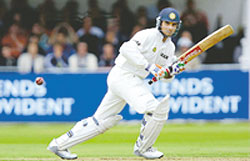 DADA'S BACK
Having missed international action for nearly a year, thanks to bad form and worse politics, Sourav Ganguly is back in the Indian cricket team. Hopefully, he will be leaner, meaner and hungrier for runs than he was in his controversial past
By Rakesh K. Simha
WILLOW WIZARD:
In the late nineties, Ganguly and Sachin Tendulkar,
formed one of the most destructive opening pairs in history
The date: December 14, 2005: The place: The meeting room in Delhi's Ferozshah Kotla stadium. Indian selectors drop India's most successful captain from the third cricket Test against the Lankans. Sourav Ganguly, who is struggling with an elbow injury and involved in a damaging public row with coach Greg Chappell, is replaced by long-term deputy Rahul Dravid. Indian cricket is deeply polarised between his die-hard fans, most of who are in his home state West Bengal, and Sourav-baters who are mostly the rest of the country. Accused of playing favourites and reeling under terrible form, the southpaw is unceremoniously shown the exit. His lowest point comes when he later sends an email hitting out at his one time mentor, saying that Jagmohan Dalmiya does not deserve to be CAB president as he has played with his career.

The date: November 30, 2006. The place: Eerily, the same. Almost a year down the line, Team India is faring miserably in international cricket. Greg Chappell's much-touted rebuilding process has come unstuck as star players don't perform and new talent fails to live up to promise. Decimated in the Champions Trophy at home and whipped by the Springboks in South Africa in the one-dayers, the cricket board makes a desperate move. So at the same venue, where he was once ousted, the selectors recall Ganguly and make wholesale changes to the Indian team. The man who brought aggro to Indian cricket is back in business.

So what does one make of it? A knee-jerk reaction to a batting crisis? The irony cannot be missed: Ganguly, whose decline as a batsman has been attributed primarily to his vulnerability to the short ball, has now been picked to strengthen a batting lineup that has been systematically dismantled by the surgical, relentless use of bounce.

However, it can also be seen as a measure that wagers heavily on Ganguly's Test-match experience and his innate fighting abilities. His finest hundred came at Brisbane in 2003, the first Test of a hard tour, when India were four down for 80 in the first innings and Australia's fast bowlers were smelling blood. An unexpected and incandescent hundred set the tone for the series where India fought the world's best team to a standstill.

Test Stats

Scored a century on Test debut
Scored a century in each of his first two Tests
Cumulative Test batting average never fell below 40 runs per innings
Captained India in a record 49 Test matches
Led India to a record 21 Test wins
India's most successful Test captain

ODI File

Holds the record, shared with Mahendra Dhoni, for the second highest score by an Indian cricketer in an ODI—183, against Sri Lanka in 1999
Holds the record, shared with Sachin Tendulkar, for the highest first wicket partnership for India in a ODI match, 258, against Kenya in 2001.
Was involved in the First 300 run ODI partnership with Rahul Dravid.
The only player to win 4 consecutive man of the match awards in ODIs.
But by the time he lost his place in the Test team, he was back to chasing ghosts: even medium pacers were bouncing him out. Some laughed at his lack of athleticism.

Ganguly's ability to polarise opinion led to one of the most fascinating dramas in Indian cricket. Yet, nobody can dispute that he was India's most successful Test captain—forging a winning unit from a bunch of talented, but directionless, individuals—and nobody can argue about him being one of the greatest one-day batsmen of all time. Despite being a batsman who combined grace with surgical precision in his strokeplay, his career had spluttered to a standstill before being resurrected by a scintillating hundred on debut at Lord's in 1996. Later that year, he was promoted to the top of the order in ODIs and, along with Sachin Tendulkar, formed one of the most destructive opening pairs in history.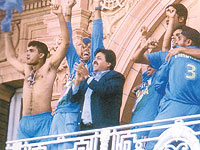 SPIRIT OF SOURAV: Once a team that had many reasons to be humble, and often purred like pussies, the Indian cricket team began to display its aggressive streak under Ganguly
When he took over the captaincy after the match-fixing exposes in 2000, he quickly proved to be a tough, intuitive and uncompromising leader. Under his stewardship India started winning Test matches away, and put together a splendid streak that took them all the way to the World Cup final in 2003. Later, victory in Pakistan turned him into a cult figure but instead of being a springboard for greater things, it was the peak of a slippery slope.

The beginning of the end came in 2004 at Nagpur—when his last-minute withdrawal played a part in Australia clinching the series—and things went pear shaped when his loss of personal form coincided with India's insipid ODI performances. Breaking point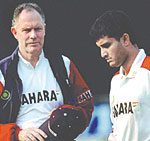 was reached when his differences with Greg Chappell leaked into public domain and his career was in jeopardy when India began their remarkable revival under Rahul Dravid. His gritty 30s at Karachi, when India succumbed to a humiliating defeat in early 2006, weren't enough for him to retain his spot and some felt he would never get another chance.
Sourav Ganguly's 10-year international cricket career could be easily bisected into two halves, the pre- and the post-Y2K eras. The significance of the year 2000 lies not only in the fact that he became the captai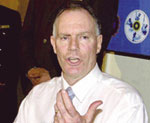 n of the Indian team but also in the fact that the ICC introduced the one bouncer per over rule in ODIs starting from that year. This introduction of the rule by the ICC had a negative impact on Sourav Ganguly's batting average, which plunged from a high 45.5 before the year 2000 to a low 34.9 between the five-year period of 2001-2005. Also, against Test playing nations, his overall average plunged further down to 30.66, as did his 'away' average which fell to 29. He managed to score only six centuries between 2001-2005, of which three centuries were against Kenya and one was against Namibia. This sudden drop in his batting average against Test playing nations after 2001 was clearly a result of the short pitch stuff he had to encounter from opposition bowlers. His average of 11.92 against the short ball has been the lowest among contemporary Indian batsman who played more than 80 ODI matches. The former captain has also been uncomfortable while attempting the 'pull' and the 'hook' shots when bowlers have dug it in short, often lasting less than five balls before being dismissed.

Despite his hot and cold streaks Ganguly is only the third Indian Test match batsman to maintain a career average that never dipped below 40 runs per innings for his entire Test career. The other two who achieved this feat are Sunil Gavaskar and Mohammad Azharuddin.

Ganguly also shares with G.R. Viswanath of India the record for scoring at least 10 or more centuries and his team either winning or drawing each and every match in which he scored a century.

It was however as captain of the Indian team that Ganguly's biggest achievements occurred. He led India in a record 49 Test Matches, winning 21 of those, including 12 of them outside India. All three figures are records for Indian Test captains. He also led India to her first series wins in both Tests and ODIs in Pakistan, a feat that had eluded India for over 50 years. Ganguly also led India to more Test wins (11) outside India between 2000 and 2005 than all Indian captains had done between 1980 and and 2000.

While it is inevitable that Ganguly will dominate the headlines, the much bigger issue is why and how his selection was necessitated. The truth is that once again Indian batsmen have been mercilessly exposed on harder pitches, and the selectors didn't really have too many options after the young men in whom they'd placed their faith failed to make the grade. The selectors had the choice to let them learn from their failures or opt to try damage control. The passions involved in cricket in India are just too high for the selectors to be able to ignore the immediate. And the reality is that beyond Ganguly there was not much to look at anyway.

With the Test series coming up against the South Africans, it is now up to the man himself to script his final chapter. India will hope that the time in the wilderness would have created a will strong enough to carry Ganguly past his shortcomings.
December 2006