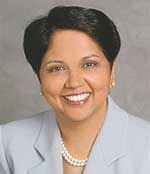 Ms Fizz
PepsiCo's new chief executive Indra Nooyi is a pioneering global Indian, and one of only a handful of women to head a top US corporation. However, her appointment comes at a difficult time for the cola business
Sayantan Chakravarty
Five years ago Indra Krishnamurthy Nooyi audaciously proposed that PepsiCo, the company best-known for Pepsi and Mountain Dew, become less reliant on its carbonated beverages by acquiring Chicago-based Quaker Oats. It was an idea quickly trumped by Coca-Cola, which offered $2 billion more than Pepsi to buy Quaker. Coke executives believed Quaker's Gatorade sports drink was worth the price, but Coke's board, led by investor Warren Buffet, had other ideas. It was one of the bigger blunders in recent years. It was a double win for PepsiCo and a double loss for Coke. Pepsi and Nooyi refused to match the higher bid and still landed Quaker.

Nooyi's belief that sales of carbonated beverages had peaked was prescient. Last year the growth in carbonated beverage sales, which had been slowing dramatically since 2000, were flat, while sales of bottled water and health and sport drinks such as Gatorade, which has a market share of nearly 80 percent, were higher.
I am humbled by the opportunity to lead PepsiCo. Being a woman, an immigrant and person of colour made it thrice difficult
Nooyi, 50, who developed what many now say is a keen sense of corporate strategy at Motorola and the Boston Consulting Group, will become the company's fifth chief executive on October 1. Steve Reinemund, the retiring chairman and CEO of PepsiCo, says Nooyi is key to the snack and beverage company's success. "I have considered her my partner in leading PepsiCo over the past five years," he says.

Nooyi, currently president and chief financial officer, has presided over a strategy that shifted PepsiCo's focus from soft drinks to healthier alternatives while revving up its international marketing arm. Her appointment as CEO of Pepsi—one of the most prestigious jobs in corporate America—is a source of both pride and embarrassment for India. Pride because, when Nooyi replaces Steve Reinemund on 1 October to become Pepsi's fifth CEO, she will create history by becoming the first Indian woman to head a Fortune 100 company; embarrassment because, at almost the same time, a pesticide controversy has led some Indian federal states to impose a ban on Pepsi and Coca-Cola products.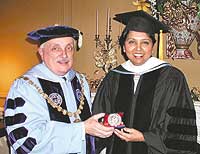 DEAN'S LIST: Nooyi is honoured at a convocation held at The College of New Rochelle in New York
Nooyi was born on 28 October 1955 and grew up in the south Indian town of Chennai (formerly Madras). Friends from Madras Christian College, where she studied for a Bachelor of Science degree three decades ago, remember her as a tough and independent team player whose first taste of business was managing college magazine advertising.

After completing a postgraduate diploma in business administration at the Indian Institute of Management in Kolkata, she worked in a textile firm Mettur Beardsell and later as product manager for sanitary towels at Johnson & Johnson in Chennai—one of her most challenging roles, she says, because of the limited awareness of female health issues in India at the time.
In 1978 she won a place at Yale School of Management, where she attended classes by day and worked as a receptionist at night to make ends meet. It was there that she became known for working in her sari—something she has continued throughout her career, often attending PepsiCo functions in the colourful national dress.

At Pepsi she has played a pivotal role: she helped to spin off the company's restaurant businesses, such as Kentucky Fried Chicken, Taco Bell and Pizza Hut, into a new firm, Tricorn that took the lead in the acquisition of Tropicana fruit juices in 1998.

Her outspokenness has often led her to discuss her unusual position in the US corporate world. In a 2002 interview, she said of her career progression: "Being a woman, an immigrant and a person of colour made it thrice difficult." Throughout her career she has championed diversity. In a speech to the South Asian Students' Alliance, she praised PepsiCo's moves towards creating a more ethnically diverse workplace.

There is also talk that Nooyi has been given the top job because the American multinational is keen to make deeper inroads into India, which in the long term would clearly be it's largest market. Also, she could be an effective shield against charges of contamination by NGOs.

Nooyi's first challenge comes from her homeland. A quarter of the country's 25 states have imposed partial or total bans on PepsiCo and Coca-Cola products after a New Delhi-based non-governmental organisation, the Centre for Science and Environment (CSE), claimed last week that the companies' colas contained several times the permitted level of pesticides.

CSE chief Sunita Narain says cola companies are against the introduction of standards by India. She claims the cola giants fear that if India introduced standards for finished products, emerging markets in China and the Far East would follow suit. Gary Hemphill, MD of New York-based research and consultancy company Beverage Marketing Corp, believes Nooyi's appointment could help to ease the situation: "Because of her Indian origins, I think she will have a good understanding of the market."

It is well known that Nooyi frequently travels to India to cultivate ties with Government officials. But whether those post-lunch sit-downs will translate into more business fizz for Pepsi in India is for another story.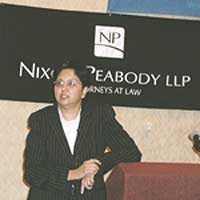 WOMEN CEOs AT FORTUNE 500 COMPANIES

CEO
COMPANY
RANK
2005 REVENUE
Patricia A. Woertz
Archer Daniels
56
$35.94 billion
Indra Nooyi
PepsiCo
61
$32.56 billion
Brenda C. Barnes
Sara Lee
111
$19.73 billion
Mary F. Sammons
Rite Aid
129
$16.82 billion
Anne M. Mulcahy
Xerox
142
$15.7 billion
Patricia F. Russo
Lucent
255
$9.44 billion
Susan M. Ivey
Reynolds American
280
$8.26 billion
Andrea Jung
Avon Products
281
$8.15 billion
Marion O. Sandler
GWest Financial
326
$6.66 billion
Paula Rosput
Reynolds Safeco
339
$6.35 billion
Margaret C. Whitman
eBay
458
$4.55 billion
September 2006