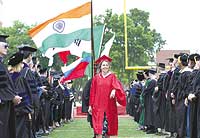 Back to the future
Foreign students, especially form the US, are coming to India in large numbers for their internship. Earlier, it was like exploring an exotic culture, today they are checking out corporate jobs
By Rakesh K. Simha
Hema Patel, a B-School student from Massachusetts, has just turned down a $95,000 a year job from Motorola. Patel, 24, isn't waiting for others to top the offer; she's eyeing a slew of infotech giants back in India. Among the firms she's eyeing are Sify and and Tata Consultancy Services.

Rekha S., a 32-year-old non-resident Indian, practises medicine in an upscale New Jersey medical college. The GP, who has the looks of a movie star, however, doesn't plan to stay there very long. In a few weeks Rekha, who was born and brought up in the US, is flying down to India for good, having got internship in a Mangalore hospital.
In August, Bangalore-based Infosys Technologies, which has a market capitalisation of $21 billion, said it was hiring 300 undergraduates in the US, who would be trained at its Mysore campus. In the UK, as an experiment, it is going to hire 25 people from colleges by the end of this year. Says T.V. Mohandas Pai, Infy's head of HR, "These numbers have come up because the industry is growing at a very rapid pace and globalising. As we grow at this pace and globalise we need to have a more global work force."

India seems to be the new magnet for the work force of the future. Where once it was an object of interest for its culture and quaintness, attracting research-oriented scholars, today it's the go-getters of tomorrow who are scouting the country for courses and opportunities. According to the US-based Institute for International Education, India is attracting more and more American students. With a booming service industry, India has grown in economic importance. And with English being the lingua franca here—despite New Delhi's protestations that it is Hindi—learning and daily interaction is easy for foreigners.


Kiran Karnik, Nasscom
.................
I expect a bigger horde of students to arrive next year because the ones here said they had a great time and will go home to talk about it
"It's better to learn at the place where the jobs are going," says C. Sivadas, a New York-based NRI parent. Indeed, India has the edge in IT courses that are as good as any in the world with a fraction of the training costs. In Britain, a short, two-week course in most IT services would cost hundreds of pounds while similar courses in India would cost the same amount in rupees. Even if one adds air travel and board and lodging expenses, it works out much cheaper. Students from Africa, the Middle East and the Far East have been coming to India for IT courses for years.

India also has one of the world's largest and most diverse education systems with over 320 universities and 16,000 colleges. Nearly 9.3 million students study at conventional universities, specialty institutions, professional and generic colleges, management institutions, and institutions for medicine and engineering. The medium of instruction is English except where they teach arts subjects or humanities in regional languages. Since most of India's universities and centres of higher learning and research are autonomous, it enables them to emphasise on academic excellence.
Sreenath Sreenivasan
.................
I am leading a group of students on a field trip to India. The number of applications we received was unbelievable. US students are more interested in India
At Infosys, meanwhile, the global internship programme, styled InStep, is humming with activity. The company describes InStep as "a platform for students from top academic institutions around the world to work on live technical and business projects, ranging from application development to business consulting." Says a company official: "It's been a big hit ever since we started in 1999." Infosys may be right up there with the leaders. But it is not the only Indian company attracting interns. Other IT majors,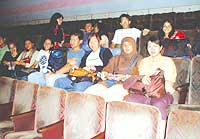 like TCS and Satyam, are keeping it company. TCS has established partnership models with various universities. For instance, it has signed a memorandum of understanding with Toronto's York University, Canada's third largest university.


There are no hard records on how many foreign interns are coming to work in Indian companies annually. The National Association of Software and Services Companies (Nasscom) is trying to build a database. But that will be only for the IT and related sectors. A guesstimate puts the figure at well over 2,000. Apart from the work experience, "India is culturally fulfilling," Nasscom president Kiran Karnik said recently. "I expect a bigger horde of students to arrive next year because the ones here said they had a great time and will go home to talk about it."

It's a two-way process. First, Indian companies are globalising n a big way. They need international talent. Companies like Wipro, Infosys, HCL and Satyam have been visiting foreign campuses—Wharton, Stanford and Harvard, for instance—for recruitment. It helps a great deal if the students are already aware of their work culture.

"Initially, we had to overcome a lot of problems," admits an HR (human resources) manager at one of these companies. "India was regarded as a land of snake charmers and fakirs. We got almost zero response in our recruitment efforts.

"We decided that there was another way to go about it," he continues. "If you offer a six-week internship, students look upon it favourably as there are no long-term strings attached. Initially, they came to India because it was exotic. It was regarded as a paid holiday. Now, of course, all that has changed."
The first bunch of students went back and their experiences worked on the mindsets of their classmates. Today, on US campuses, internship at, say, TCS or Infosys is regarded as a valuable addition to your CV. Even companies in the US—where most of these interns still end up—regard it as very useful work experience. "You are seeing a big change in the sort of people that are coming to India," says the HR manager.

But why are companies so keen on foreign interns? Infosys founder and chief mentor N.R. Narayana Murthy has pointed out that these students work as brand ambassadors for the company and the country. It's not that they will come back to India to work for Infosys. It has happened, but is not considered an immediate objective.

More importantly, as Infosys globalises, it will need to hire key executives abroad. Currently, companies have been tapping the ethnic Indian community or sending executives from India. But this is a limited pool: if you set up shop in the US, you have to employ Americans. The internship programme is a key component of the Infosys plan to acquire top of mind awareness.
Today, on US campuses, internship at TCS or Infosys is regarded as a valuable addition to your CV
The best example of the 'reverse trend' of American students coming to India is found in many American universities offering numerous programmes and courses held in India. "American students are much more interested in the sub-continent now. They feel that if you want to figure out what is going on in the world, it is important to be in South Asia and China," says Sreenath Sreenivasan, the dean of students at Columbia Graduate School of Journalism. "I am leading a group of students on a field trip to India this year. The number of applications we received was unbelievable," he adds.

There is another group of students heading for India—Indians abroad. NRIs have been sending their children to India at elite schools for decades. A new group of these 'public schools' has now cropped up. These are jazzy institutes teaching for a British secondary school examination or the International Baccalaureate for admission to foreign universities.

Swanky buildings, reputed faculty, huge libraries, massive IT systems, impressive array of sports and cultural activities, counselling, global cuisine, 24-hour health services, well appointed rooms and a very low teacher-pupil ratio... these schools have it all. These schools cater to children of top executives in India, high income earners and, of course, NRIs. Many NRIs have established such schools for their children for quality education with a large dose of Indian culture. Many of these children return to the countries where their parents live. But a good number stay back.

Says Prabha Sivadas, an NRI who has lived in New York for the past three decades: "If you can survive as a student in India, then for the rest of your life, you can survive anywhere in the world."
September 2006