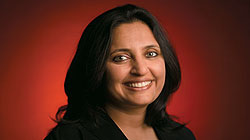 UNDER SIEGE
Tipped as the energy secretary in Barack Obama's cabinet, Sonal Shah was about to become the crown jewel of the Indian diaspora. But a vicious smear ­campaign by desi fringe ­academics and bigots, in a 21st ­century ­version of McCarthyism, threatens to stall a stellar career
By Rakesh K. Simha
Call it 21st century McCarthyism. An eminent economist who previously worked for the US Treasury Department and Goldman Sachs, Sonal Shah was appointed to US President-elect Barack Obama's transition team in November and later named to be part of a three-person team to write America's technology policy. But just as her career gained momentum—she was reportedly in the running for the post of energy secretary—several Indian-American groups launched a protest at her appointment, claiming she is closely associated with the Vishwa Hindu Parishad (VHP) and warned against Hindutva infiltration into US power centres.

The smear campaign was multi-pronged. First, the Indian Coalition Against Genocide, Indian American Coalition for Pluralism and Non-Resident Indians for a Secular and Harmonious India, in a joint statement, sought Shah's clarification over her association with the VHP. Then the Indian Christian Forum, an umbrella organisation for Indian American Christians, expressed "grave concern" over her appointment. "Shah's background creates tremendous uneasiness among freedom loving people in our community that overwhelmingly voted for Obama," it said.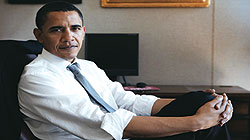 OBAMA'S INDIANS
America's first black President-elect has inducted as many as five Indians in his influential transition team, heralding a new era in India-US relations. They will offer expertise and influence policy in the Obama White House.
1. Sonal Shah (Technology)
2. Parag Mehta (Inter-government affairs)
3. Preeta Bansal (Personnel operations)
4. Anjan Mukherjee (International trade)
5. Nick Rathod (Inter-government affairs)
Several other figures from so-called progressive outfits jumped into the fray. One of them was Vijay Parshad, director of International Studies at Trinity College, Connecticut. According to him, Shah was affiliated with "the most virulently fascistic organisation within India". "At the age of 33, she chose to raise money for a group associated with anti-Muslim violence several times," Parshad told an Indian website in the US, adding that funds raised by the VHP of America were used selectively to aid only Hindus and not Muslims.

The controversy escalated after former US Republican senator Rick Santorum, wrote an op-ed piece for the Philadelphia Inquirer on December 4, concluding that Shah was a bad choice. Citing the alleged VHP violence against Christians in Orissa earlier this year, Santorum said the organisation supported terrorism aimed at Muslims and Christians. Santorum urged Shah to condemn the VHP and its actions. "If she doesn't, keeping her on—or more ominously, giving her a post in the new administration—would send the message that the president-elect does not think the VHP is a radical organisation," wrote Santorum.

Shah, who was named India Abroad's Person of the Year in 2003 for founding Indicorps, a developmental organisation, was cornered into submitting a denial that she was actively engaged with the VHP. "My personal politics has nothing in common with views espoused by the VHP, the RSS, or any such organisation. I've never been involved in Indian politics, and never intend to do so," she said. "I've always condemned any politics of division, of ethnic or religious hatred, of violence and intimidation as a political tool." The 40-year-old said, she was proud to have helped the earthquake victims of Gujarat, through NGOs working there.

"Sonal has not a bone, not a muscle, not a cell, not a strand of DNA with bigotry."
—Larry Brilliant Google.org
But apparently the judgement had already been decided. Shaik Ubaid, founder of the Coalition Against Genocide, said he was "saddened and disappointed by Ms Sonal Shah's statement. It is disingenuous that she who was raised in a Hindutva family, says that she was not aware of the Hindu-supremacist and violent ideology of Hindutva movement". He added Shah should resign to avoid "distraction to the President-elect", and that Obama should be careful when appointing her successor, as the "Hindutva movement has been trying to infiltrate the US power centres".

However, many prominent people have rallied around Shah. The US-India Political Action Committee (USINPAC), a bipartisan organisation of Indian Americans, noted in a letter to Obama, "A highly accomplished member of your team, Sonal Shah, has been targeted in a smear campaign in which she is falsely accused of supporting groups that condone violence against Christians and Muslims."

Eboo Patel, founder and executive director of the Interfaith Youth Core, a Chicago-based international nonprofit that promotes interfaith cooperation, expressed dismay at the attacks on a fellow Gujarati. A Muslim himself, he wrote in his blog: "The evidence linking Sonal to Hindu extremism is laughably thin. It amounts to Sonal passing a Hindu nationalist on the street and not performing a citizen's arrest...I hope the hatchet job doesn't work on Sonal. Her talents have benefited many many people."

Perhaps Larry Brilliant, who hired Sonal to work at Google.org, sums it up best: "As many wonderful people that the good Lord has allowed me to meet and work with, there is no finer person I have met than Sonal Shah. I've read the comments about her—alleging communal hatred—and they are beyond absurd. Sonal has not a bone, not a muscle, not a cell, not a strand of DNA with bigotry. She is one of the best, the brightest, the kindest, open minded and inclusive souls, and one of the most talented that my beloved India, my adopted homeland, has produced."

But the damage has already been done. Days after the influential National Journal revealed that Shah was the frontrunner for energy secretary, the job was given to Steven Chu, an ethnic Chinese. As the fringe academics and the commentariat pile on the invective, the loser is India too.