CWC 2011
STARS ON THE BIG STAGE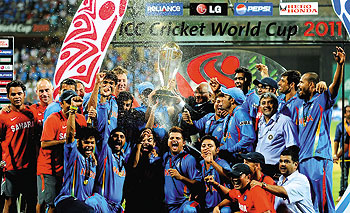 CUP OF JOY: Not a single individual can hold back his ecstasy as the Cricket World Cup is lifted for the second time in Indiaís history. What a moment!
Extraordinary campaigns have dramatic scripts. So did the one involving Indiaís Cricket World Cup 2011 campaign.

The campaign started with a scorching four and a collective sigh. It ended with a glorious six, and on a great high. Whereas Virender Sehwag crashed the first ball of the tournament into the pickets to provide a rousing start, M.S. Dhoni would ensure the perfect ending, doing a little shimmy down the track and then sending the white ball sailing straight from the middle of his bat into history.

History was against India. No team had chased so many runs to win a World Cup final. No man had ever scored a hundred and been on the losing side in a World Cup final. No host country had won the title

It ensured many things. India became second time winner of the CWC, equaling a feat accomplished by the great West Indians of the past (1975, 1979) and next only to Australia (1987, 1999, 2003, 2007). The nationís spirits were raised. Small towns and big cities went on celebratory mode. Sachin Tendulkarís childhood dream finally came true, after 21 years of international cricket.

No World Cup ending could have been better scripted. No victory on the sporting arena could have tasted sweeter with so many watching worldwide. No captain could have picked up a more magical blade and come up with a better innings when it was needed the most. Tension had been thick on April 2 inside the Wankhede Stadium, the air heavy with expectations. Celebrities and common folk watched with equal hope. To work through all that and please the nation needed the calm and poise of Captain Cool, and M.S. Dhoni delivered at the biggest stage, very calmly. He gave us memories to savour, and conversations to hold for a lifetime. He was Indiaís man of the moment, the man of the final, a small town boy who hitched his wagon to the star.



AN EMBRACE TO REMEMBER: Thickest of friends, Yuvraj Singh and M.S. Dhoni see India to the Cup and embrace before millions of viewers
SAILING INTO HISTORY: M.S. Dhoniís lofted drive sails into history. His counterpart Kumar Sangakkara, watching from behind the stumps, knows that too

---

TENACIOUS: Gautam Gambhir dug in, and played some bold shots at critical moments, to take India close to the finish line
CLASS APART: Mahela Jayawardene scored a brilliant hundred, an innings that showed that class always tells

---

GLORY IN 1983: Indian players start running as they defeat West Indies in the World Cup final in 1983

June 25, 1983

Almost 28 years ago, on not-so-warm a summerís day in London, India had scripted its first Cricket World Cup win. That was an India of the 1980s, still shackled brutally by the license raj, fighting vast internal prejudices, and totally unaware of what the global village looked like. To millions frustrated, that victory had been a huge outlet of joy, especially because it came in the heart of London, home of Indiaís erstwhile rulers. That win gave birth to a million dreams. People like Sachin Tendulkar watched the match then, and wanted to wear the India cap. It spawned cricket academies across the country, sponsors poured more money into the game, and it turned into an industry. Holding jobs in the cricket administration became a matter of prestige, powerful politicians and wily bureaucrats, not to forget canny businessmen and ambitious journalists and lawyers vied for them. There were factions, and regionalism, and politics entered the sport, big time.

A GENERATION BACK

The June 25, 1983 images of Mohinder Amarnath trapping Michael Holding leg before to end the West Indian domination of the World Cup are singed in memory. The images of Kapil Dev running miles to catch a skier to send back the dangerous Vivian Richards has been played on television channels a million times. Kapil himself holding aloft the trophy gave immense pride to a nation bereft of too many impact feats on the world stage.

Those were the days when one day cricket was still played in white flannels, and they used a red ball. Floodlights and night cricket were unheard of, just like no one could imagine dismissed batsmen reviewing their decisions one day. Sliding on the green grass to save a mere single was about as common a sight as Virender Sehwag defending the cricket ball. Those were times when a batting strike rate of 60 was considered healthy, even though men like Kapil Dev doubled it with scintillating regularity. One could count on the fingers of one hand the number of TV cameras used to broadcast a live cricket match. Some things just did not exist, and some that did, have changed. Those were the daysÖ

Cut to the chase. Captains Kumar Sangakkara and Dhoni had to toss the coin twice on April 2 inside a Wankhede Stadium that had not an empty seat left. Both wanted to bat first, but when on the first occasion Dhoni seemed to have called right, the umpire seemed to have heard wrong. So up went the coin again to Ravi Shastriís toss-by-toss account, and with it went Indiaís chances of batting first, and possibly setting up a formidable total with its magnificent batting line-up.


DREAM COME TRUE: Sachin Tendulkar has his moment after 21 years of international cricket. Some of those carrying him were a year or two old when he started playing for India
QUIET AND EFFICIENT: Behind every successful cricket team is a great coach. Gary Kirsten proves it, and the boys show their appreciation

---

A leader shows his Man of the Final prize and the World Cup trophy
That magic moment in 1983, Kapil Dev sets alight a million dreams
PRESSURE SOAKERS

Sri Lanka had played well throughout the tournament, but without at any stage having been involved in high pressure games. They lost the match against Pakistan in Colombo, but then they always knew that in the group stage one loss wouldnít really matter. It didnít. They came through their quarter final and semi-final games rather convincingly. The match against England at the last eight stage, in fact, looked totally one-sided with the Lankan openers remaining unbeaten to post a crushing victory for the hosts. New Zealand, to be fair, was never going to test Sri Lanka fully, and as it panned out, didnít. But the final would turn out to be a different ball game altogether.

On the other hand, India, had had a really tough tournament, but had inevitably looked good under pressure. The loss against South Africa helped to wake up the Indian middle-order that had begun to collapse more often than castles in the sand. In the other matches India had managed to hold its nerve and scrap to victories in every close encounter. One of those encounters that they could so easily have lost, ended in a tie, against England. But there were other games where they just out-batted and outclassed the opposition. The teamís bowling wasnít much to rave about in the initial part of the tournament, and during the group stages it became evident that South Africa, Australia, Pakistan and Sri Lanka had better all round bowling attacks than Indiaís. Australiaís, though, was pace heavy, and they relied far too much on the express speed of Brett Lee, Mitchell Johnson and Shaun Tait to win them games. The other teams had a balanced mix of pace and spin. Indiaís somehow lacked bite, and time and again at the g
roup stage the bowlers allowed the opposition to pile up huge scores. Only Zaheer Khan looked world class, the rest were not at their best. Not in the league matches, anyway. But even then, one Yuvraj Singh was quietly demonstrating what he could do with the ball, and giving the team vital breakthroughs when it mattered.

THE TURN AROUND

And then things slowly began to turn around. Came the game against the West Indies, Indiaís last league match that would determine their standing in Group B. Some of the vital moments went the bowling unitís way. India put 268 on the scoreboard before being bowled out in the 50th over. Not a happy sign for a good batting unit, but still. That they managed to put up the score was mainly because of a brilliant hundred from the player-of-the-tournament-designate Yuvraj Singh, and a half century from a player who increasingly looks like Indian cricketís next poster boy, Virat Kohli. Still, with the Indian bowling unit under the cosh, and given the explosive firepower in the West Indian camp----especially from the likes of Chris Gayle and Kieron Pollard----anything could happen. West Indies, in fact, was on course to disappoint Indian fans. At one stage it had lost only two wickets for 154 on the board. With just over a hundred to get at that stage from more than 19 overs, things looked a bit unsettling for Dhoni and his boys. The likes of Pollard could finish the game very quickly, and so the Caribbean unit had to be favourites to win the game at that point.

But India did not allow that. The bowling unit rose to the occasion. Eight wickets were gobbled up in the space of 34 runs. Suddenly, it seemed, that India could bowl as well as it could bat, and the victory margin in the end, by 80 runs, was very convincing. While you could argue that West Indies had snatched defeat from the jaws of victory, you could also say that the Indians bowled tremendously when it mattered the most. And it was to be a turnaround moment for the Indian side in the tournament. The bowling unit was shifting gears, and it was beginning to tell.



TRUE HERO: Sachin Tendulkar should now be recognized the greatest cricketer in the post-War era
THE FINAL BEFORE THE FINAL

Now into the quarter final, they awaited their most difficult encounter, against the Australians who had somehow slipped to number three in Group A, and was, therefore, lined up to play India, the runners up in Group B. The match was billed as a final before the final, the reigning World Champions against the most favoured for the titles. The Aussies do not go down without a fight, and without giving it their best. Never, ever. Could they upset Indiaís dreams one more time? The WC final in 2003 at the Wanderers came to mind repeatedly.

As it turned out, the beleaguered Australian captain Ricky Ponting who until that point was having a below par tournament, chose to come to the party in the quarterfinal. Not having hit even a 50 against any side in the tournament, and not having hit a one day hundred in over a year, Ponting chose Ahmedabadís Motera Stadium to return to form. He didnít play scintillating cricket, but only percentage shots, and made his way to a hundred at a time when his team needed him the most. His tenacious captainís knock helped Australia post 260 on the board, a very competitive score given the enormous pressures of a run chase that India could face in a high voltage quarter final, the expectations of an entire home nation, and given Australiaís fiery pace attack that would undoubtedly come very hard at India. Was it game over for the hosts? Would its dreams be scattered about like broken glass on a floor? Or had the bowlers done well to prevent Australia from getting another 20-30 extra runs?

In a quarterfinal situation with one team to stay in the Cup and the other to exit, getting 260 against Australia is like having to get 280, because they are so athletic on the field and save so many runs. And they build pressure on the field at key moments. Expectedly, the Aussies gave absolutely nothing away. Sehwag went early to a loose hook shot that he should never have attempted. But Tendulkar scored a fluent half century and Gambhir carried on the good work. But when suddenly Kohli and Gambhir departed in quick succession, and then skipper Dhoni came and left early, the game was very much in the balance. One more wicket, and the Australians would be all over the Indian tail, and would make the team sweat for every run. India found two heroes. Yuvraj Singh and Suresh Raina together initially soaked in the tension with some intelligent cricket, rotating the strike and running the singles hard. Then suddenly in two overs, they broke free and the game was decided. The two overs yielded 27 runs, and the two
premier fast bowlersóLee and Taitóhad been flattened. It pretty much took the wind out of the Aussie sails, and could you see some shoulders drooping? Both left-handers battled very hard, and got India past the finishing line. The Aussies had tried, Ponting had fought like only a battle-scarred veteran can, but their run had ended after three World Cup wins (1999, 2003 and 2007) on the trot.



INDIA REJOICES: Out on the streets of Indian cities, fans, well-wishers and even those who do not understand the game, poured out. It was a victory that lifted Indiaís mood
MAGIC AT MOHALI

And now came the big game, a game to top all else. If ever there was pressure-cooker tension, this was it, at Mohali in the semifinal against Pakistan, a needle encounter that was being watched by the Prime Ministers of both nations present on the ground. And what a match it turned out to be. This time India batted first, and Sehwag looked like he needed to be home in Najafgarh in Delhi within the next one hour. He was in a hurry, and lasted only 26 deliveries. But in those 26 deliveries, the game was changed. He blasted Pakistanís most consistent bowler up until then, Umar Gul for 21 runs in one single over. The Delhi Dasher did not potter around, he was gone for 38 after attempting a flick, a shot that would consume him in the final as well. But his brief sojourn provided the momentum that allowed the rest of the team to maintain a reasonably good run rate throughout. Tendulkar who was dropped four times, and had a leg before the wicket (lbw) decision against him reversed by the third umpire, scratched his
way to what was in the end a match winning 85. Yet again, Suresh Raina played a classic down the order, powering India to a respectable 260 that would not be easy to chase under lights, and certainly was no mean score in a semifinal game. Would Pakistan crumble?

Yet again, Indiaís bowlers held their nerves, and each time Pakistan seemed to gain some momentum in the game, a wicket fell. Skipper Dhoni used five bowlers, and each of them snared two wickets apiece. Pakistan fell short by 29 runs, underscoring the importance of that one Gul over that Sehwag pounced upon like a hungry lion. Shahid Afridi, Pakistanís captain who had bowled like a tiger throughout the tournament, and eventually ended up as the joint highest wicket-taker (21) with Zaheer Khan, went wicketless in the semifinal. It was Indiaís bowling unit that had come good once more in a pressure match. They combined to choke out the opposition in a game where oxygen was in short supply.

THE FINALE

And then came Sri Lanka that had until most of the tournament done very little wrong, except having lost a home game to Pakistan. The difference between the two sides as they faced off was that India had come through two nerve-wracking, high-intensity pressure games. Sri Lanka had navigated relatively easily into the final. Would they stand up when it mattered? Changes were brought in to the Lankan side, some of them questionable. Why did Ajanta Mendis, Sri Lankaís top bowler in the tournament, not play? Admittedly he hadnít done well against India in the past, but given that he was high on confidence, and low on economy during the entire tournament, he should certainly have got the nod.

The legendary Muthiah Murlitharan was playing his last international match, and would he be allowed to bow out in style? After all, in the semifinal in Colombo when Lanka had bested New Zealand rather easily, he was given a rousing farewell. Sri Lanka battled hard, and the classy Mahela Jayawardene produced a magical hundred. What a player he is. His innings, and particularly the slog over demolition, powered his team to 274. History was against India. No team had chased so many to win a World Cup final. No man had ever scored a hundred and been on the losing side in a World Cup final. No host country had won the title.

India was put to the test, and when Sehwag left in the second ball of the innings, attempting a rather unintelligent flick from in front of the stumps only to miss Malingaís pacy delivery, there was silence. There was even greater silence when Tendulkar left after looking very good. At 31-2, with Indiaís two best batsman in the pavilion, things looked iffy. Then the youth took over. Gambhir played the innings of his life, ending up on 97, after having nearly perished on 30. Kohli made an impact with a steady 35, and then came in Dhoni. Cricketing fans were talking of how he hadnít had a good World Cup, but then public memory can be short. In the second warm up match of the World Cup, Dhoni had promoted himself to number 4, and got a hundred off 64 deliveries against New Zealand. When he decides to move himself up, usually Dhoni will get the runs, as he has shown time and again at the IPL and for India in the past. But this was a World Cup final. He hadnít been in the best of forms. Would he rewrite the history books?

Captain Cool played percentage cricket in the company of Gambhir who himself was scripting a gem of a knock at the other end. The two ran their singles hard, and even after a bout of dehydration in the sweltering heat (remember, the wicketkeeper had kept wickets for over 300 deliveries and sat down and stood up after each delivery), the captain continued to hare down the pitch. Gambhir left with the score on 223, but he and Yuvraj ensured that there would be no hiccups on the way.

When Nuwan Kulasekara came in to bowl the 49th over, India need three runs for victory. Dhoni chose to sign off in a manner that will now ensure that along with Kapil Devís catch to send back Viv Richards in the WC 1983 final, the lofted stroke for six that he essayed will become a timeless classic. One thatíll be watched over and over again, for years to come.