Dr. Hari N. Harilela is a living example of how one can not only overcome poverty, but also go on to make a tangible difference to the lives of millions around the world. Dr. Harilela is the Chairman of the Hong Kong-based Harilela Group, which runs businesses ranging from hotel and real estate investment to import and export trading. The group was founded in 1959 by Dr. Harilela and his brothers. The Harilela Group of hotels includes properties in Hong Kong, Macau, Singapore, Penang, Bangkok and Sydney. Dr. Harilela was born in India in 1922 and was brought up in Hong Kong.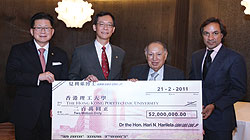 Dr. Harilela is on the ball when asked to name his 'most outstanding achievement'. The 87-year-old, who betrays no angst of advancing age, says it is "keeping over 100 members of my family happily living together under one roof" – the "roof" that shelters the Harilela residence, an impressive building in Hong Kong's Kowloon Tong area. In fact, family is central to Dr. Harilela's universe. Very proud of his parents, he says it wasn't an easy childhood having gone through some very tough times when he and his siblings – five brothers and two sisters – were barely in their teens. He dropped out of school at 10 to help with the family business.
He also pays tribute to the surname he bears for it is not the one his father inherited from his Sindhi family. Dr. Harilela's father, Naroomal Lilaram Mirchandani, was working in Singapore in the mid-1920s when he got news that his mother had died. By the time he rushed back to Hyderabad (in present-day Pakistan), his family had cremated her. Angry at not being able to pay his last respects to his mother, he gave up his family name (Mirchandani) and adopted a new one (Harilela), a combination of his father's name (Lilaram) and his mother's name (Haribai).
His father then moved his family to canton in the 1930s and by 1937 had established a small curio and antiques store in Hong Kong. By the end of the Second World War and after the death of Naroomal Harilela, the family had set up a tailoring business. By 1959, it had moved into hospitality when it bought the Imperial Hotel in Hong Kong.
Now, the Harilelas' holdings include hotels in Hong Kong, Macau, Singapore, Penang, Bangkok and Sydney. They also have a seat on the Hong Kong Stock Exchange and many investments. In 1985, Dr. Harilelawas named Member of the Consultative Committee for the Basic Law of the future Hong Kong Special Administrative Region. Dr. Harilela's association with India dates back to the 1950s, when he played a key role in arranging the visit to Hong Kong of India's first Prime Minister Jawaharlal Nehru. He would play a similar role in subsequent visits of high Indian dignitaries to Hong Kong.
The family is actively involved with a number of projects to help widen cultural and commercial links with India and promote India as a tourist destination.
Mission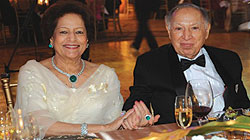 Dr. Harilela's charitable works are many. He contributed substantially towards relief work in the aftermath of the Gujarat earthquake in 2001 – a gesture which was widely appreciated. Dr. Harilela is also recognized for his outstanding contributions in the services of the Diaspora and for fostering better understanding about India and her civilization. In fact, he has helped raise the profile of the Indian community through deeply engaged interactions with the Hong Kong community.
Recognition
Dr. Harilela served as the Hong Kong Affairs Adviser to the Chinese government and was awarded the Order of the British Empire (OBE) and the Gold Bauhinia Star (GBS). He is also a recipient of the Pravasi Bharatiya Samman Award – 2003 from the Government of India.
Dr. Harilela is a Life Regent at Pepperdine University, USA, and an Honorary Court Member of the Hong Kong University of Science and Technology. At the 4th Annual Asia Pacific Hotel Industry Investment Confrence held in Singapore in March 2001, Dr. Harilela was presented with a 'Lifetime Achievement Award'.
Dr. Harilela's has been a life of inspiring fortitude.

Contact
Kowloon Centre 1st Floor, 29-39 Ashley Road, Kowloon, Hong Kong.
Tel: (852) 23762117 Fax: (852) 2376 3331
E-mail: harilela@pacific.net.sg