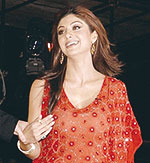 When B-grade Bollywood actor Shilpa Shetty signed up for the hit British reality show Celebrity Big Brother, she had little idea of what was in store. Even by the hazing yardstick of current reality shows, Big Brother's housemates went a tad too far. First she was referred to as "dog". A few of the white housemates refused to learn her name, referred to her as "the Indian" and "Poppadom". Former Miss Britain and model Danielle Lloyd said: "She should f*** off home. She can't even speak English." Yet another housemate, Jade Goody, who later became the most vilified, refused to eat butter chicken cooked by Shetty, saying you never know where her hands had been. Implying Indians weren't clean.

The cameras, of course, were recording every word and move. Soon those videos were being replayed in livingrooms across the world, showing the crass underbelly of British racism. The shit had hit the ceiling. The controversial TV programme's sponsor withdrew its multi-million-pound largesse, the actress accused fellow contestants of targeting her because of the country she came from and, hey, racism was alive and cringing.

The show triggered a major controversy in Britain with Prime Minister Tony Blair saying in the House of Commons that he was opposed to racism in all its forms after NRI MP Keith Vaz raised the issue. Media watchdog Ofcom received more than 40,000 complaints about the alleged racist bullying in the series.

Panicking Big Brother executives engineered a phoney rapprochement between Shetty and Goody as pressure grew to axe the show. In a 90-minute talk with Shetty, executives are said to have manipulated her into saying she did not feel the victim of racism. They then compelled Goody to apologise to her.

Shetty played down the row, saying her biggest shock in the house was "to cook". She looked shocked when the show's host Davina McCall told her the fighting had caused a furore. But she said: "I kind of had an inkling but I'd love to hear some news."

Shetty said she didn't want Goody to be branded a racist. "Things happen, people make mistakes and we all learn from them," she said. "But I can say one thing for sure, Jade didn't mean to be racist. She isn't a racist. I really don't want to leave England putting anyone in trouble. This country has given me so much." Her response drew cheers from the studio audience.

But the row wasn't over yet. Inviting angry reaction from British Indians, Channel 4's chief executive Andy Duncan said the show "had hit a nerve that really reflects society at large". Refusing to take any radical action about complaints on racism, he said it was up to the British public to decide.

And decide it did. Goody, the big-mouthed tormentor of Shetty, was evicted from the Celebrity Big Brother house on voting night as millions of viewers turned the phone vote into an impromptu referendum on racism. More than five million viewers voted after Chancellor Gordon Brown, on a visit to India, broadly suggested that a call to oust 25-year-old Goody would be a vote "for tolerance." Over 82 per cent of voters chose to throw Goody out after her attacks on the 31-year-old Bollywood star.

Screaming with surprise, Shetty burst into tears as McCall announced the news. "Chicken curry rules! Thank you so much," Shetty yelled as she was led out of the house by McCall. "I just want to thank Britain for giving me the opportunity of making my country proud," she said.