Best of the East
---
Indians number just around 30,000 in Hong Kong but apart from being among the very first foreigners to settle in the territory, this wealthy community can rightly claim to have contributed hugely to the rise of Hong Kong as one of the world's leading trading zones.
By Rup Narayan Das
---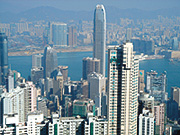 Through its spectacular transformation from a 'fever stricken rock' to the El Dorado of the East, Hong Kong has had deep and profound links with India. Although Britain's contact with China begun in the 17th Century, there was not much expansion of British commerce in East Asia until the later half of the 18th Century. The expansion of British influence in India ensured Britain a dominant role in India's trade with China. The formation of the British East India Company promoted and facilitated the commercial intercourse between Britain and China with the base initially at Canton (Guangdong) and later at Hong Kong when the territory was occupied by Britain after the Opium War in 1842.

Among the Indian business community, the Parsees were the earliest to settle down and start business. They came along with the British from Canton in the mid 1800s

It is blot on history that in the commercial contact between imperial China and colonial British India, opium occupied a pivotal position. It was indeed an irony of history that although both India and China had suffered imperialism and colonialism, when a British Naval force landed in Hong Kong in January 1841 and hoisted the Union Jack, about 2,700 Indian troops and four Indian merchants were witness to the occasion. In fact the Treaty of Nanking, which ceded Hong Kong from imperial China to Great Britain, makes a mention about Indians. It was in India that the erstwhile colony raised its first military force, the Hong Kong Regiment recruited in 1890 among Pathans, Punjabis and Bengalis.

The colonial government recruited personnel in the police and the administration to man services such as health, education, and communication. It was much cheaper and quicker to recruit such people from India, which was then a part of British Empire. According to Kewal Ram Sital, a former chairman of the Council of Hong Kong Indian Associations, out of 3,475 Indians living in Hong Kong in 1931, almost 1,800 were employed in the administration.

Among the earliest Indian settlers in Hong Kong, the name of Ebrahim Noordin merits mention. He started the first cross-border ferry linking Hong Kong with Kowloon in 1842. His great grandson Hatim D. Ebrahim is a noted businessman in Hong Kong. His trading firm imports pulses from mainland China and Myanmar and exports them abroad, besides he deals with the exports of kitchenware from Guangdong and Shanghai to Europe and cotton yarn from India and Pakistan to China.

It may be a little know fact that the founders of Hong Kong's oldest trading firm Jardine & Matheson had worked in Calcutta with the East India Company before moving to Hong Kong. William Jardine was a surgeon in one of the Company's ships before settling down to trade on his own account. James Matheson worked in an accounting office of his uncle's firm and had gone to China almost by chance because his uncle was angry with him for having failed to deliver a letter to one of the firm's captains and had threatened to send him home. Between them Jardine and Matheson built up a highly successful firm which is still today one of the few largest business conglomerates in Hong Kong.

February 2007