USABF: Agenda with a View
---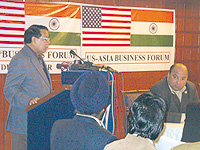 The US Asia Business Forum meet held at The Ashok on January 11 was inaugurated by Minister for Information and Broadcasting P.R. Dasmunshi. Setting the ball rolling he said that the USABF would play the role of a catalyst and will act as a bridge to harmonise the activities of FICCI, CII & ASSOCHAM. The list of other VVIPs who addressed the gathering from US and Canada were Honorable Chief Minister of Delhi, Mrs Sheila Dixit, and Honorable Minister of Urban Development, Mr Ajay Maken, Mr Rambabu Sharma, President of the Delhi Pradesh Congress Party, Mr John Fennerty, Deputy Economic Counsellor, Embassy of The USA, to name a few.

USABF (a non-profit organization) based in Los Angeles California has led a successful trade delegation from US to India consisting of investors from areas of Entertainment, IT, Banking & Financial Services, Healthcare, Real Estate and Construction. This delegation consisted of well known names of US like Ramesh Kapur, chair, DNC, Nirmal Sinha, PBD 2007 Samman Awardee and over 30 other entrepreneurs from US and Canada. Agreements worth more than US $ 2 Billion were signed between various companies from India and US.

Mr Kishore (Kevin) Kaul & Mr Gurbax Bhasin, Executive Directors, US Asia Business Forum in their inaugural welcome addresses in the presence of more than 200 well known personalities from US and India and Media persons from all over the globe said that the attempts being made by USABF would strengthen trade relations between US and India.

John Fennerty predicted that relations between the United States and India (that were on the fast track) would reach a new, historic level in coming years. He expressed confidence that India, China and US would become the biggest economic powers in the next 10 years.

Earlier Dasmunshi expressed confidence that by the end of the 11th five year plan, India would be at par with the best nations in the world and said that its relations with USA would improve beyond expectations.


GOPIO Convention 2007: Time for Resolve
---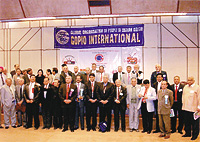 Several resolutions were passed at the final concluding session of the GOPIO Convention 2007. The session was chaired by Thomas Abraham, Chairman GOPIO International.. The resolutions are as follows:

Resolution 1 - Establish an Advisory Committee from Diaspora Leadership to the Ministry of Overseas Indian Affairs for furthering the mission of the ministry.

Resolution 2 - Concerns of law and order situation in Trinidad and Tobago (T&T) especially crimes against PIOs in that country and T&T to remedy the situation.

Resolution 3 - A constitutional amendment by Indian Parliament for allocating up to five Lok Sabha seats to provide representation of 8 million Indian citizens living outside India.

Resolution 4 - Government of India should streamline rules governing the foreign contribution regulation act (FCRA) and custom clearances for charitable organizations in India.

Resolution 5 - With increased demand for visas and passports at the Indian missions abroad, improve consular services with better facility and efficiency.

Resolution 6 - Provide Overseas Citizen of India to the children under age 18 born of Indian parents.

Resolution 7 - Remove discriminatory practices of high price toward NRIs/PIOs for the admission tickets to historic sights, air travel and hotel accommodations in India.

Resolution 8 - Expand on qualification to receive PIO card up to 5th generation PIOs.

Resolution 9 - Government of India should take necessary step to rehabilitate NRI workers stranded in the Middle East.

Resolution 10 - Concerned about crimes perpetuated toward parents left behind by NRIs, Government of India and MOIA should take steps to ensure safety of NRI parents.

The resolutions were personally handed over to MOIA Minister Vayalar Ravi at the GOPIO banquet on January 6th.

The GOPIO Community Service Awards were presented to Charan Gill (Canada), George Abraham (Singapore), Nevin P. Megchiani (Middle East) and Wahid Saleh (The Netherland).

February 2007