United States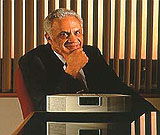 NAMAR BOSE has made it to the Forbes list of richest Americans. The 77-year-old sultan of sound shares the 271st place in the list with a net worth of $1.8 billion. Bose, an acoustics pioneer, formed his firm 43 years ago, which today thrives on the latest in iPod speaker docks, home theatre systems, noise-killing headphones, with a sale of $2 billion. Bose was born and raised in Philadelphia, Pennsylvania. He has a PhD from M.I.T.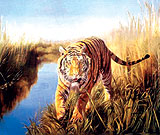 Radha Basu, who helped set up Hewlett Packard's first overseas centres, and husband Dipak, did a study of information and communication technology needs of the fisherfolk of the Sunderbans, West Bengal.
Basu has wanted to improve the standard of living of the residents of Sunderbans for a while and decided that improved technology or policy and infrastructure change would help the fisherfolk who said they want to learn marketing skills.
Basu recently quit her job on the board of her company SupportSoft and huband Dipak quit his job at Cisco to found their own NGO, Anudip, for the purpose..

Canada
A KOLKATA-born scientist, whose invention is powering NASA astronaut's suits, is among 11 Indo-Canadians honoured for their outstanding achievements in the field of business, science and humanitarian work.
Sankar Das Gupta has seen his invention go as far as outer space. NASA is using his patented lithium ion-super-polymer battery technology to power the life support system for astronaut's suits.
In partnership with Microsoft, he has also developed the Scribbler, a wireless laptop that runs eight to 10 hours on one charge and weighs less than 1.4 kg.
He has also designed a Green Car could go 300 km on a single charge at a cost of Rs 80.

News from Bengal
Thanks to the initiative of around 20 NRI doctors, mostly from Britain and the US, a hospital is being set up in Kolkata with the aim of providing quality healthcare at a low cost to the poor.
Sanjiban, which will be located on the outskirts of Howrah, 30 km from Kolakata, will offer specialised services in fields like paediatrics, cardiology and ENT and will be operational by April next year.
"Sanjiban was an idea that we had conceptualised during our college days in the early 1980s. Now it will turn into reality," said Subhashis Mitra.
NRI-PIO Bodies
ARGENTINA
Asociacion Hindostanica De Agrentina
25 De Mayo 999, Rosario De La Frontera
Salta , argentina
Postal code: 1490
Tel: 03876-481154

AUSTRALIA
Association For India's Development Australia Inc
17/41-43 Fontenoy Road
Macquarie Park
New South Wales, Australia
Postal Code: 2113

CANADA
Asha Jyoti Community Welfair
1065 Bloor Street West
Ont. N6H 1M5
Toronto, Canada
Tel: 536-6373

DENMARK
Asian Writers Association
Frederiksundsvej 134
Bronshoj, Denmark
Postal Code: 2700

FIJI
Dakshina India Andhra Sangam Of Fiji
P.O. Box 1058,
Lautoka, Fiji
Tel: 679-651848

FRANCE
Association Muktodhara (Rabindra Sangeet)
18, rue de Bonne
PO Box 94000,
Creteil, France
Tel: +33 01 48 99 34 81

GERMANY
Berlin Kerala Samajam
Feuchtwangerweg 3
Berlin, Germany
Postal Code: 12353

MALAYSIA
All Malaysia Malayali Association
No 1155 Blossom Heights
Jalan Tok Ungku
Sermban, Malaysia
Postal Code: 70100

MAURITIUS
Art Of Living - Curepipe
23 Leclezio Street
Curepipe, Mauritius
Postal Code: 742 CU 035
Tel: +230 676 4557
For purchase of NRI Data base in CD format Contact us at: sales@indiaempire.com, info@indiaempire.com

For further details of organisations in each country contact us at:Tel: 011-29231515 or mail sales@indiaempire.com
info@indiaempire.com

United States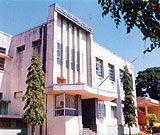 THE GOVERNMENT of Karnataka plans to set up a $1 million corpus fund from donations received from NRI Kannadigas to train engineering colleges' faculty members abroad.
During a recent visit to the US, the minister for higher education D.H. Shankara Murthy was offered two thirds of the funds towards setting up the corpus fund with the government funding the rest.
Some US universities also agreed to train faculty members of engineering colleges in the state and some 200 will be sent in batches for training abroad, once the fund is established.
BOSCH has agreed to fund the upgradation of nine engineering colleges and provide placements to students of the colleges in their facilities..

Saudi Arabia
WEST COAST NRI Forum of Saudi Arabia has been lobbying for a long time to get Mangalore airport upgraded to enable the landing of international flights. The forum comprises non-resident Indians from coastal Karnataka areas.
According to the forum, while neighbouring state Kerala can boast of four international airports, they are not able to upgrade Mangalore airport, which is over 50 years old.
The large NRI community in the area, especially women and children, face immense hardship while travelling to their hometown via Mumbai or other airports, having to undergo a travel time of 18 to 48 hours. A direct flight landing in Mangalore would cut travel time and also reduce the discomfort of having to change flights, check-in procedures, etc.
It will boost the export of perishable products such as fruits, vegetables and seafood. Trade and industry will get a boost too.
News from Karnataka
Freed terror suspect Muhammad Haneef's saga has taken a new twist, with the Australian government challenging a court's decision to reinstate the doctor's work visa. Immigration Minister Kevin Andrews had vowed to appeal against the August 21 decision by Acting Chief Justice Jeffery Spender of the Federal Court in Brisbane who ruled that the minister had made a jurisdictional error when he cancelled Haneef's visa on grounds of character.
The Aussie government has also sought an extension to the stay on Haneef's visa.
TELUGU/ORIYA DIASPORA

United States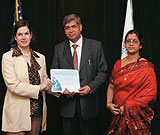 THE TELUGU Sahitya Vedika recently conducted their second monthly meeting in Irving near Dallas. The programme was well attended by Telugu literary fans from the North Texas region and Oklahoma
The invited speaker for the event was Vedala Srinivasacharyulu, professor of Sanskrit and Philosophy at Oklahoma Central University, Edmond. Vedala has been teaching for over 15 years and also performs priestly duties at Hindu temples. He holds an MA in Telugu and Sanskrit and has a gold medal for his Ph.D from Andhra University. The chief guest for the evening was Upendra Chivukula, (Democrat) Deputy Speaker of New Jersey State assembly and has been representing the 17th Congressional District of New Jersey for the last six years.
The program began with the introduction of guests by Sri Prasad Thotakura and was presided by Sri Raja Reddy, President, TANTEX.
The next such event will be held on Sunday, October 21.
SACHIDANANDA SATPATHY of Ganjam district has bagged the prestigious Stratospheric Ozone Protection Award for 2007.
The US Environment Protection Agency (EPA) presented the award to him on in Washington. Satpathy has been working as National Programme Manager in SPPU, Ozone Cell under the UNDP-implemented project (Ministry of Environment) since 2003.
He belongs to Bijaya Laxmi Saranpur in Ganjam district. He did his doctorate in Chemical Toxicology under the supervision of Prof B.N. Mishra, former vice-chancellor, Berhampur University.
Satpathy is closely associated with implementation of the 'Vienna Convention For Protection Of The Ozone Layer' and the Montreal Protocol On Substances That Deplete The Ozone Layer. Satpathy has also participated in various Montreal Protocol meetings..
News from orissa
Bailochan Behera, who founded and manages US-based STI says Oriyas should not be shy of investing in their state.
"Overseas Oriyas can make a difference in the development of the state by providing a momentum to the local economy. However, a lot of them are still sceptical about the business conditions in the state and are afraid of taking risks," Behera said.
"Helping people by donating money only makes them further dependent. By making people financially independent by providing jobs, we would be helping them in the long term," said Behera.