GOPIO'S NEW POST
The opening of GOPIO's New Zealand chapter is a significant event for the Indian ­community that traces its roots in this isolated Pacific nation to 1890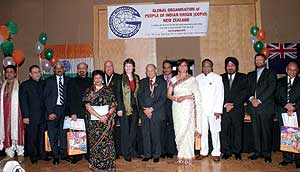 IN AUGUST COMPANY: New Zealand prime minister Helen Clark (wearing shawl) and GOPIO International president Inder Singh (to Clark's left) at the inaugural dinner in Auckland
For GOPIO International October 4, 2008 was a historic occasion when the Prime Minister of New Zealand, Helen Clark, officially launched GOPIO New Zealand.

A gala dinner banquet at Auckland's Stamford Plaza Hotel was attended by a galaxy of celebrities. Besides Clark, her two cabinet colleagues, education minister Chris Carter and trade minister Phil Goff were the guests of honour. Other dignitaries attending the function included Member of Parliament Lockwood Smith, India Trade Group chairperson Richard Worth, human resource commissioner Joris de Bres, deputy chief of the Indian mission Kunal Roy, Judge Ajit Singh and former chief commissioner of the Families Commission Rajen Prasad.

GOPIO International president Inder Singh specially went from the US and regional vice-president Noel Lal flew from Australia to participate in the event. Many prominent members of the Indian community from New Zealand also attended the gala event.

In welcoming Clark, Inder Singh thanked her for voting, as a member of the Nuclear Suppliers Group, in favour of India. He urged the prime minister to ensure enforcement of law and order as recent attacks on four Indian retail stores has shaken the confidence of the community.

Inder Singh thanked host Harish Bajaj for his leadership, dedication and commitment in initiating multiple GOPIO chapters. He also thanked Ashok Bhatia, Davinder Singh Rahal, Dr. Karan Sahrawat, Manjit Singh, Naresh Shukla, Rajiv Pandey, Rakesh Gupta, Rohini Jagmohan, Virinder Aggarwal, and Suman Kapoor for their leadership of their respective chapters.

Indians in New Zealand trace their beginning to the arrival of two brothers Bir Singh Gill and Phuman Singh Gill who went to New Zealand in or about 1890 from Australia. Today, New Zealand has about 120,000 NRIs/PIOs—about 3 per cent of the New Zealand population of 4 million.