Goodbye, Dada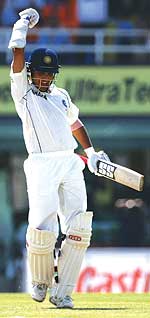 This is one exit that will rankle sports lovers a while. Not because a stellar sportsman has chosen to bow out before his time had come, but because he was pressured into doing so. In the end, Sourav Chandidas Ganguly, once stripped of Indian captaincy, humiliated by a coach, dropped from the Indian team, recalled and dropped from the one-day side, then dropped from an Irani Trophy match, could take that much, and no more. Even though he was good enough for at least one more season for India, circumstances, and a section of cricketís unforgiving Media did the 36-year-old south paw in. Before the India-Australia Test series he called it quits, from all forms of the game.

As statistics bear out, Ganguly has been no lamb with the willow. Even though he eventually crossed the 7,000 run mark during his last series (some will humour him and say he went past Don Bradman) and became the fourth highest scorer for India in Test matches, it is for his one-day record that Ganguly will find a special mention in Indian cricketing history. He scored over 11,000 runs, hit 22 hundreds and also was the quickest to reach such milestones as 7,000, 8,000 and 9,000 runs, only to be beaten by Sachin Tendulkar to the 10,000 runs mark.

Thatís saying a lot, especially when you consider all the batting stars that have adorned the one day format since it was first played in 1971. That he hit the third highest number of sixes in ODIs (after Shahid Afridi and Sanath Jayasuriya) helped. And yet, after scoring the second highest runs for India in ODIs following his return to the Indian team, Ganguly was dropped from the ODI team.

If that does not rankle, this certainly will. After his return to the Test side Ganguly performed with great courage, and played out some of his most memorable knocks when his team needed his talents the most. In South Africa in 2006-07, right after he was recalled, he top scored in the series. The series against England in England went very well for him personally, and then when Pakistan and South Africa toured India he simply let loose, being Man of the Series against Pakistan after notching up his highest career score. The visit Down Under wasnít as productive, and then poor scores followed in Sri Lanka during a series when no batsman really stood out. But right after, it was Ganguly who was given the boot from the Irani Trophy squad for Rest of India, even though he had been batting well overall during the year. Even for the mentally tough Ganguly, not being considered among the probables for the Rest of India side was too much to take.

Rated the best captain in the last 75 years, Ganguly was no kitten when he led Indian cricket teams. He infused a great deal of aggression in his team-mates, and for the very first time those that played under him learnt to look the opposition in the eye. He backed players who showed talent and gave them a long run, it did not matter to him which part of the country they came from. In the post match-fixing era, he brought plenty of respectability to Indian cricket, and yet in the end Indian cricket failed to show much respect for one of its finest players. The shock treatment led at least two greats to comment in his favour. First Sunil Gavaskar found that Ganguly had always been made to consistently prove himself despite being one of Indiaís most successful batsmen, and a great captain. Then Tendulkar noted that he was surprised that Ganguly had chosen to exit Indian cricket so suddenly, and thought that the lack of respect shown to senior cricketers like him had something to do with the decision.

Even in his final series against Australia, Ganguly notched up a hundred at Mohali, his 16th in Test matches. He later said that the hundred helped him to tell the world that he belonged at the highest level.

A word about his performance in the IPL. Even though his side Kolkata Knight Riders performed below par, Ganguly remained one of the tournamentís top run-getters. He was the only Indian player who managed two scores of 80 plus (86 n.o. and 91) in the 20 over format. If that wasnít good enough to dispel doubts that he couldnít play in the shorter format, nothing can ever be.

He goes out, but with head held high.