"Success may not have a surefire recipe, but some of its ingredients would no doubt include copious amounts of hard work, dollops of patience, and a high premium on value. The last one is defining. Successful men know it. After all not for nothing did Albert Einstein famously say that it was prudent to try and not become a man of success, instead it was worthwhile becoming a man of value. What the great man meant is that success would follow.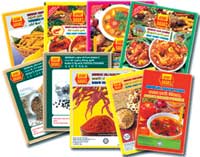 In his own recipe for success, somewhere, R Pagalavan, chairman of Baba Products, Malaysia, has put a high priority on value. Some 32 years ago when he started Baba Products, a company that manufactures a variety of curry powder, Pagalavan had to go door-to-door to sell and popularize his stuff. It wasn't easy, especially since he made his way from beginnings that were really quite modest. His labour was intense. A fear of mediocrity remained a constant companion, reason why through all those years of initial struggle and hardship the company's chairman never compromised on the quality of curry. That one value more than anything else helped build, brick by brick, his customer base, and shaped Pagalavan's own reputation. It also helped position Babas as a top product in the spices genre in Malaysia with a very high brand recall.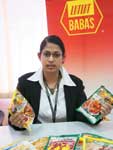 While Babas the brand has walked a long way with Pagalavan the man, there has been a constant and conscious endeavour to place brand (Babas) before personality (Pagalavan) explains Patricia Irvine, the group's articulate international business consultant. Irvine should know. In the last three years that she's been on board with Babas, she, not Pagalavan, has been the face of the company. It speaks volumes about the company's philosophy and of a man who after having assiduously constructed a spice empire is now only too happy being away from the limelight.
Established in 1976, Baba Products currently markets 33 different products in 59 sizes. They range from pure spice powders and curry powders to flours and grains. The company's most popular products include meat curry powder, fish curry powder, chilli, turmeric and sambar (see graphic). The kurma and biryani powders are fast gaining popularity, and the murukku has turned into a popular household snack in Malaysia. Of course both the murukku and sambar are typically items from the south of India, the region from where Pagalavan himself hails.

EXPORTS: GREAT POSSIBILITIES AHEAD
For the group, the key growth area is exports, and increasing a loyal customer base overseas. Babas' foray into the international market began about 15 years ago with consignments of curry powder being sent to Singapore and Brunei. But it took somebody like Irvine to provide a much needed impetus to exports. While the older and more traditional markets remain in place, regions such as Australia, Finland, Ireland, Germany, Switzerland, Norway and the United Kingdom (in Europe), and the USA and Canada have been added to the list. Australia, in fact, is one of Babas' largest export destinations, mainly due to the sizeable presence of Malaysians and other Asians in that country. This population and its exciting fusion-food culture which effortlessly blends Asian and European cuisine into a modern Australian style cuisine has created demand for pure spices. Apart from the traditional ways, these spices are being used innovatively. Babas chilli powder, for instance, is used for the purposes of merely garnishing Down Under.
A driving force behind Babas' decision to further expand its export market, Irvine explains, is the passion for Indian food that is increasingly visible in non-traditional markets around the world. What former British foreign secretary Robin Cook had to say several years ago about the chicken tikka masala, a much-hyped Indian food item served now in elite restaurants, quick food outlets and even palaces, speaks for its popularity. "It is a true British national dish, not only because it is the most popular, but because it is a perfect illustration of the way Britain absorbs and adapts external influences".
Chinese cuisine and Indian curry, you'd say, are as similar as chalk and cheese. Think again, though. As the world becomes a huge global village, Babas finds that its products have found acceptance in one of the toughest markets. In a trip to China earlier this year, Irvine served rice and curry at an international trade fair to local visitors who couldn't seem to get enough of the spicy dish. Curiosity grew, and so did potential customers. Commenting on the encouraging response, she says, "We are trying to cater to all platforms because people are looking out for new flavours globally."
Making gastronomical inroads into China, in fact, has been very significant for Babas. If in the longer run the Chinese palate develops a taste for Indian curry then a whole new world of opportunity will open up. After all in every market numbers are significant, and China is the world's largest market. As of now about 50-100 cartons are being shipped on a regular basis to agents in China. But ground realities are not being lost. The first step is to provide top class quality, and if that means going the extra distance or paying premium prices for the finest spices in the world, then Babas is prepared.

CAUTIOUS APPROACH
Stepping into a new market requires background research, understanding trends, and palates, and then coming up with a workable product mix. It also means getting in touch with relevant high commissions and embassies to know business rules, import and export duty structures, licensing procedures, and also possible exit routes if problems crop up. Out of research and experience came the decision to make a foray into the United States market after Babas met with huge success in Canada.
Sometimes the orders are small, yet quite path-breaking. One such in recent times came from Fiji, where two container loads have been shipped since November 2008. It helps that a sizeable population base in this south Pacific island nation comprises of people of Indian origin, like Pagalavan and Irvine themselves. Another one came from a Malaysian residing in Switzerland who sells meat pies to the Swiss and non-European population. What started out initially with 16 cartons has now quickly leapfrogged into an order for a 100 cartons. Clearly, there are taste buds waiting to be engaged.
Of course at the bottom of every engagement lies the old dictum – value. Babas prefer to position itself as a manufacturer of premium spice products, using high-quality ingredients procured from around the world. "If we have to, we'll source a spice, say coriander, from the other end of the world. We want the best, and we don't mind paying extra for that, that is the ethos of the company," says Irvine. Of course along with the finest ingredients, Babas has now built a tradition of strenuous detailing and sampling, quality control, research and development, and a network of dependable freight forwarding agents. They all add up. It helps that ISO, halal and HACCP certifications are in place.
The recipe for success is undoubtedly there. At its aromatic factory at Selayang, Malaysia truckloads of Baba products have just exited its sanitized environs. They will now make their way to homes across the world. Whether you are in Kuala Lumpur or Kentucky, Toronto or Tokyo, chances are that if you are supping on some lip-smacking, finger-licking spicy Indian curry, then you are discovering the modern day spice route. The trail starts at Babas.