TAMIL DIASPORA

UK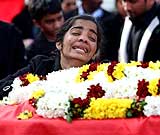 THOUSANDS OF mourners paid tribute at the funeral of a British resident of Sri Lankan origin who burnt himself to death in protest outside the UN building in Geneva.
Murugathasan Varnakula­singham, 26, killed himself outside the UN's European headquarters on February 12 in protest at the conflict in the war-torn Sri Lanka.
"Lots of people were weeping, many, many people queued to make their way around the coffin," said Thaya Idaikkadar, chairman of the British Tamil Councillors and Associates group.

SOUTH AFRICA
ROY PADAYACHIE, South Africa deputy communications minister, hopes to rope in Hindi movie stars, including Sanjay Dutt and Johnny Lever, to help the ruling African National Congress garner votes from the large Indian coomunity.
He will not be performing any Bollywood-style song-and-dance routines, but will address crowds instead. Padayachie said Dutt "has always had a strong association with the ruling party".
Padayachie said Dutt's criminal past would not be a liability for the ANC. "Dutt has a huge fan base in South Africa and is extremely popular among South African Indians. He is has also been a keen supporter of the ANC. He's coming here of his own free will," he said.


US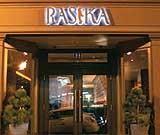 VIVEK SUNDERAM, executive chef at Rasika, an Indian cuisine restaurant in Washington DC, is one of the nominees in the 'Best Chefs of America' category for the 2009 James Beard Foundation Awards, considered the food and beverage industry's equivalent of the Oscars. Sunderam is competing with 49 other chefs from across the USA for the award that honours "chefs who set new or consistent standards of excellence in their respective regions".
Sunderam who worked for the Taj Group in India, ran the award winning Indian fine dining restaurant Bombay Brasserie.

MALAYSIA
AMBIGA-SREENEVASAN, a Malaysian bar council president is one of eight women who received the 'women of courage' award from US secretary of state Hillary Rodham Clinton.
Malaysian women's bodies praised Sreenevasan, lauding the award as recognition in the international arena for taking a stand on national issues such as judicial independence, gender equality and good governance.
Malaysian Chinese Association's Women's Wing Chief, Chew Mei Fun stated Sreenevasan's efforts must be viewed not just from a gender perspective but as a Malaysian who champions justice and equality.
Sreenevasan was present at the awards presentation in Washington.

AUSTRALIA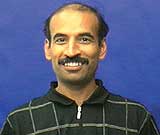 SURESH KUMAR Balasubramanian of the Queensland University School of Biological Sciencess is taking scientists closer to a potential cure for debilitating genetic diseases like Huntington's disease, Friedreich's ataxia and Fragile X syndrome.
Bala studies how different environmental conditions modulate developmental processes in plants. Specifically he aims to understand how plants respond to changes in temperature at a molecular mechanistic level. The study identifies an expansion of a repeat pattern in the DNA of the plant Arabidopsis thaliana that has striking parallels to the DNA repeat patterns observed in humans suffering from neuronal disorders such as Huntington's disease.
Bala obtained his PhD in Plant Developmental Genetics from the University of Zurich, Switzerland in 2002. He then went to the Max-Planck Institute for Developmental Biology, Germany, where he began to explore the genetic basis naturally occurring phenotypic variation. He says: "The whole genome sequencing projects reveal organisms often share the same set of genes and yet exhibit extensive phenotypic variation both within and between species. What are the molecular mechanisms underlying phenotypic variation?"

SINGAPORE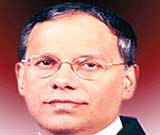 BALAJI SADASIVAN, Singapore's senior minister for foreign affairs, says the contribution of the Indian diaspora to the Singapore growth story will be the focus of a new landmark museum that is being set up in the city-state.
The Indian Heritage Centre, to be funded almost entirely by the Singapore government, will trace the history of early Indians who came to Singapore as traders, soldiers and plantation workers more than two centuries ago, and will open a window to the diversity of the Indian diaspora in the island republic.
Despite the ongoing recession, the Singapore government will provide 95 per cent of the funding for the multi-million dollar museum to be built in the city's Little India district, says Sadasivan.
The remaining five percent will be contributed by the Indian community in Singapore so that they too will be stakeholders in the enterprise, Sadasivan said.
This centre will present a record of the heritage of those who came to Singapore, settled here, were assimilated and have become part of Singapore. "The story of the Indians (in Singapore) is one of hardships and struggle against all odds to build a life here," says Sadasivan.
PUNJABI DIASPORA

US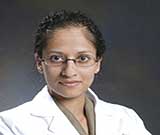 SAGUN TULI, Harvard's only female spinal neurosurgeon and one of a handful in the US, was awarded $1.6 million by a Massachusetts jury in her gender bias and national origin discrimination suit against Brigham and Women's Hospital, an affiliate of Harvard Medical School.
A district court jury found that Dr Tuli had been subjected to numerous instances of harassment, ridicule, intimidation and abusive conduct, largely by Brigham and Women's neurosurgery department chairman Dr Arthur Day.
Tuli said she had complained to superiors about Day's behaviour for several years before filing the suit.
In her suit, Tuli alleged that Day had made sexist comments, including questioning her ability to perform her duties because she was "just a girl". Day allegedly also repeatedly referred to Tuli as "his lover", and in 2004, at a graduation dinner for medical residents in training, allegedly said, "Sagun, can you get up on the table and dance to show the other female residents how to behave?"
In 2007, during a routine credentialing review process, Day questioned Tuli's mental health and decided her credentials would be renewed only if she began to see a psychiatrist. She filed the suit shortly after, alleging slander, among her complaints.
Tuli said the hospital, by continuing to have her report to Day, was sending a signal to all its female employees: "We never cared about you and we still don't. Every woman there should be outraged."
Dr Malini Narayanan and Dr Deepa Soni, both neurosurgeons at Brigham, had also filed complaints against Day. Narayanan settled her suit in 2008 for an undisclosed amount and has since left the hospital, while Soni's suit is still pending.
---
A CALIFORNIA assemblyman has introduced legislation requiring all police officers in the state to receive training on the articles of the Sikh faith, specifically the kirpan, a small sword all baptized Sikhs are required to carry.
"This is a big step forward for our community," said Neha Singh of the Sikh Coalition.
The bill introduced by assemblyman Warren Furutani requires the Commission on Peace Office Standards and Training to create a training component on kirpans and how to handle people carrying the swords. Anyone entitled to make an arrest in the state would have to undergo the mandatory training. California prohibits concealed weapons; many Sikhs have been arrested for hiding their kirpans, which are normally dull blades five inches long.
---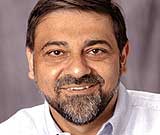 VIVEK WADHWA, Harvard and Duke University professor, says in a new study that the US economy would get a much-needed boost if the more than one million skilled immigrants waiting for permanent status were immediately given green cards.
The study, released by the Kansas City, Missouri-based Ewing Marion Kauffman Foundation and titled "America's Loss is the World's Gain: America's New Immigrant Entrepreneurs", surveyed 1,203 highly-skilled Indian and Chinese immigrants who had worked or studied in the US for a substantial time before returning to their native countries.
The paper is the fourth of a series of studies examining the effect of immigrants on the technology sector.
Approximately 50,000 such workers returned home in the past two decades, said Wadhwa, adding that 100,000 are expected to return to their native countries in the next five years.
The exodus of skilled immigrants means a huge loss in talent and labor for the U.S. economy, said Wadhwa, adding that 25 per cent of all companies nationwide have been started by immigrants.


UK
RAJINDER SINGH Rai aka Punjabi MC, who uses a lot of Punjabi folk and bhangra in his fusion music, feels Punjabi has made its presence felt in every corner of the world. The music composer, who visited Chandigarh to promote his new album "Indian Timing"said: "Punjabi has become a cosmopolitan language. Even my new album 'Indian Timing' features international artistes like Jay-Z and Ofra Haza. In fact, no Bollywood movie is complete without a Punjabi song."
Talking about his stint in European countries, he said: "The response is awesome and people there are mad after remix Punjabi music. Audience there like the amalgamation of Punjabi and hip-hop tunes. They like fast rhythms and loud drum beats."
.

CANADA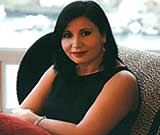 BALJIT GILL, an NRI Canadian business entrepreneur, has won the Canadian Woman Entrepreneur Award at the International Impact Awards at the Royal Bank of Canada.
Gill, who is chairperson of Kitwanga Mills Ltd, hopes to share her experiences with young entrepreneurs and motivate them to be pro-active and build career paths.
She said she recognised challenges related to the forest industry and she and her Kitwanga team will take assertive action by incorporating a bio energy plant at the restructured Kitwanga Mill.