Supporting India's Independence Movement
After the unsuccessful attempt to free India from the British, there were still many Indians in the US, who wanted to see India liberated. However, the Indian activists in the US, abandoned the power of sword of the Gadarites and adopted the power of pen to educate opinion makers in America and decision makers in the halls of Congress..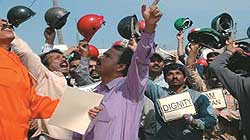 One of the prominent leaders of India's freedom movement, Lala Lajpat Rai, came to the US in 1914 to elicit American support. He founded the Indian Home Rule League in 1917 in New York and in 1918 started publishing Young India as his organisation's magazine. He started publishing articles in the American media, cultivated contacts with intellectuals and gained the support of a wide audience of Americans sympathetic towards the cause of India's freedom. Unfortunately, he left for India in 1920 and neither the League nor the magazine Young India survived after his departure.
Dalip Singh Saund, who had started working as a farm labourer after obtaining a Ph.D. in mathematics from University of California at Berkley, was an ardent nationalist and used the platform of his position as the national president of the student body, Hindustan Association of America, to expound on India's right to self-government. After he moved to the Imperial Valley of California, he continued to take advantage of every opportunity to speak about India's right for self-rule. He also started the India Association of America and raised funds from Sikh farmers in California for the lobbying efforts in Congress in Washington, DC for India and Indian causes.
Anup Singh obtained his Ph.D in political science from Harvard University. He became very active in the New York-based India League of America, and later moved to Washington D.C and started The National Committee for India's Freedom. He also published a monthly magazine Voice of India to disseminate the message of India's nationalist movement.
J.J. Singh was a member of the Indian National Congress before coming to the US in 1926. He was an importer of Indian goods and had established himself as a successful merchant in New York. In 1940, he became president of the India League of America. He started the League's mouthpiece, India Today which was a well-edited informative monthly bulletin. He also expanded its membership base to include Americans, including Nobel Prize winner author Pearl Buck who was honorary president in 1944. For all practical purposes, J.J. Singh had become an unofficial lobbyist for India and Indians. He convinced significant sections of the American public, including members of the Congress, that the time had come for India to be liberated.
J.J. Singh, Anup Singh, Syed Hoosain, Dalip Singh Saund, Haridas T. Muzumdar, Taraknath Das, Mubarak Ali Khan, and some other community activists had tremendous enthusiasm and abundant energy and used it all for the cause of India's freedom..
---
Gujaratis outnumber any other single ethnic group from India and many have flourished in the hospitality ­business. They own over 40 per cent of the motels and mid-sized hotels all over the United States
---
Liberalisation of immigration laws
The contemporary phase of the history of Indian migration to the US began with the passage of the Immigration and Naturalization Act of 1965. This Act liberalised immigration and increased the per country quota to 20,000 people per year. The new law opened a floodgate of immigrants from India and brought thousands of professionals in search of educational and employment opportunities. The increased quota has resulted in the exponential growth in the number of Indian immigrants and the wave of new arrivals continues unabated.
In 1980, the US Census Bureau counted 361,544 Indian Americans and in 1990 Census, the count had doubled to 815,447. In 2000, the Census count was 1.8 million, again more than double the previous number in the 1990 Census. In 2008, the number has soared to 2.6 million and if those who are twice migrants (people of Indian origin from Fiji, Guyana, Trinidad and from other islands in the Caribbean) are included, the count would exceed 3 million.
During the past 40 years, the large growth in the Indian American community has spread across many parts of the US, in particular the New York tri-state area, greater Los Angeles, Silicon Valley in Northern California, Boston and Chicago. During the first several years, immigrants from India met socially as Indians and made friendships as Indians; religion did not divide them; language was not a barrier; regionalism did not separate them. They were Indians by nationality, Indians at heart and were viewed as a single entity.
Indian Americans are perceived as a very successful immigrant community. As their numbers kept growing, political and religious leaders from India found the Indian American community offering them a red carpet welcome in the US. Indian leaders started making frequent visits to their new found "colonies" and made every effort to solicit money, knowledge and skills as well as the political clout of Indians settled in the US. India's political parties started their overseas units in the US. The Indian National Congress has started Indian National Overseas Congress (INOS) while the Bhartiya Janta Party (BJP) has Overseas Friends of BJP in the US. Some regional political parties also have opened their units. The leaders also brought the divisive problems of religion and regionalism to their Indian American followers and supporters. Today, the internal politics of India is echoed in the politics of the Indian community in the United States. Many Indian Americans appear to be more agitated and consumed by developments in India than the politics in their newly adopted country.
Indian Americans in the beginning were busy getting established, raising their family and relatively content with the material success they had attained in their new country. The community was marginalised, political involvement was non-existent and political activism was negligible. In some places, Indian Americans' lifestyle attracted racial discrimination such as the "dot-buster" issue of the early 1990s (a reference to the bindi adorned by many Indian women on their forehead). In the beginning, their superior qualifications and meritorious work performance did not stop the artificial barrier of the "glass ceiling" which prevented their ascent to managerial and executive positions. The courts did not deliver justice to them and the appeal process did not guarantee them the desired upward mobility.
The 1965 Immigration Act provided a "Family preference" quota under which immigrants and citizens could sponsor their close relatives. As a result, many Indians began migrating to the US in a steady stream with sponsorship from their family members. With the arrival of their relatives from the 1980s onward, the demographics of Indian community began to change from professionals to semi-skilled and less qualified immigrants. The new immigrants found jobs in department stores, hotels, became taxi drivers, insurance or travel agents, or similar type of work servicing their own community. Some of the new immigrants with limited English language skills found jobs at Indian owned businesses which needed cheap labour for their restaurants, clothing or jewelry stores. There were some who, with the financial backing of their relatives, ventured into small businesses such as gas stations, restaurants, grocery stores, motels, etc.
The age of information technology in the 1990s brought an upsurge of high-tech people from India. Some came as immigrants while others came on temporary visas which many subsequently converted into permanent visa with sponsorship from their employers. The explosive growth of Indians in the US created many new vistas of opportunities. Some high energy, creative and entrepreneurial individuals launched their own high tech companies, particularly in Silicon Valley. A number of them became very successful, wealthy and famous for their innovations and entrepreneurial ventures.
Gujaratis outnumber any other single ethnic group from India and many have flourished in the hospitality business. They own over 40 per cent of the motels and mid-sized hotels all over the US. Several Gujaratis who started with low-budget motels, now own and manage multiple properties, motel franchise operations, and hotel construction firms. Some of them are the owners of leading franchises such as Radisson and Hilton. The Asian American Hotel Owners' Association (AAHOA), dominated by Gujaratis, has become a powerful organisation in the US.
Not all Indian Americans are wealthy, professional or highly educated. Even if some migrated with high qualifications and worked as accountants, engineers and doctors in India they lacked recognition of their degrees in the new country or were required to acquire additional qualifications to work in their profession. Thus, there are thousands of Indians who make living by driving taxis or are engaged in similar activity for their livelihood, before becoming fully settled in the US.
Taxi driving is probably the most dangerous occupation in the US and not necessarily the first choice for making a living and raising a family. A large majority among them are Sikhs and several of them maintain their religious symbols — uncut hair covered with turban and beard. Some companies do not even hire people with turbans, particularly since the terrorist attacks of September 11, 2001 as many Americans frequently mistake them or associate them with Osama Bin Laden. Sikh taxi drivers often hear derogatory racial remarks, suffer harassment and are targeted for racial attacks, sometimes even from their passengers. Whether the motive is bigotry, hate, or robbery, some Sikh taxi drivers have been frequent victims of hate crimes. A few have met with violent, horrific and senseless death.
Taxi drivers serve an extremely important function in the transportation business and many times are a reasonably good source of local news. They generally are also the first ones to get inquiries from passengers seeking information about restaurants and cafes. Thus, they have the potential to become among the best marketers. If their marketing capabilities are utilised, they could play a key role in promoting Indian cuisine and direct traffic to certain selective restaurants and other facilities.