The Scomi Group has arrived in a big way in India. Leaving behind a host of other world class competitors, the Malaysian group bagged the prestigious Mono Rail project from the Mumbai Metropolitian Region Development Authority in November 2008. Its Indian partner is the infrastructure giant Larsen and Toubro. The total project is valued at Malaysian Ringgit (RM) 1.85 billion (Rs 2,460 crore). Scomi's share of the project is RM 785 million.

The project will be executed by 2011 between the Jacob Circle—Wadala—Chembur segment (19.54 km). Scomi will manufacture 15 train-sets of four cars each at its plant in Rawang, Selangor. The coaches will be able to move more than 20,000 persons every hour in a single direction. The project will comprise 18 stations and a central depot facility.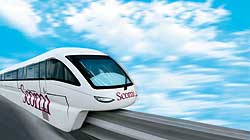 Scomi will be operating the service and carrying out maintenance work for an initial period of three years (under a renewable contract condition) that will guarantee it an additional revenue of RM 45 million (Rs 64 crore) per year. There is also a bus venture that Scomi is interested in. Says Kanesan Veluppillai (read interview), Senior Vice President, Global Marketing, Scomi Group, "The Mumbai monorail project creates an entry for us to bring in the buses as it is a part of a complementary business model for Scomi, and both are urban transportation modes."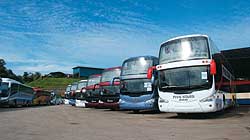 The MR train stations are elevated, therefore ground land will not be required. The central depot will be very small, and the lines will occupy 1 metre by 0.8 metre space. This works out well for a city like Mumbai where land prices are astronomical, in fact among the highest in the world.
Scomi built the Kuala Lumpur MR that started out in 2004 with 40,000 commuters a day. In four years movements sharply increased to 75,000 – 105,000 passengers a day. It is likely that Mumbai will need more trains within three to four years of the start of operations. Scomi is geared to cater and is eyeing other monorail markets in India such as Delhi, Bangalore, Hyderabad and Pune. Apart from India, Scomi is also bidding for other projects around the world with 30 to 50 projects at different stages of negotiations, including in countries like Nigeria and Vietnam. The target is to secure one project per year.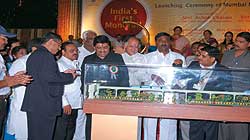 On March 12, 2009, Scomi was awarded the prestigious Industry Excellence Award 2008 under the export services category at a presentation dinner organized by Malaysia's Ministry of International Trade and Industry in Kuala Lumpur. The Malaysian Prime Minister, YAB Dato' Seri Abdullah Ahmad Badawai graced the occasion and presented the awards. "This is indeed a great honour for us. We have been providing our experience and expertise to our customers through our operations in 36 countries and this award is testimony to the focus of Scomi in providing innovative solutions to our customers," said En Shah Hakim Zain, group CEO of Scomi. Present too were Tan Sri Asmat Kamaluddin, chairman of Scomi Group Bhd and Chris Pianca, president of Scomi Oiltools.
Clearly its track record in excellence is bringing rich dividends to Scomi.

Interview with Kanesan Veluppillai
Senior Vice President, Global Marketing, Scomi Group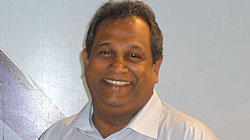 "We have a strong belief in India"
Kanesan Veluppillai, Senior Vice President, Global Marketing, Scomi Group has been at the forefront of negotiating deals and increasing Scomi's global presence. He also played a key role in the group's recent success in bagging the RM 1.85 billion Mono Rail project jointly with Larsen and Toubro in Mumbai

What according to you are the main advantages of the Mono Rail?
The primary advantage of the Mono Rail is that while the metro rail takes up three square metre area and the bus takes up a whole lane in the BRT corridor, the MR uses just 1 m x 0.8 m space. The train stations are elevated, therefore there is no requirement of ground land. It moves several people (over 20,000) in one direction every hour. The depots are very small, the stabling yards use very little space. The MR is a very nimble instrumentation. It has the ability to go through tight areas. Installation is quick in terms of construction and delivery. Rubber tyres are used. In a city like Mumbai where land is very expensive it is most cost-viable. And the power drawn is cost effective as it is consumer-related power.

How does the Mono Rail fit in with other modes of public transportation?
It is eventually all about integration of different modes of transport. Each has its own existence, the bus, the metro and the MR. We are mutually exclusive.

Do you see the Mono Rail eventually becoming part of cities like Delhi too?
We are an alternate solution in cities like Delhi. The MR can be built at one-third the cost of the metro (which costs about USD 35 million per km). We are looking at quality of life, and the India of today is no more like the India of the past. Delhi too needs to look beyond the Commonwealth Games of 2010, there is a question of bringing about rejuvenation in cities like Delhi. The cost to the public in case of the MR is not high. The right of way is given back, it doesn't take away the street from the people. There is also an ease of implementation. Putting more buses on the roads is not the answer. One also has to be mindful of the commercial value of land, which is enormous.

Tell us about your presence in different parts of the world?
We have a presence in Nigeria, Bahrain, Saudi Arabia. We have been awarded in Penang, and are working on the extension of the MR in Kuala Lumpur, which we built. We are present in a new line in Bahrain, and have presence in Damascus and Lagos. We are in active talks with the UAE for Abu Dhabi and Dubai.

What are the primary advantages for Indian firms to be working with Scomi?
We are a Malaysian firm. We are English speaking. All this makes for easier transfer of technology. We have synonymous cultures. We have a strong belief in India, and, therefore, a keen interest in the development of India.

What has been your professional background?
I have been a banker, then associated with the country's automobile sector (Proton of Malaysia) for more than 20 years and oversaw communication, investor relations and
foreign relations as a group director.

Please tell us something about your family background…
We are Tamils from Sri Lanka. My grandparents came to Malaysia from Jaffna. My grandfather was in the Malaysian rail and rose to the rank of chief permanent way inspector, the first for anyone other than a British at the time. My mother grew up in railway towns, and there were lots of linkages with the railways. In many ways, therefore, working on the Mono Rail is a homecoming for me. It was also an honour for me to meet Indian Railway Minister Lalu Prasad. He was impressed by the presentation on Mono Rail and requested RITES to carry out feasibility studies.