MARWARI DIASPORA

US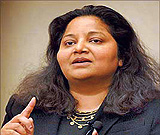 PREETA BANSAL has been appointed by President Barack Obama as General Counsel and senior policy advisor at the Office of Management and Budget at the White House.
Bansal who is a partner at Skadden, Arps, Slate, Meagher and Flom LLP, New York City has also been commissioner of the US Commission on International Religious Freedom, during which she participated in US diplomatic missions to Iraq, Afghanistan, Uzbekistan, Saudi Arabia, China, Russia, Vietnam, Turkey, Hong Kong and South Asia. She was earlier Solicitor General of the State of New York.
The New York Law Journal has praised Bansal as "one of the most gifted lawyers of her generation, who combines a brilliant analytical mind with solid, mature judgment". She received the "Woman of Power and Influence" award of the National Organization for Women in 2006, and was named one of the 50 Most Influential Minority Lawyers in America by the National Law Journal in 2008. Bansal clerked for Supreme Court Justice John Paul Stevens, and previously served in the White House in the Clinton administration.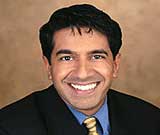 SANJAY GUPTA, assistant professor of neurosurgery at the Emory University School of Medicine, has been offered the position of US surgeon general by President Barack Obama.
The surgeon general is the head of the United States Public Health Service Commissioned Corps.
Gupta, who currently is chief medical correspondent for the health and medical unit at CNN, is perhaps most well known for his appearances on CNN news shows, including "American Morning", his own weekend program, "House Call with Dr Sanjay Gupta" and various documentaries.
Despite this busy schedule, Gupta managed to continue as a practicing neurosurgeon and associate chief of neurosurgery at Grady Memorial Hospital in Atlanta.
Gupta was one of only 15 people chosen for the White House Fellows program in 1997. He also served as special advisor to Hillary Clinton when she was first lady.
Gupta's appointment comes at a time when the US health system is crumbling, with many millions of ordinary Americans lacking access to healthcare.

PUNJABI DIASPORA

UK
KANWALJEET KAUR tagore, a revenue agent at the Mickey Leland Federal building in Houston, has sued her employer the US Internal Revenue Service for violating her religious freedom by prohibiting her from wearing her kirpan to her job.
Tagore has been helped by the Sikh coalition and the DC based Becket Fund for Religious Liberty and the Houston civil rights attorney Scott Newar who said she had never been accused of using the knife as a weapon, it is a symbolic religious article carried by Sikhs for centuries.
In 2006 Tagore was sacked from her job when she refused to remove her kirpan.

US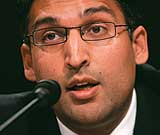 NEAL KATYAL, Georgetown University law professor, has been appointed principal deputy solicitor general.
Katyal is known as the attorney who defended Osama bin Laden's driver Salim Hamdan before the Sup­­reme Court in 2006, a case which established rights for Guan­tanamo Bay detainees.
Former Solicitor General Katyal took on the Bush administration and won a landmark case. Walter Dellinger termed the Hamdan case "the most important decision on presidential power ever".
Katyal, named Lawyer of the Year in 2006 by LawyersUSA magazine, previously served as National Security Adviser in the US Justice Department and was commissioned by former President Clinton to write a report on the need for more pro-bono legal work. He also served as former Vice President Al Gore's co-counsel in the post-2000 election controversy.

US
SIKHS IN france are on the offensive. A petition by the United Sikhs, an advocacy group, has been taken to the UN Human Rights Commission filed on behalf of three Sikhs who allege they are being denied the right to wear a turban, a basic requirement of the Sikh religion.
Ranjit Singh who cannot access public health services in France without a ration card, has been asked to remove his headgear to be photographed for the card.
Shingara Mann Singh refused to remove his turban for his ID photographs.
Bikramjit Singh was expelled from school for refusing to remove his turban.