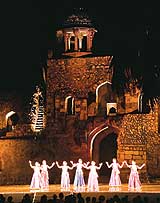 The Sahitya Kala Parishad, an autonomous body under the administrative control of Art, Culture & Language Department, has been assigned the work of carrying out cultural activities under Arts, Music, Dance and Drama. The Parishad has chalked out detailed annual programmes, which includes celebration of major festivals such as Bhakti Sangeet, Ananya Dance Festival, Qutab Festival, Summer Festival, Vasant Utsav, Garden Festival, Sharad Utsav, Film Festivals and other Cultural Activities. It is also planning to organize exhibitions, workshops, theatres, sangeet samaroh, etc.
The Chief Minister has constituted a Cultural Committee consisting of Members of INTACH and prominent personalities associated with Art & Culture, for organizing the cultural events for the forthcoming Commonwealth Games 2010. An array of cultural activities has been planned in different parts of Delhi to encompass different genre of cultural aspects covering classical music, classical dance, theatre and cinema to showcase the Indian culture in right perspective during the games.
The monuments of historical importance coming in the vicinity of sports venues will be conserved to show case the rich cultural heritage of city. It has been planned to cover 250 monuments for this purpose. The Department also proposes to hold exhibitions of lesser known monuments of Delhi during the CWG-2010.
World Heritage City status for Delhi
The Government has set up a Heritage Task Force with the objective to protect, conserve and promote the cherished architectural, environmental and living (social & cultural) heritage resources of Delhi. Tourism Department, Govt. of NCT of Delhi has signed at MOU with INTACH for making Delhi a ''World Heritage City'' by undertaking conservation oriented development projects and other related strategies. INTACH has been given the responsibility of providing expertise and consultancy, formulating heritage related architectural and urban design schemes and policies, comprehensive schemes/plan for beautification and lighting monuments, undertaking conservation related work and projects and facilitating Govt. of Delhi to get the encryption of Delhi as a World Heritage City by UNESCO. INTACH is working on the concept note for the same.

Availability of Hotels / Bed and Breakfast Scheme
With close to 71 nations participating in the Commonwealth Games 2010, we are indeed expecting a very large number of guests. The present availability of 11,000 rooms in the star category hotels in NCR is grossly inadequate and there is need of additional 30,000 hotel rooms for the games. Though, there is an action plan being implemented by Govt. of India to increase the availability of Hotel accommodations in Delhi and surrounding NCR areas by allowing tented accommodations, utilizing the housing units of DDA and other builders etc., the Bed & Breakfast Scheme is an ideal way to meet the requirement of guest accommodation. It will not only fill the gap of projected and actual availability of accommodation but also an ideal way to show the world a glimpse into Indian families and values. The guests will experience the closeness and the traditional warmth that we Indians are so famous for Worldwide.

Citizens having suitable properties with separable rooms in Delhi can get their house registered under this scheme. Benefits for citizens include a chance to earn extra income with electricity and water supply at domestic rates, no VAT and Luxury Tax and Property Tax only for period occupied. Benefits for visitors availing the scheme would be affordable, clean, hygienic and safe stay within warm, family like environment. At present, the number of total establishments registered under Bed & Breakfast Scheme in Delhi comes to 287 with total rooms availability of 849.

Volunteers
The involvement of volunteers in the Commonwealth Games in Delhi will be critical to the success of the games, as they would constitute the largest work force. The volunteer programme shall be developed to facilitate involvement of the youth of the city and will help in promoting the spirit of Commonwealth Games among citizens. It is estimated that approximately 20,000 volunteers will be required in all the key areas of organization of the games. Organizing Committee is in the process of preparing the detailed plans on sourcing, training, uniform design and branding, deployments etc.