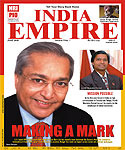 IRami Ranger's story is quite inspiring. He is a true story of grit and courage. What is fantastic is the way he has shaped his career, and is now a very successful man. Thank you for bringing his story to readers like me
Mahesh Reddy
by email

Your cover story shows exactly what makes Indians successful worldwide. Even after losing everything during the trauma of partition, Indians are able to not only restart their lives, but also build empires in business. It is clearly a community that is set to shine for very long.
Abudeen
by email

Trinidad and Tobago is a small country but there is much potential to do business there. Glad that there are such people as the high commissioner to facilitate.
Prakash
Delhi

The story of A S Jubbal is truly inspiring. This is what you really want from Indians who have made their money in the West. You want them to give back to India, give back to those Indians who are still living in 19th century conditions in the 21st century. By helping mankind, people like Jubbal are making such a difference to the world
Asha
London.
Chabba village must be very proud about what they have got. It needed a Non Resident Indian to come its rescue. The article shows what NRIs are capable of doing for India.
Preety
New York

Inder Singh's columns are very interesting and informative. Please let us have more of them on a regular basis.
A Kapoor
Delhi

Bobby Kumar is doing his best for the Indian community and at this moment he needs a lot of support to make it really big. Our best wishes with him.
Sanjana
Nairobi

The book on wisdom is very timely. India needs more such books. We are at the cross-roads of history, and we must be clear about ourselves first and where we are going, before we venture to talk about ourselves before the rest of the world
Harish Mehta
Mumbai.