The Mughals are famous for leaving their legacy in every city or town that they sojourned during their reign. Be it world-famous monuments, rich culture or adept use of architecture to marvel. Though the city of Aurangabad was founded by Malik Amber in 1610, the city started flourishing when Aurangzeb became Viceroy of the Deccan plateau.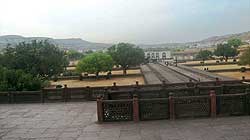 Once fortified and dotted with 54 gates, today only 13 have survived. These include the likes of Delhi Gate, Kala Darwaza, Makia Gate, Paithan gate and Rangeen Darwaza and some others which have withstood the onslaught of time and neglect brought about by rapid modernisation as Aurangabad became one of the four important cities of Maharashtra State. Nevertheless, the old world charm still exudes its aura over the present times.
To the visitor to the city there are a plethora of attractions but the most prominent among them is the Bibi-Ka-Maqbara, a replica of Taj Mahal, built by Aurangzeb's son in memory of his mother - Begam Rabia Durani. While it's no match to the original, however, it's distinctly appealing to the eyes and amply reflects the architectural prowess of Mughals.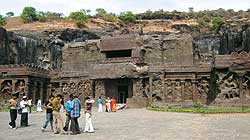 Having witnessed this wonder of a monument, the eagerness increases to witness the wonders of hammer and chisel performed by Buddhist monks to create beautiful forms at Ajanta, at a distance of about 110 kms from the city and Ellora caves, closer at about 30 kms. While the former is estimated to have been created around 200 BC to 650 AD, the latter is known to have been constructed between the 5th and 8th centuries AD.
The innumerable sculptures and paintings housed in scores of caves around the city reflect the intricate craftsmanship of monks who used nothing but simple carving tools and dedication to complete their mammoth task. These structures are truly a glimpse of the culturally rich past of India and verily evoke a sense of awe and amazement in witnessing their still forms that never fail to excite.
Daulatabad, which comes on the way to Ellora caves, is situated about 13 kms from the city. While its literal meaning is 'the city of fortune' today its fate is in our hands as it lies in a near-derelict state. Nevertheless, the astonishing 12th century fort standing proudly atop a steep hill continues to exude charm. This formidable and invincible citadel was once fortified with a 5-km strong wall and an array of ramparts.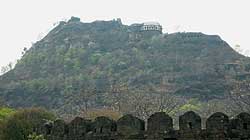 The other places to visit include Panchakki - a 17th century water mill, and Aurangabad Caves – with intricate carvings in the nine caves reckoned to have been created during the 2nd and 6th centuries. There are many famous religious sites at Aurangabad which include Ghrishneshwar Temple, near Ellora Caves where Lord Shiva is the presiding deity, and Holkar Temple nearby is also a must-visit for the devout.
For souvenirs, the Paithani, Himroo and Mushroo weaves and Bidri Pottery are ideal to remind you of the city's ethnic craftsmanship. If you are a Pan person, Tara Pan Centre at Osmanpura is famous for mouth melting Pans.
Travel Information
Reaching There
Aurangabad is well connected by Rail and Road to all parts of the country. It has its own International Airport as well.

Accommodation
There are many star, luxury and budget hotels for comfortable stay. Check on the net for best deals