Delhi is one of the greenest capital of the world and is continuing with its effort to bring large tracts of land under green cover. The green cover has increased from just 3% to 20% in the last 10 years. The Department of Forest and Wildlife alongwith 17 other greening agencies in Delhi, has been planting more than one million saplings every year since 2003 and distributing nearly four to six lakhs saplings free of cost since 2004 through 1,900 Resident Welfare Associations and 1,700 Eco-Club Schools for planning. Besides intensification of the existing 14 old city forests, 9 more are being developed adding to the forested area of the city substantially. The Forest Department has also established a Conservation Education Centre for imparting education on nature and wildlife conservation to students, teachers and other people in Delhi to make them more eco-conscious.

Moreover, 5 lakh pots of different trees, shrubs, ground covers and other flowering plants will be prepared before Commonwealth Games for the purpose of streetscape and beautification of major roads, flyovers, roundabouts and other public places.
---
LANDFILL SITES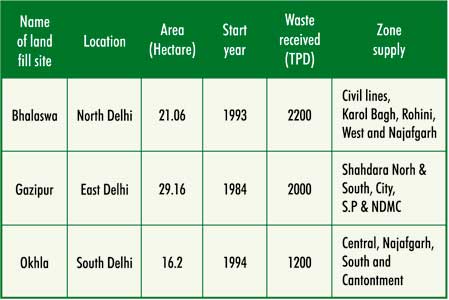 ---
Municipal Solid Waste (MSW)
Urban Local Bodies (ULBs) in Delhi viz, Municipal Corporation of Delhi, New Delhi Municipal Council (NDMC) and Delhi Cantonment Board together provide municipal services to over 14 million citizens in Delhi and have conventional systems of MSW management that includes collection of MSW and transportation to crude dumping grounds on the outskirts of cities with none, or very limited, provisions for processing. MCD and NDMC have outsourced a part of transportation related activities through transportation contracts and are presently working towards efficient processing of MSW by way of resource recycling and recovery. Delhi generates 7000 MT/Day of municipal solid waste of which 90% is collected/disposed off per day and remaining 10% is disposed off in low lying areas by local residents/SKs specifically in unauthorised areas.
At present the project of door to door collection of MSW has been initiated in Civil Lines, Rohini, Vasant Kunj, Dwarka Pappan Kalan area on PPP mode wherein the successful bidder will collect the segregated MSW and transport it to the integrated processing (composting and RDF) and engineered landfill sites. There are three operational landfill sites at Bhalaswa, Okhla and Gazipur for MSW treatment and disposal facilities. At Narela Bawana, MCD is also in the process of setting up an engineered land fill site.

Construction and Demolition Waste Project
Considering the large scale growth of the city and the execution of infrastructural projects, the waste generated during the demolition and construction activities are a major source of worry. To tackle this growing menace, Government has decided to specifically initiate Construction and Demolition Waste Project. MCD is developing an economically viable and environmentally sustainable system for processing and recycling of such waste. 700 TPD of C&D waste is generated from MCD zones barring City, SP and Karol Bagh Zones. The objectives of the project are to maximize recovery of re-cyclable material, minimize waste quantity, increase land filling, increase life of sanitary landfill sites and reduction in total costs of Municipal Waste Management. The C&D waste material, after its process shall be used as filling material (for embankments), cover material for SLF, as sub-base material in road construction and as a raw material for making of pavement tiles and new concrete cubes etc. by adding suitable admixtures. Tenders for this will be invited by March 2009. The work for setting up C&D waste processing sites at Burari, Gummanhera and Bakarwala is in progress.