Honour for Ashook Ramsaran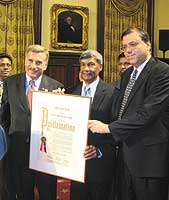 Guyanese born Ashook Ramsaran, Executive Vice President of GOPIO and resident of Queens, New York, was honoured last month with a proclamation from the City Council for his many contributions to immigrants and to the City of New York. Ramsaran said that he considers it "an enormous honour to be recognized" and commented "that the honour is a shared one among all those who made it possible" for him to handle the many community service aspects that make his contributions so worthwhile and meaningful. Weprin praised Ramsaran for his work and moved a vote of thanks.

On that day, the New York City Council held Diwali observances with speeches, a cultural variety program, and a dinner reception. Diwali, also known as the Festival of Lights, Diwali celebrates the renewal of life and the triumph of good over evil. The celebration at City Hall is a reflection of the diversity of cultures, religions, ethnic groups, and traditions that now make up this cosmopolitan city.

Several Council Members attended the celebration and made brief remarks wishing New Yorkers a happy Diwali. NYC Councilman John Liu welcomed guests to what he described as their City Hall. He showered platitudes on the Indian American community for their great festival and wished everyone a happy new year. Council member David Weprin of Queens chaired the remainder of the proceedings and praised the Indian community for their enormous contributions to the city. Council Member Darlene Mealy of Brooklyn brought greetings reflecting on the message behind Diwali – "Do good and good will follow you everywhere".

A guest speaker praised Liu for putting Asians on the radar in the city. "He opened City Hall to us and it is because of him and Weprin that this celebration was initiated and is now a tradition. We hope it will continue long after Liu and Weprin leave the Council". Dr. Mysorekar of the Hindu Temple of Flushing said Diwali has crossed religious and ethnic boundaries. "Through Diwali, people meet and socialize and live in harmony". There were a number of singing and dance (classical and modern) presentations by groups comprising of a number of different nationalities and ethnicities including Whites and Blacks.


---
Minister Shashi Tharoor meets with Indian Community Groups
in New York
The Global Organization of People of Indian Origin (GOPIO) and the Indian American Kerala Cultural and Civic Center joined hands with other Indian community groups to host a dinner reception in honour of India's Minister of State for External Affairs Dr. Shashi Tharoor at the Kerala Center on Wednesday, October 14. Attended by over 200 Indian community representatives from the tri-state New York area, the program also served as an interactive session with Minister Tharoor.

The program started with formal welcome from the Kerala Center President Jose Chummar and GOPIO Executive Vice President Ashook Ramsaran. Dr. Thomas Abraham, GOPIO's Founder and Chairman Emeritus conducted proceedings of the meeting and emphasized that NRIs/PIOs want to actively participate in India's development and interactive sessions with Indian officials should pave the way for the most effective channel to utilize their resources.

Being an NRI for a long time and returning to India in 2007, Tharoor said that this is a good time to represent India since India has been drawing greater attention all over the world because of its extraordinary economic growth in the last several years. Tharoor said that he has been quite excited about his new assignment as Minister of State for External Affairs. At the reception, instead of a speech, he took up a large number of questions from the audience.

Answering questions, Tharoor said that he is using India's foreign relations platform to increase bilateral trade between India and other countries. On the question on the terrorism in India, Tharoor said that the government has placed a high priority on the safety issues in India.
| | |
| --- | --- |
| | From L to R: Kerala Center President Jose Chummar, GOPIO Founder Dr. Thomas Abraham, Minsiter Dr. Shashi Tharoor, and GOPIO Executive Vice President Ashook Ramsaran |