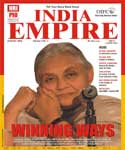 The cover story on Sheila Dikshit was insightful. She has never been too aggressive in projecting herself, she is shy from holding press conferences, and yet she is such an acceptable face of Indian democracy. The Indian public likes such mass leaders, who work quietly, and choose not to be directly in the limelight, and court controversy. I rarely remember her drawn into controversies. The other thing she manages to do well is to quell any opposition that there is within the party with dignity. We hear of some restless Congress leaders in Delhi who do not quite accept her as a real politician. But I think she out-thinks and outsmarts all of them by a mile. In the end she manages to win election after election, keeps anti-incumbency factors at bay, works with party workers methodically and is always keen to lend an ear to whoever is at her doorstep. Kudos for bringing the story to people like us who have been well-wishers of this wonderful lady.
Apurva, Delhi
Sheila Dikshit must guard against complacency. The BJP is like a wounded tiger, and will like to do everything it can in the next elections. She is not getting any younger, and needs to outsmart her opposition once again, when the time comes.
Girish, Noida

I think leaders like Sheila Dikshit emerged at a right time for the Congress, when the party's image had really dipped following a series of scams in the late 1980s and early 1990s. It is her image that has helped give the Congress a good name in Delhi. I think she and Dr Manmohan Singh are ideal leaders to lead the state and country. That is why the BJP is finding it difficult to dislodge them.
Farah Khan, Toronto


The BJP has a lot to learn from the way Sheila Dikshit has led the state of Delhi. Firstly, they allow a person to be chief minister, but pull him out and replace him with another chief minister days before the election. It sends wrong signals to the electorate, who think the party is confused about its leadership. In recent times they have fielded people who are out of the loop of local politics in the elections as chief ministerial candidates. The party ignores state-level leaders who look after party affairs, and this demoralizes party workers. The Congress on the other hand has allowed Dikshit to build her base through dedicated workers, and they have really helped her out. The BJP needs to find ways to come back into the reckoning.
Avijit Ranade, Mumbai


The story on MBBS degrees in India being equivalent to MD in the USA is great news for Indian doctors. But it has to be carefully examined by legal experts in India before we can state with any certainty that there is parity in the two degrees. There is more than meets the eye.
John K. Kutty, Portland.