He was once an 'untouchable'. Today he touches a million hearts and how!
Kumar Bahuleyan, a retired neurosurgeon from Buffalo, New York, has donated $20 million to his native village of Chemmanakary in Kottayam district, Kerala, in charitable projects, including a hospital and health resorts. The gesture, carried out through the Bahuleyan Foundation, is transforming the lives of the villagers…
| | |
| --- | --- |
| "I was born with nothing; I was educated by the people of the village, and this is what I owe to them. I am in a state of nirvana. I have nothing else to achieve in life. This was my goal, to help my people. I can die any time , as a happy man. My dream is to see this all running without my help, so I can pass away peacefully" | |
Cut back to several decades. Young Bahuleyan was one of the two survivors in a family of five when a water-borne disease struck his village in the 1930s. As an 'untouchable', he had to take a winding route to school because he wasn't allowed to pass even within a few hundred yards of a Hindu temple. All this didn't deter the determined body. Battling hunger and deprivation, he made it to medical school in Chennai where he wore his first pair of shoes! A brilliant student, the Kerala government subsequently sent him to Britain for neurosurgical training as there were no neurosurgeons in the state. On his return, he was requisitioned to serve the Armed forced during the India-China war. Three years later, he returned to Kerala to find that his job had been given to a fresher! Tired of bureaucratic wrangling over the issue, he migrated to Canada, eventually settling in Buffalo, New York. The rest was history.
During his 26-year practice as a neurosurgeon in the United States, Bahuleyan had clinics on Linwood and Kenmore Avenues and Main Street in New York. He also served as a clinical associate professor in neurosurgery at the University of Buffalo before retiring in 1999.
But in 1989, he had already set up the Bahuleyan Charitable Foundation to help bring basic healthcare to Chemmanakary back home. He would shortly set up the super-specialty Indo-American Hospital (Brain and Spine Centre) in Vaikom that serves people across the country. Dr. Bahuleyan, now 83, lives in Buffalo with his pathologist wife Dr. Indira Kartha. He spends six months of the year in India, surpervising the foundation. Bahuleyan epitomises true detachment. He gave up his fleet to ultra luxury cars, and a private airplane for a bicycle!

Mission
"Chemmanakary was a beautiful village contaminated by the people's lack of awareness. Even marginally well-off people had no concept of sanitation", Bahuleyan once said. His Foundation started off with a toilet construction programme in the village where over 5,000 of the 18,360 households did not have sanitary facilities.
In 1993, the Foundation built a small clinic in the village to treat pregnant women and children. In 1995, Bahuleyan opened the Vaikom wing of the Indo-American Hospital with 30 beds. Today, the Indo-American Hospital, with state-of-the-art facilities, offers curative and rehabilitative facilities in neurology and neurosurgery. "Hospitals are all built in cities which are inaccessible to the villagers. I want to develop my village and its economy", observes Dr. Bahuleyan. "Treatment here costs roughly a third of the costs in city hospitals and free of cost for the poor", he says. In 2004, the foundation opened the Kalathil Health Resorts, offering luxury rooms, spas and exercise rooms.
Bahuleyan's latest initiative, in collaboration with Buffalo-based Seven Seas Sailing School, plans to invite applications from Americans willing to spend a few weeks in India, to volunteer a his hospital and to teach sailing and boat-building.

Recognition
The Indo-American Hospital is recognized as Kerala's first 'Level One' Trauma Care Centre, with facilities for stereotaxic brain surgery.
Contact: Indo-American Hospital (Brain & Spine Centre)
Chemmanakary, Akkarappadam (P.O.),
Vaikom 686 143, Kerala, India
Tel / Fax: (91-4829) 273281, 273282
Tel: +91-482-673281 / 673282 / 673283
Email: indoamericanhospital@rediffmail.com
—This article has been excerpted from the book, The Idea of Giving, published by the India Development Foundation of Overseas Indians
Australia-New Zealand film festival holding "Rani Mukherjee Retrospective"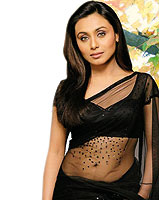 "Indian Film Festival 2010" in Australia and New Zealand is holding special "Rani Mukherjee Retrospective". Calling Filmfare Award winner Rani, 31, "Queen of Bollywood", it is showing her following Hindi films: Bunty Aur Babli, Black, Hum Tum, Kabhi Alvida Na Kehna, Paheli, and Saathiya.
Festival is being held at Melbourne, Sydney, and Perth in Australia and Auckland in New Zealand, concluding on April 15. Bollywood productions being shown in it include 3 Idiots, Dev D, Dil Bole Hadippa, Dostana, Ghajini, Kaminey, Love Aaj Kal, Luck by Chance, New York, Paa, Rab Ne Bana Di Jodi, and Wake Up Sid.
Its "Beyond Bollywood" category includes regional Indian films Chaturanga (Bengali), Harishchandrachi Factory (Marathi), Kanchivaram (Tamil), Mee Sreyobhilashi (Telugu), Mudhal Mudhal Mudhal Varai (Tamil), and Shob Choritro Kalponik (Bengali). It is also screening some documentaries, including: Antardhwani (Hindi), Ladies' Special (English), The Journalist And The Jihadi (English), The Shop That Sold Everything (Bengali), Three Of Us (silent), and Vellapokkathil (Malayalam).
Welcoming this Festival, acclaimed Indo-American statesman Rajan Zed, in a statement in Nevada (USA) today, said that Indian cinema was now getting respected internationally, which was long overdue. Rajan Zed, who is chairperson of Indo-American Leadership Confederation, urged India Government to aggressively promote Indian cinema in world markets.
Filmfare winner director-screenwriter-producer Yash Chopra (Rab Ne Bana Di Jodi) is patron of the "Mind Blowing Films" organized Festival, whose advisory board includes Ronnie Screwala (UTV), Amit Khanna (Reliance), and Simi Grewal (actress).It will also feature a short film and video competition and will announce three winners, one each from India, Australia, and New Zealand.