When Indian enthusiasts begin riding their newly purchased Harley-Davidsons out of showrooms this June, they will be mounting loud and legendary machines that completely dominate the U.S. market for heavyweight motorcycles. Hogs, as the company's bikes are known, have achieved cult-like status in the United States, where their presence on interstate highways, country roads and suburban streets is signaled from afar by a deep, throbbing rumble that serves as an unmistakable audio trademark.

The legend will not come cheap. Harley is entering the huge Indian market with 12 models that will sell for Rs. 6.95 lakhs to Rs. 34.95 lakhs, with monthly payments starting at Rs. 12,850. Other motorcycles can be bought for much less, but as Anoop Prakash, managing director of Harley-Davidson India, points out, they aren't Harleys.
"We are at a premium price point, but we are a premium brand," he said in a recent interview. "Tariffs have posed a challenge for all heavyweight motorcycle and vehicle manufacturers. It's just one of those things that Indians have learned to live with." Heavyweight models are those with an engine displacement of 651 cc and above.
| | |
| --- | --- |
| | |
| A rider cruises through a mustard field for a Harley India ad campaign. | The special, India-edition Harley-Davidson Fatboy, which was unveiled at the New Delhi Auto Expo in January. Photo courtesy Harley-Davidson India |
Prakash also notes that while most Indian motorcyclists use their bikes for commuting, Harley-Davidson has something else in mind.

"We have defined a whole new segment in India—leisure riding—and there are really no other options," he says. "We look at it as a lifestyle experience. It's the right time for us to enter India. There's growing economic wealth and growing demand for premium global brands. BMW and Audi and Mercedes-Benz have all come into the Indian market over the last 12 years."
Harley Timeline
Harley-Davidson's history is entwined with the industrialization and urbanization of the United States. Some high points and perspective:
1903: The first Harley, actually a modified bicycle, is produced; the Wright brothers' Flyer I leaves the ground and Henry Ford manufactures the Model A.
1910s: Harleys, now capable of more than 90 mph, are winning races around the country, the firm is selling in Europe, and its only domestic rival, Indian, concentrates on World War I military sales, leaving a strategic opening for Harley in the civilian market. A U.S. soldier is photographed in Germany on Armistice Day on a Harley sidecar and the firm is praised for its war effort.
1920s: Harley improves its machines and dealer network and expands deeply into Japan, licensing production locally and thereby unwittingly educating future rivals whose cheaper, more efficient machines would almost kill Harley in the 1970s.
1930s: Harley toughs out the Depression, Hollywood stars are photographed aboard Hogs, local owners groups proliferate but a rebellious, grease-stained contingent of Harley riders also emerges.
1940s: Thousands of Harleys are sold to Allied forces, and returning veterans send demand soaring. The 1947 Hollister, California incident spotlights the existence of outlaw bikers.
1950s: The company's only domestic rival, Indian, declares bankruptcy. In Southern California, Harleys are stripped down and customized to create "choppers" while the Hells Angels motorcycle gang organizes into clubs, with Harleys as their bike of choice.
1960s: Japanese motorcycles enter the United States, badly damaging Harley, which limps along until being acquired by the conglomerate AMF. The Hells Angels are accused of gang rape, and movies like The Wild Angels fuel their notoriety. Social turmoil sweeps the United States and as the decade ends, the classic movie Easy Rider depicts freedom-loving hippies on Harleys being shot to death by Southern rednecks.
1970s: Recession, soaring gasoline costs and ongoing competition from Japanese motorcycles hurt Harley but the company develops new models and a more efficient engine, the V2 Evolution®.
1980s: The comeback. Harley-Davidson executives buy the company back from AMF and launch a revival strategy symbolized by the slogan, "The Eagle Flies Alone." Harley Owners Groups (H.O.Gs) are organized nationwide. Harley goes public (stock symbol HOG) and increases market share. President Ronald Reagan is photographed aboard a Sportster at Harley's Yorktown, Pennsylvania assembly plant.
1990s: The U.S. economy is on a roll and so is Harley-Davidson, which has become mainstream. Accountants, lawyers, executives and other weekend warriors are suiting up in leathers, shades and bandanas. The average income and education level of Harley riders continues to rise.
2000s: Harley perseveres during a difficult decade, maintaining production in the United States while expanding overseas sales and broadening its product line. Sales fall near the end of the decade as the country experiences a crippling recession, but the company celebrates its 105th birthday with strong brand identification and customer loyalty.
—S.F.

In targeting more affluent Indian riders, Harley-Davidson is duplicating its highly successful strategy in the United States. According to the California-based Motorcycle Industry Council, Harleys accounted for more than 45.5 percent of the approximately 479,800 new heavyweight motorcycles registered in 2008, triple that of its closest competitor, Honda, with a little over 14 percent.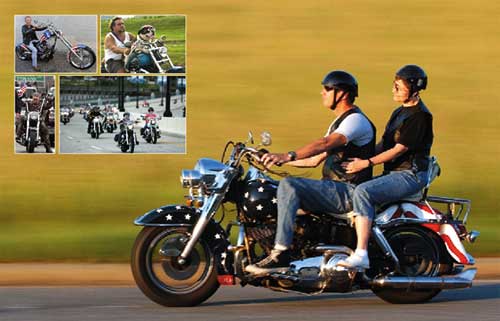 Below: Gene and Debbie McLendon cruise through Goldsboro, North Carolina on their 1976 Harley-Davidson Electra Glide.
Photo: Brent Hood © AP-WWP/Goldsboro News-Argus

Top: Harley riders at the Jai Mahal Palace in Bangalore during the Founders' Ride in 2009.
Photo courtesy Harley-Davidson India

Top left: Peter Fonda, who played Captain America in the 1969 film Easy Rider, sits on a Harley-Davidson motorcycle based on the one he rode in the film. Fonda was promoting an event to coincide with the 40th anniversary of the film in 2009.
Photo: Chris Pizzello © AP-WWP

Top right: Ray Boulay of Dighton, Massachusetts, and his English bulldog, Harley, cruise around Newport, Rhode Island.
Photo: Jacqueline Marque © AP-WWP/Newport Daily News

Above left: A Vietnam War veteran, Carl Shepley, rides his Harley in the Fresno Veterans Day parade in California.
Photo: John Walker © AP-WWP/Fresno Bee

Above right: Five hundred women motorcycle riders cruised the International Speedway Boulevard Bridge during the 2008 Harley-Davidson Daytona Women's Day Ride in Florida to raise money for the Muscular Dystrophy Association's summer camp program.
Photo: Ji-Eun Lee © AP-WWP/The Daytona Beach News-Journal
Founded in 1903 by William S. Harley and Arthur Davidson, who produced their first motorcycles in a 3 x 4.5-meter wooden shed, the Milwaukee, Wisconsin-based company is today a ubiquitous global brand. Immortalized in movies such as Easy Rider and The Wild One, Harleys have gradually shed their bad-boy image and today most sales are made to what some call "RUBs"—Rich Urban Bikers. However, the company's cultural clout transcends its physical products—the Harley-Davidson logo is used to sell everything from motorcycle accessories to sunglasses to T-shirts to baby clothes. Harley-Davidson is a singular, cult-like phenomenon whose allure is based on the fantasy of the endless highway, unfettered individual freedom and ageless sex appeal.
| | |
| --- | --- |
| | |
| Harley riders at the Jai Mahal Palace in Bangalore during the Founders' Ride in 2009. Photo courtesy Harley-Davidson India | Anoop Prakash, managing director of Harley-Davidson India, leads 20 riders at the Mumbai Founders' Ride in 2009. Photo: ASHIMA NARAIN |


"When you get on the bike and go out on the road, it clears your head," explains John Collins, director of the 400-member Harley Owners Group (H.O.G.) of Miami, Florida. "Whatever your problems are, they kind of dissolve. You're concentrating on riding, and everything seems to go away. It becomes a way of life. I started a new job recently and I looked in my closet and realized I didn't have any shirts that weren't Harley shirts, so I bought a couple of other shirts so I would look a little more conservative."
The Outlaw Image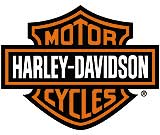 In 1947, as America was settling back into peacetime after the dislocations of World War II, an incident took place in a sleepy California town about 145 kilometers southeast of San Francisco that would forever change the image of Harley-Davidson. Although most historians now agree that what actually happened was wildly inflated by the media with the aid of a sensational photograph that was probably posed, the "outlaw" label was so firmly applied to Harley-Davidson that it has never been peeled off.
Hollister, which is now and was then primarily a garlic-growing farm community, had been chosen by a local motorcycle club for a Fourth of July get-together intended to feature camping, picnicking and racing at the town's half-kilometer dirt track. Such events, called rallies, were common and still are. This one attracted, at its peak, perhaps 4,000 bikers, most of whom came and went peacefully. A subset, perhaps 500 in all, did not.
On Friday night, a group of bikers began drinking heavily in bars on the town's main street and, once sufficiently lubricated, began racing their motorcycles on the sidewalks, doing various stunts, punching each other and generally misbehaving. Although Hollister's five police officers arrested the worst offenders, local lawmen were overwhelmed and things escalated until Sunday, when the California Highway Patrol and Monterey County Sheriff's Department came into town and restored order. About 50 people were treated for minor injuries; about the same number were charged with various offenses ranging from public intoxication to indecent exposure.
The brawl might have been relegated to oblivion except for a photograph taken by a San Francisco Chronicle photographer that was transmitted nationwide by The Associated Press and later run with a lurid article in Life magazine. In it, a drunken-looking, beer-bellied young man with bottles in both hands sprawls unsteadily backwards on a battered motorcycle parked amid dozens of empty beer bottles and broken glass. The motorcycle is unmistakable—a big Harley "chopper."
Although it has never been proven conclusively, other photos taken by the same photographer of the same rider show him and the bottles underneath his bike in different positions, leading to the suspicion that all were posed. Ultimately, it didn't matter—the photo and a hugely popular 1953 movie, The Wild One, starring Marlon Brando and Lee Marvin as bikers who terrorize a small town, established the outlaw image still associated with Harley-Davidson.
—S.F.
Collins, whose wife Sandy also rides a Harley (about 12 percent of the company's U.S. sales are to women), dismisses the old outlaw image of Harley owners.

"Some people say Harley motorcycle people are bums, but there are a lot of people in our chapter who I would aspire to be—business owners, upper management in big companies," he says. "The guys I hang out with, one owns a company that makes boats, another owns two or three transmission shops. These aren't bums. Another thing is, a Screaming Eagle (a Harley-Davidson model) costs almost $40,000, so some clown off the street isn't walking into the showroom and buying one."

Harley-Davidson has been highly successful in building owner loyalty, playing to the fact that it is an American-made product that's been around for more than a century and helping sponsor national and local owners groups.

"We growed up with them," says Johnny Stooksbury, the 77-year-old director of the Dragons H.O.G. in Maryville, Tennessee, who has been riding Harleys for more than 50 years. "They're the best machine there is on the road, and the Harley Owners Groups are one of the best organizations a motorcycle rider could belong to."

Harley Owners Groups organize member events, including many rides that raise money for local charities or needy individuals, offer riding and safety lessons, and generally provide a way for owners to hang out together.

"It's really kind of a family," says Jeff Myers, a sales associate with New River Harley-Davidson in Jacksonville, North Carolina. "I'm retired Marine Corps, and I've traveled all over the world, and wherever there were Harleys it was like being part of a big family. They treat you like you are somebody."

Chaz Hastings, who owns Milwaukee Harley-Davidson in the company's home town, says you either "get" Harleys or you don't. Many people do—Hastings' 3,300-square-meter dealership sells more than 500 bikes a year at prices ranging up to $35,000.

"Harley sells a T-shirt that says 'If I have to explain it to you, you won't understand,' " he says. "There's just nothing else out there that comes close. Tens of thousands of people tattoo the Harley logo on their bodies—what other brand is there like that? Harleys have just always been cool. You go to a H.O.G. meeting and there are presidents of companies and guys that work on the assembly line—it's a mix like no other mix. The common bond is the bike and the lifestyle. The bike stands for freedom and individualism."

Prakash, a former Marine and long-time Harley fan, is counting on the same motivations as Harley moves into India with dealerships in New Delhi, Mumbai, Bangalore, Hyderabad and Chandigarh. He says that while Harley expects brisk sales right away, the firm plans to build a long-term foundation in India About 30 percent of Harley-Davidson sales are made outside of the United States and the company is shooting for 40 percent.

"What you find is that Harley-Davidson has a universal appeal for those who want adventure, know what they stand for, and express that while they're riding," he says. "We will appeal in India to those who want to take that stand."
—Courtesy SPAN