The Overseas Indian Facilitation Centre (OIFC) has created an Online Business Networking Portal to serve as a bridge between India and global investors. The OIFC is a public private partnership organization between the Ministry of Overseas Indian Affairs (MOIA) and the Confederation of Indian Industry (CII).

The Online Business Networking Portal will bring together overseas Indians, entrepreneurs and Indian businesses on one common platform to do business with each other. The network connects investors and entrepreneurs to a cross-section of innovative businesses, products and services and involves a careful process of qualification and verification. This is in order to ensure that only the most credible and trusted business partners reach the investor.

The portal will eventually provide Investment and Business Facilitation Platform. It will be a login-based secured platform. Says Ms Shefali Chaturvedi, CEO of the OIFC, "It will handhold the investor through the complete process of investing, right from choosing the correct investment opportunities to actually making the investment."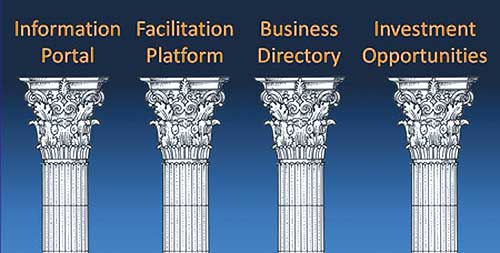 "India is a land of opportunity that places premium on enterprise and creativity...
I invite you, the Overseas Indians, to make use of the investment and business opportunities that India now offers. This is the time for all of us to become strategic partners in India's progress"

—Dr. Manmohan Singh, Hon'ble Prime Minister of India


The platform will allow businesses to:
· Showcase their company profile to potential Investors
· Search and find suitable businesses for desired needs
· Create online relationships with other members of the network
· Access the online community of investment and business facilitators for problem solving
· Access the range of customised projects and products of OIFC's partners
· Access searchable Business Directories of Innovators, Businesses and Service Providers

Key features of the portal will include:
· 16x5 Live Help Service for prompt queries redressal.
· Information Aggregation / Alerts on sector and state investment

Opportunities
· Online monthly e-newsletter
· Exhaustive FAQs
· Customized query redressal through knowledge experts
· Business Network to connect investors to cross section of Indian businesses, products and services
· Investment Guide to ease the process of investing in India

The vision of the OIFC is to be a 'one-stop-shop' for Global Indians to facilitate investment in India. Its mission is to be the 'Eye of India' for Global Indians, provide world class services on real time basis reducing transaction costs of doing business and to act as a catalyst to the phenomenon of Reverse Brain Drain or 'Brain Gain'.

Potential investors can visit www.oifc.in and register online.