Indo-Canadian on Time's list of 100 most influential people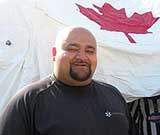 Indo-Canadian paramedic Rahul Singh has joined US president Barack Obama, talk show queen Oprah Winfrey and Apple boss Steve Job in Time magazine's list of the world's 100 most influential people in 2010.
The Toronto-based paramedic, who founded GlobalMedic in 1998 to help disaster-hit people, has been the face of Canadian relief efforts around the world, including the quake-hit Haiti, in the past 10 years. Calling his on-going relief work in Haiti "a shining example of selfless effort'', the magazine said, "Singh and his group of volunteers wasted no time in arriving in Port-au-Prince and setting about providing clean drinking water and medical aid wherever it was needed.
"Over an eight-week period, his team distributed 2.4 million gallons of clean water, while GlobalMedic's two inflatable field hospitals brought medical assistance to more than 7,000 people. They also trained a local team of Haitians to take over the work, and right now that is just what they are doing.''
Montreal-born Rahul Singh said, "I am excited to get on Time's list. But this recognition is not about me, it is about our volunteers.''
Singh, whose parents migrated to Canada from Delhi's Maharani Bagh, said he founded GlobalMedic after seeing the ravage caused by mudslides in Nepal in 1998.
"Travelling around the world, I was in Nepal when the mudslide disaster happened. There were inefficient relief efforts. I decided to do something to ensure efficient and immediate relief to disaster-struck people. After returning here, I founded GlobalMedic,'' said the burly Singh.
In the last five years, he said, he and his hundreds of volunteers, including paramedics, police officers and firefighters, have mounted more than 50 relief operations around the world.
"We have been in Sri Lanka after the war ended, Iraq, Gaza, Lebanon. We are in Haiti since the quake struck. We help people recover from the disasters. We train them for rehabilitation. GlobalMedic raises money by public donations, gala nights, dinners and fund-raisers," he said, adding, "We would have loved to help India when the Gujarat quake struck in 2001, but we were just setting up at that time."
---

Diaspora remittances haven't shrunk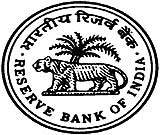 Inward remittances of funds by Indian workers living abroad have not been impacted significantly by the global economic crisis, says a survey by the Reserve Bank of India (RBI). This may be attributed to a number of factors, such as depreciation of the rupee resulting in the rise in inflows through rupee denominated NRI accounts to take advantage of the depreciation, hike in interest rate ceilings on NRI deposits since September 2008 and uncertainties in oil prices, which might have induced the workers to remit their money to India as a hedging mechanism due to its relatively better growth prospects, the RBI said.
Total private transfer inflows to India were $ 27.51 billion during the six-month period of April-September 2009 as against $ 26.37 billion in the same period of 2008. Inflows were $ 46.90 bn during the fiscal 2008-09 ($43.50 bn in 2007-08), the RBI said.
"It was feared that the global recession could impact migrant workers more severely. Even if there is no lay-off, workers would often have to accept lower wages as employers worldwide are seeking to cut costs in an attempt to cope with the financial crisis. Fears have also been expressed in several quarters about reverse migration of Indian labourers working in Gulf countries, which may result in decline in remittances and NRI deposits in India," it said.
While larger numbers of the bank branches, that were surveyed, have reported negligible impact of global crisis on flow of remittances, responses have been mixed across the regions. Majority of the respondents in Delhi and Chandigarh centres said that ongoing recession led to decline in the remittances, while in Ahmedabad centre, the majority of the respondents did not see any significant decline in the flows of remittances in the region. Again, respondents in Kochi region observed substantive decline in remittances while respondents from Jaipur region had mixed observations, the RBI said.
North America continues to be the most important source region of remittances to India despite its share in total remittances falling to 38 per cent (44 per cent during the 2006 survey). This is in line with the fact that a large proportion of migrants to North America (US and Canada) work in software and other Information and Communication Technologies (ICT) related areas which have relatively higher average earning levels. "The Gulf region accounts for an average of 27 per cent of the total remittance inflows to India, with major source countries being UAE and Saudi Arabia," the survey said.
According to the RBI study, a predominant portion of the remittances received (61 per cent) are utilised for family maintenance. On an average, about 20 per cent of the funds received are deposited in the bank accounts and 4 per cent of the funds received are invested in land/property/equity shares. Notably, the share of investment in land/property/equity shares in the current survey (November 2009) registered a significant decline as compared to the share of 20-25 per cent recorded in the previous survey conducted in July 2006. "A relatively higher portion of remittances are put in bank deposits in centres such as Ahmedabad, Chandigarh, Delhi, Jaipur and Kochi," the RBI said.
The regional pattern of investment reveals that a relatively smaller share of the total remittances is invested in land/ property / equity shares.
---

Custody battle—CBI hands son over to father
In a dramatic twist to the child custody battle involving divorced NRI couple Vijayasree Voora and Dr V Ravichandran, a CBI team traced Vijayasree. She was on the run with the couple's seven-year-old son Aditya. The CBI tracked her down and handed over the child to the father.
Aditya was traced to the Global Art India, a school for arts and crafts classes, at Gandhinagar when he was in the class. Vijayasree was with him. The boy was taken from there and handed over to Ravichandran, who too had arrived in Chennai. The Supreme Court of India had last month asked the CBI to trace the child and hand him over to Ravichandran.
The SC had earlier asked Vijayasree and Ravichandran to return to the US and fight the custody battle there. Vijayasree did not, however, adhere to the directions and kept postponing her trip. Hence the CBI was set upon her.
---

Book Review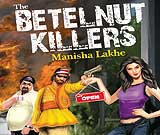 There is something for everybody in Manisha Lakhe's debut novel The Betelnut Killers, and a characteristic flavour above that. Lakhe, the founder of Caferati, compares writing a book today to whipping up a dish. She says, "When you try to put everything into every dish, they all begin to taste the same. Today, people want a more distinct taste. In most of today's novels by Indian writers, there is too much of Indian-ness put together. Everything is made up to be so exotic. Our Indian authors are definitely not helping the cause."
Taking a slice out of her own life as an NRI residing in US, Lakhe puts together an amalgamation of obsession over anything foreign, Indian stereotypes and a whole lot of zing into her book. The Betelnut Killers recounts the antics of Portland-based grocery owner Chimanbhai Shah whose world goes topsy-turvy when sexy Supriya opens a rival store. He hires Osmanbhai, a Mumbai supari killer to get rid of his competitor.
Interestingly, Lakhe confirms that director of Quick Gun Murugan Shashanka Ghosh will be making a movie on the novel. In fact she says that the screenplay for the same was written and kept on the backburner even before Lakhe found herself a publisher. She laughs and points out, "Shashanka, Mahesh (her husband Mahesh Murthy) and I have been friends since a really long time.
We have seen each other's kids grow up. I was once complaining to him about this grocery store in US and the limited choice we Indians have while buying pickle in US, and that's why I wanted to kill its owner. We thought, why don't we make a movie on it?"
The bizarreness of life in the US and the tug of war between the traditional and the modern also finds their way into the novel. The author says, "We live such a bizarre life in the US. NRIs living there have got this little mini-India to themselves. I learned to laugh at it quickly."
Lakhe maintains that one of the driving forces behind writing this book was to make sure that her home country would not be represented as just an "exotic" mystery. She says, "No one talks about a girl in a mini skirt in Bandra anymore. I am not talking about it either but I definitely do not want to sound as The Mistress of Spices."
Referring to novels written by NRI writers today, Lakhe ruefully questions, "They are still residing in Shantiniketan. Who cares about that? The India these guys are writing about does not exist any more. There is some serious nonsense going on as Indian writing."
—Review, Courtesy DNA
---

Banks tap Middle East diaspora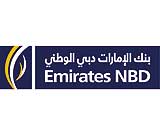 Emirates NBD, a leading bank in the region, have announced that as part of its NRI services offering, it has launched a special online remittance facility for its Indian clients, in association with HDFC Bank, a leading Indian bank headquartered in Mumbai.
Indian nationals residing overseas can avail this facility to remit funds directly into their HDFC Bank accounts through Emirates NBDs online banking service. The special remittance service offers the added advantage of processing all transactions with the same day value, and the funds credited into the beneficiary's account with HDFC Bank, provided the transactions have been requested before 12 noon on working days common to the UAE and India (Monday to Thursday). For transactions requested post noon, the funds will be credited by the next working day, at the same value.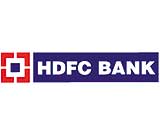 Indians not only constitute one of the largest demographic client bases for Emirates NBD, but are also the expatriate community with the largest volume of overseas remittances to their home country, said Jamal Bin Ghalaita, Group Deputy CEO, Emirates NBD. Despite the global financial crisis, overseas remittances to India from migrant workers touched US$55 billion in 2009, making the country the worlds top remittance earner. A significant percentage of this amount originates from the GCC states, where nearly 90 per cent of Indian migrant workers are based. This special online remittance facility will enable direct online remittances into the HDFC Bank accounts of our Indian clients. It is yet another initiative from Emirates NBD to support the overseas Indian community and offer them custom-built solutions to address their banking requirements in a hassle-free environment, he added.
---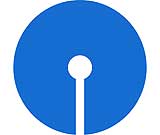 State Bank of Travancore will shore up its operations in the Middle East to shore up non-resident Indian (NRI) deposits. In the 2009-10 fiscal, the public sector bank's NRI deposits fell to Rs.2,455 crore from Rs.2,500 crore in 2008-09. A.K. Jagannathan, the bank's managing director, said that the bank will open more exchange houses in the Middle East. "Now we have 28 exchange houses in the Middle East, of which two are fully managed by us. Now, we will open five more," he added. A subsidiary of State Bank of India, the bank closed the last fiscal with net profits going up to Rs.684.27 crore from Rs.607.83 crore in 2008-09.
---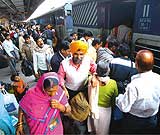 Picture captions:
Chaos theory: Travelling third-class is a notion of home that emigrants cling to. Shahibaz Khan / PTI

The NRI's obsession with all things 'Indian'
There is a list that circulates among the Indian diaspora in New York, London, Singapore and Hong Kong. Usually bandied about between first-generation Indian NRIs with a sentimental streak of mind, compounded by a disconnect with the day-to-day realities of their erstwhile motherland, this list reveals itself on festive occasions—Diwali or Christmas parties, India Day celebrations and such—in the company of close friends, usually after a few drinks have been downed. It is improbable in its origin and clichéd in its output to the point where this list, much like India itself, becomes a metaphor for love, loss and longing for the homeland. It encapsulates the NRI image of an India frozen in time. I know this because I used to make such a list.
"Yaar, let's do India next winter," the Punjabi investment banker will say as he surveys his $6 million (around Rs27 crore) Tribeca loft, after the champagne toast and Diwali mithai. "Let's go by train. In third-class compartments. Just like we used to do in college." His voice rises with enthusiasm.
"Let's go unreserved," his wife will add, adjusting her sequinned Tahiliani sari. "Let's take the kids by unreserved. If Gandhi can do it, so can they."
"Yeah, these kids are so spoilt. They have no clue about the real India," someone will mutter.
These people are sincere, not caricatures. They are completely unaware of the irony of their statements or the metaphorical distance between a Tribeca loft and Mahatma Gandhi's unreserved train travel. In their heads, they are still the lean and hungry college students who came overseas to try their luck. They might make a life and living in Kensington, London; Nob Hill, San Francisco; Tribeca, New York; Orchard Road, Singapore; or The Peak, Hong Kong; but their minds haven't caught up with their material success. Hence the list: travelling by unreserved compartments, eating mangoes, enjoying the monsoon, and going on summer vacation with parents and grandparents.
There are other things that make up the list and some are spectacularly regional: eating mungphali in the Delhi winter; listening to Bombay Jayashri at the Madras music academy during the season; heading to Zaffran restaurant at 4am after a night of carousing in the south Mumbai nightclubs; or biking through Cubbon Park at dawn when the flowering trees are in bloom.
Nostalgia is a funny thing. It usually involves simplicity—simple acts, inexpensive things. Even those with complicated childhoods distil their experience into the simplicity of skimming stones over water. NRI nostalgia in particular has little to do with the current status of the NRI in question. Indeed, the richer they get, the simpler their list seems to become: eating jowar rotis in the native village over a charcoal fire. Things like that. Eating chaat at Sea Lounge in Mumbai seems to be about as expensive as it gets. Unlike aspirational dreams which are about flying in private jets and buying couture, nostalgia is simplicity personified: buying trinkets at Colaba Causeway, chewing on masala peanuts from a cone-shaped newspaper on Marina or Juhu beach, drinking by-two coffee at the local Bangalorean darshini (roadside eatery), this is the stuff of nostalgia.
Paradoxically, many of the things that make up this nostalgic list do not exist any more. With the advent of online ticketing, few Indians need to travel unreserved. The monsoon is erratic and the Madras music academy is more political than it is musical. Mangoes remain heavenly as does the archetypal summer vacation.
I have just returned from a family vacation to Corbett and Binsar. We spanned the requisite three generations. My parents, my brother's family and mine. Rather than camp out at the ancestral home, we went to Club Mahindra, and encountered other multigenerational families. Once we got past that jaded city slicker scepticism, it was hard not to connect to a youthful staff who epitomized that clichéd phrase: the new India.
There was 21-year-old Abhijeet Bhattacharya, the activities manager from Dhanbad, Jharkhand, who had left his family behind to take up his first job in Binsar. He held my 78-year-old Dad's arm all the way down and up a steep gorge on a 2-hour birdwatching trip. I could be wrong but I don't think he did it because it was his job. My Mom thinks his solicitousness towards my Dad was because he missed his own folks. There was Manmohan, the Sardar, who taught us bhangra during the talent show that the staff put up one evening. There was the Dua family from Mumbai whose son had just written his board exams and was beginning his IIT coaching the following week. There were two girls from Pune who rappelled and climbed with artless enthusiasm.
My friend in Singapore who oversees Louis Vuitton for the Asia-Pacific region waxes eloquent about the "real India", and its values of respect for elders and culture of hospitality. Shades of this real India can be found in the metros. But a quieter, more authentic experience can be found in those little towns referred to by that unkind phrase: tier III cities. Places such as Ranchi, Vaikom, Dungarpur, Ahmednagar, Dhanbad and Binsar; places where the pace is unhurried and the smiles genuine.
So here is my version of that fantasy list now that it is rooted in an Indian reality. Travel by train by all means, but forget the unreserved. It is overrated. Take a multigenerational family holiday, if possible in the small towns of India such as Munnar, Kanha or Konark. Enjoy street food, which is still as good as memory makes it out to be. Above all, eat mangoes. 'Tis the season.
—Courtesy, Live Mint
---

Chinese doctor shoots former colleague, cites racism
Vajinder Toor, a Yale University doctor, was on April 26 shot dead outside his home by a former colleague Lishan Wang, a Chinese national. Wang is being held on $2 million bond and will be arraigned in New Haven Superior Court. Authorities suggested the shooting may have been related to spats Dr Wang reportedly had with Dr Toor when they both worked in 2008 at Kingsbrook Jewish Medical Center in Brooklyn, a large acute-care hospital.
Like Toor, Wang was a member of Kingsbrook's medical residency training programme starting in July 2006. But he was terminated two years later. In a federal lawsuit filed soon after, Wang claimed that the medical staff at the center, including Dr Toor, singled out Chinese residents and humiliated them verbally. The two reportedly had heated exchanges after Toor accused Wang of being delinquent in his duties and ignoring pages and calls from the hospital staff.
"An hour after this heated discussion, Dr Vajinder then accused Dr Wang of threatening his safety by using hostile body language, although he did not summon security to assist him," wire services quoted Wang's lawsuit as stating. It is one of the several allegations of anger and behavioral problems that Wang acknowledges he was cited for while in the programme. Toor, 34, was a first-year fellow in the infectious diseases section of the Department of Internal Medicine at the School of Medicine. His wife, who was also shot at by Wang, reportedly escaped unhurt.
Later in custody, Wang told the police that he was "sorry" for what has happened and feels that "I may kill myself". In his statement to the Branford police department, Wang admitted being outside Toor's home on April 26 and that he "did have a conversation with the victim". He "also made a reference to having a gun in a bag" and pinpointed where Toor, 34, was at the time he was shot. "Wang also confirmed that he was sorry for what happened at the condo," Detective Daniel Travisano wrote in a supplemental report released by the Branford police.
---

Indian Beckons NRIs for Jobs
There is a visible growth in the number of job-related astrological queries from NRIs, especially from the UK, the USA, Canada and the UAE, in recent times, according to an astrology portal. Besides, queries are also coming in from South East Asian countries like Malaysia, Indonesia and Singapore, Astroyogi.Com said in a statement. The portal said it has seen an increase in job related queries by about 27 per cent and other finance and personal queries by about 39 per cent in the last three months.
At least 15 per cent of the career-related queries came in from those who belong to the IT sector and eight per cent of the queries came in from those who are currently unemployed. The emergence of India as a growing economic power has made India a viable option for the NRIs to return to India for jobs. During the recent past, NRIs have been increasingly returning to India and seeking out jobs in multinational companies.
Meena Kapoor, Founder and CEO, Netway India Pvt Ltd, which runs the portal, commented: "An increase in interest with regards to their career from NRI users was first seen during the recession in 2009 and now in January 2010 since the job market has picked up in India".
---

ArcelorMittal wants to start India projects, runs into delays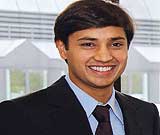 If the Government is indeed serious about attracting NRI investments then it must ensure that the big guns like L. N. Mittal are given a red carpet treatment. Thus far, ArcelorMittal has not had it so good, running into hurdles for projects it wishes to start fast.
ArcelorMittal has said that it expects to start work on its India projects worth Rs 1 lakh crore later this year. "On India, I believe, we are making good progress on the greenfield projects and hope to break-ground later this year," ArcelorMittal's chief financial officer Aditya Mittal told an Indian news agency.
Asked if the company is looking at mergers and acquisitions to expand its India base, he said, "We have a joint venture with Uttam Galva. We are sensing whether we should have any other partnership in India. But at this point of time there is nothing off the ground." It is, however, understood that the company has approached firms like the Steel Authority of India Ltd, Bhushan Power and Steel for a possible partnership due to the inordinate delays in launching its projects worth Rs 1 lakh crore for the past five years.
ArcelorMittal had proposed to set up a 12-million tonne per annum (MTPA) new steel plant, one each in Jharkhand and Orissa. But the proposed ventures are facing delays mainly on account of problems in land acquisition and regulatory hurdles. Faced with tribal protests in Khunti and Gumla districts in Jharkhand, ArcelorMittal is now looking at Petarwar in Bokaro district as the new site for the plant.
The project requires around 8,000 acres of land. On the raw material front, the Union Government recently granted a licence to prospect iron ore in Jharkhand to the world's largest steel maker to partly feed the proposed plant. The Mines Ministry has sought clarification from the state government on granting similar rights to the company in adjoining areas.
The company is learnt to have started shifting its employees to another location from its proposed site in Orissa. It proposes to set up a 12-MTPA plant in the state and requires over 10,000 acres of land. Amid the delays in starting work on the integrated proposed projects, the company had last year entered into partnership with domestic firm Uttam Galva, marking its first operational presence in the country. The company is also exploring opportunities to set up a Rs 30,000 crore steel plant in Karnataka.
Mittal had criticised the country's investment climate in January this year and rued the inordinate delays in his proposed projects in Jharkhand and Orissa.
---

Top South African awards for Imtiaz Sooliman and Vincent Naidoo
An Indian-origin man who founded a humanitarian aid organisation that has provided relief to people worldwide has received one of South Africa's highest honours.
Imtiaz Sooliman, who started the Gift of the Givers Foundation more than a decade ago, received the Order of the Baobab in Silver from President Jacob Zuma at a function in the Presidential Guest House in Pretoria. The awards are given out to deserving recipients each year to mark the public holiday of Freedom Day, April 27, when South Africa's first democratically elected President Nelson Mandela was sworn into office in 1994.
The Order of the Baobab recognises South African citizens who have contributed to community service, business and economy, science, medicine and technological innovation.
Sooliman's citation indicated that he was being honoured "For his excellent contribution through the Gift of the Givers Foundation to humanitarian aid in South Africa and humanitarian relief missions in various countries."
This year's ceremony was held under the theme 'Working together we can do more to achieve excellence'.
"This theme has always been a basic premise in all the humanitarian work that we have done for more than a decade now in countries across the globe, with assistance from the South African government and other agencies and volunteers," Sooliman said.
The organisation's previous work includes relief work after the earthquake in Gujarat, a few years ago and their latest efforts were in earthquake-stricken Haiti, where its team found the first survivor. On April 23, Sooliman had received an Honorary Doctorate from his alma mater, the University of Natal. "It's great to be recognised in this way by the institution where I started off," he said.
The Order of the Baobab in Silver was also awarded posthumously to another South African Indian, Vincent Naidoo of Cape Town "For his outstanding courage in fighting crime in Mitchells Plain and for sacrificing his life for the safety of his community."
---

PCS celebrates Vaisakhi Festival in Chicago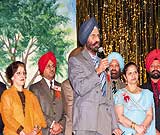 More than 1500 community members and over 200 participants, program coordinators, and volunteers of all ages from metropolitan Chicago, Wisconsin, Indiana, and Michigan converged upon Lane Tech High School Auditorium to celebrate Vaisakhi festival at "Rangla Punjab 2010" on April 10, 2010. Major (retd.) Gurcharan Singh Jhaj was the chief guest. Ex state Senator Dan Rutherford was a guest of honor. The cultural evening started with a prayer shabad by Sikh Youth of Chicago. An assortment of cultural performances transported the auditorium to the wheat farms of Punjab. A magnificently decked-up stage and Punjabi background music provided the perfect setting. Bhangra music Dhol beats, Gidha Boliyaan, an amalgamation of myriad colors of costumes, youthful spirit and rocking performances electrified the auditorium.
"Rangla Punjab" is the flagship annual event of Punjabi Cultural Society of Chicago (PCS) www.PCSChicago.org . This is the single largest Punjabi community cultural annual event in Chicago area, in existence for more than a quarter of a century. It is designed to preserve, propagate and promote Punjabi performing arts Bhangra, Gidha, songs, drama and music to the next generation of the local Punjabi American community and provide a platform to show case their talent. According to PCS president Rajinder Singh Mago, "Rangla Punjab 2010" was a huge success. It provides a platform to families in the entire Midwest to connect with their Punjabi roots and display pride in their culture."
---

Rami Ranger honoured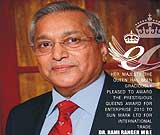 Her Majesty has awarded the most coveted award for business, the Queens Award for Enterprise 2010 to Sun Mark Ltd owned by NRI businessman Rami Ranger. It is rare that a company win this award, that too for a second consecutive year in 2009 and 2010.
This Queens Award for Enterprise symbolizes the strength and credibility of the company and its positive contribution to the British economy. The company's sales continue to grow despite the global downturn as a result of the financial meltdown. The company's turnover grew by over 45% last year and is fast approaching £100 million. It is a considerable achievement by any standard, especially when the company started its operation just 15 years ago.
The company exports British supermarket products to over 90 countries with staggering results and market penetration. Needless to say, due to its export activities, it not only generates wealth and employment for Britain directly, but also helps other British companies grow which are connected with its export activities like transport, shipping and
manufacturing.
The Managing Director, Rami Ranger MBE, is optimistic that his company, which is a leading force in exports, will continue to drive hard and be a recipient for many more such awards for sustainable growth and for excellence. He said that the second award shows that "when the going gets tough, the tough get going".
---

Doctor couple headed to jail, succumb to greed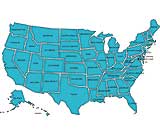 An NRI doctor couple has been convicted of conspiring to commit health care fraud over a 10-year-period in Texas and will give up millions in assets. Arun Sharma (56) and Kiran Sharma (54), medical doctors from Kemah in Texas, have been convicted of conspiring to commit healthcare fraud over a 10-year-period in the Southern District of Texas according to US Attorney Jose Angel Moreno.
The doctors whose trial was set to begin on May 3 opted to plead guilty to one count of conspiracy and one count of health care fraud. As per the prosecutors the couple will be sentenced on July 27. The two were taken into custody after reaching a plea agreement in Houston. Moreno said the pair conspired to commit health care fraud for medical procedures, mainly related to pain management, that were not done. Kiran is expected to get eight years in prison. Her husband faces up to 15 years.
They are forfeiting assets including multiple properties and more than USD 1.5 million in cash. In entering their pleas before United States District Judge David Hittner, the couple admitted that from January 1, 1998, through June 10, 2009, they fraudulently billed Medicare, Medicaid and various private health care providers for medical procedures that were not performed.
Specifically, during the time period of the conspiracy, the defendants owned and operated multiple medical clinics operating under the name Allergy, Asthma, Arthritis Pain Center, with two principle locations in Baytown and Webster, Texas.
While some of patients at the clinics were referred by other medical doctors, approximately 50 per cent of the patients came to the clinics through word of mouth. Arun Sharma was known as an easy touch for prescribing Hydrocodone, Soma and Xanax. Later he started prescribing stronger narcotics such as Oxucodone, methadone and fetynal patches. In addition to the prescription of narcotics, a large part of the practice conducted at the clinics was to provide patients with injections of lidocaine combined with steroids which at times provided temporary relief of various joint and muscle pain.
Although most of the injections given to the patients were, at best, trigger point injections, they were billed to the insurance companies as facet joint injections, paravertebral injections, sacroiliac nerve injections, sciatic nerve injections and various nerve block injections.
---

Up, close and personal with SRK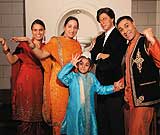 Photo Caption:
Hong Kong actor Gill Mohinderpaul Singh (far right) and his family were one of the first visitors to get up close and personal with Khan at Madame Tussauds Hong Kong
Bollywood actor, film producer and television host, the multi-talented Shahrukh Khan, or rather his wax likeness, is making a special appearance at Madame Tussauds Hong Kong, while Khan himself is on location in India filming his latest movie RA One. Local actor Gill Mohinderpaul Singh and his family were one of the first visitors to get up close and personal with the actor's favourite Bollywood star. Gill commented that he was excited to meet the celebrity's wax figure face-to-face and was amazed with the likeness of the figure. Gill also expressed that Khan was his role model and is the inspiration for his acting career.
On loan for three months from London, Shahrukh Khan will take his place at the attraction alongside other movie stars and film producers such as Jackie Chan, Harrison Ford and Johnny Depp.
Bret Pidgeon, General Manager of Madame Tussauds Hong Kong and Shanghai said, "Madame Tussauds Hong Kong has been receiving many more tourists from India in the last two years. While these guests enjoy meeting our unique collection of over 100 international celebrities and world leaders, we are delighted to have Khan join our attraction. We will continue to look for other opportunities in bringing celebrities from other backgrounds to enhance the experience at the attraction for our international guests."
"Following the success of displaying Amitabh Bachchan's wax figure at the attraction last year, we anticipate that Khan will be as popular with the Indian community in Hong Kong and guests visiting from abroad."
---

Ancient Hindu hymns to open city councils at senate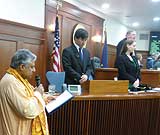 Both Alaska State Senate and House of Representatives in Juneau started day's work with Hindu prayers on April 9.
Rajan Zed, Hindu leader, read the opening prayers from ancient Sanskrit scriptures before Senators and Representatives on this day after sprinkling Gangajal (sacred water from river Ganga of India). After Sanskrit delivery, he then read the English translation of the prayers. Sanskrit is considered a sacred language in Hinduism and root language of Indo-European languages.
Zed, who is president of Universal Society of Hinduism, recited from Rig-Veda, the oldest scripture of the world still in common use, dated from around 3,500 years ago, besides lines from Upanishads and Bhagavad-Gita (Song of the Lord), both ancient Hindu scriptures. He started and ended the prayer with "Om", the mystical syllable containing the universe, which in Hinduism is used to introduce and conclude religious work.
Reciting from Brahadaranyakopanishad, Rajan Zed said "Asato ma sad gamaya, Tamaso ma jyotir gamaya, Mrtyor mamrtam gamaya", which he then translated as "Lead me from the unreal to the Real, Lead me from darkness to Light, Lead me from death to Immortality." Reciting from Bhagavad-Gita, he urged State Senators and Representatives to keep the welfare of others always in mind.
City Council of Yuba City, known as "Prune Capital of the World", will open with Sanskrit shlokas from ancient Hindu scriptures on May 4. And the very next day, the City Council of Bakersfield, one of the fastest growing regions in USA, will reverberate with Sanskrit mantras from Rig Veda. Zed will deliver invocation from Sanskrit scriptures before Bakersfield City Council on this day.
---

Business Wise
Indian American entrepreneurs run six of the top 50 fastest-growing women-led companies in the United States. The finding comes us through an annual ranking by trade group Women Presidents' Organization.
Argent Associates Inc, a supply-chain management company from Edison, New Jersey, has been ranked the No. 1 by WPO, a trade group for multimillion-dollar women-owned businesses, which determined its list using a formula that combines percentage revenue growth and absolute growth. Argent founder Beatriz Manetta attributes the growth spurt, noteworthy in an otherwise stagnant economy, to an increase in clients' imports from China and India that are assembled in her warehouses, according to the Wall Street Journal.
No. 3 on the list was Artech Information Systems LLC, a Cedar Knolls, New Jersey, provider of information technology and project-management services to corporate clients, run by Indian American Ranjini Poddar. The five other companies run by Indian-American women on the top 50 list were Padma Allen led TechnoDyne LLC (12), Anjali Ramakumaran led Ampcus Inc. (20), Sonu Ratra led Akraya Inc. (35), Priti Parikh led Sweta Systems Inc. (42) and Kiran Gill led PARS Environmental Inc. (49).
The list comes at a time when women-owned firms have grown in number but still lag behind male counterparts in terms of revenue, the Journal noted. The number of female-owned companies grew 125 percent between 1982 and 2002, and women currently own 10.1 million firms or about 40 percent of all private companies in the US, according to the Centre for Women's Business Research.
Only 3 percent of all women-owned firms have revenues of $1 million or more, compared with 6 percent of men-owned firms, the center estimates. On average, companies on the Top 50 list grew by more than $30 million in revenue between 2005 and 2009; posted revenue of $45 million in 2009; and employ nearly 140 workers. A diverse group of industries, from medical staffing to security patrol services to ecological restoration, are represented.
---

Yechury meets ATA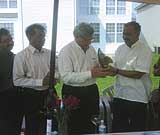 The American Telugu Community leaders of New Jersey, New York and Pennsylvania organized a meeting on April 3 to honour and felicitate Communist Party leader Sitaram Yechury at Gangasani, the residence of Rajeshwar Reddy, a trustee on the board of the American Telegu Association (ATA).
The ATA believes it was nice to have met, greeted and shared the intellect and knowledge of an eminent Indian opposition leader. Yechury, a Member of Parliament is not just one of the most known faces of his party in India but is also a respected intellectual, economist, and writer. Besides, his oration skills are second to none. At present he is a senior member of the politburo of the Communist Party of India (Marxist) and the party's parliamentary group leader. He was visiting the USA for lectures at the Columbia University on April 1 and 2.
The American Telegu community, an influential one, was indeed privileged to have met one of their own. His candid mannerisms and his polished demeanour went down well with the audience, many of whose members have been residing in the USA for decades. Yechury encouraged the audience to interact with him freely. It was a treat to watch him articulate his thoughts quite splendidly in a capitalist country. It was almost as though the audience was in interaction with a professor. Various questions pertaining to current pending bills in Parliament were discussed, especially the one concerned with education. Yechury expressed his reasons for opposing the bill and explained thoroughly its pros and cons. He also explained why SEZs were creating problems for the masses. He said that the global economic problems have not significantly affected India. Most of the world's big banks were in crises when compared with that of India. This is because his party was one of the supporters for nationalization of banks in early 1970s. Few in the audience raised issues related to the OCI cards and NRI nvestments in India. The community strongly requested protection for the NRI investments in India.
Yechury requested the NRI Telugu community to invest the money in India for education and health to uplift the common man. The gathering was attended by 80 plus people. The community leaders such as Ramakrishna Isanaka , Mahesh Saladi, Janaki Rao, Stanley Reddy, Chinna Babu Reddy, Pradeep Samala, Raghava Reddy Ghosala, Chandrashker Reddy, Ramsurya Reddy, Harinadha Velkur, Mahender Musuku, Suresh Reddy, Mohan Patalolla and Subodh Reddy Mitta participated.
—Rajeshwar Reddy, ATA
---

Just Dial launches in the US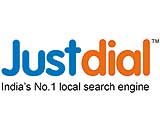 The owner of an all-India virtual directory service plans to expand to every major Englishspeaking country in two years. In March this year, a Tamilian from Kolkata, who claims he grew up in an India that was "anticapitalist and antigrowth", expanded his Rs 500 crore-plus search engine business, Just Dial, to the world's capitalist heartland, the US.
He's not planning to merely leverage lowcost India to maximise revenues from a standard offshore backoffice model. For now, Just Dial's US operations will be handled out of India, where the company employs about 4,000 people. "We soon plan to hire up to 1,000 people in the US, mostly in underemployed, rural areas," says 42 yearold Venkatachalam Sthanu Subra Mani.
The days to come will see Just Dial expanding to Canada, UK, Australia, New Zealand, Singapore and Hong Kong to fulfil Mani's target of being present in all major English speaking countries in the next two years. The company also intends to leverage the brand and knowhow for an international franchise. Fourteen-year-old Just Dial is a directory service that provides information on basically any entity that has a telephone existence—restaurants, plumbing services, shopping malls, colleges and so on.
In India, Just Dial receives over 240,000 calls everyday and hosts over 200,000 visitors to its website. It caters to over 2 million users across 240 cities in the country. Its revenue model involves a nominal fee to those who list but is free to consumers. Users need to dial a helpline number and explain to an operator what service they are looking for (this service is free in the US but customers in India need to pay for outgoing calls). Text and email alerts are then sent to users listing the four best options.
In some cases, the Just Dial executive patches through an instant call between the user and the service provider. Although this service is common to both the US and India markets, the US features have been tweaked. Americans can avail of unlimited free call connect to businesses and instant search on movies and events anywhere in America.
"The market in the US is more evolved and mature. In India, you may need a large sales force on the ground to get local businesses and services providers to sign up and get listed. In developed economies it is easier to accomplish this because there are middlelevel players who act as aggregators," he says.
He has also drawn up new services such as Just Dial Genie, a personal assistant that will enable consumers roundtheclock service for a monthly or annual fee. Genie will allow instant call connect to any business establishment, reminder services and the like.
The company is currently fighting a case in the Delhi High Court against Infomedia 18 Ltd, which allegedly copied and hosted Just Dial's database, its single biggest asset. The high court has put an injunction against the site, but with the final verdict awaited, neither Mani nor his team want to comment on this dispute. When Mani started his career in Delhi as a salesman with citybased United Database — a business directory service — he would watch people leafing through heavy books and lots of fine print to get at that one small but important piece of information. Why not offer a similar service on the phone, he thought.
"In 1994, a telephone connection costed Rs 15,000 so I could afford only three lines. I waited for a year to start the company, dreaming of numbers and millions of people using my service," Mani recalls. In 1996, he heard that the Kandivali Exchange in Mumbai was coming out with its 888 series. "I presented my business plan to the general manager, he liked it and the dream number of 8888888 was mine."
The business, which has now attracted venture capital from Hong Kong's SAIF Partners, USbased Tiger Global and Sequoia Capital, started with borrowed furniture, rented computers and a small office where employees had to play musical chairs.
Today, Just Dial's headquarters in Mumbai measures 35,000 square feet, and the company owns 1,75,000 square feet across India. How did he grow so quickly? By following this business philosophy: "Stay put, never give up and maintain fiscal discipline". Considering his early ventures involved selling a wrist watch to a relative for Rs 10 and organising a movie show with a colour television and a rented video (there were more people than tickets), Mani's certainly proved his selfmade entrepreneurial adage right.