This is a structure with a difference, the only one of its kind in the country. The Thyagaraj stadium, India's first ever Green Stadium for the ensuing Commonwealth Games (CWG) 2010, is now complete. In early April 2010 it was dedicated to the nation by the Chief Minister of Delhi, Mrs Sheila Dikshit. What makes the Thyagaraj Stadium unique is that unlike other stadia where existing infrastructure has been renovated or improved upon, this one has been built from scratch. It cost the Government Rs 297 crore.

Constructed on a 65,456 sq mt plot, the stadium boasts of a basement area of 16,515 sq mt (including parking provision for 450 vehicles) and total plinth area of 47,053 sq mt. It has a total seating capacity of 6,823 persons, including an indoor seating capacity of 5,823 persons.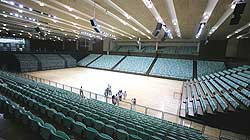 The Chief Minister of Delhi pointed out that the stadium has been constructed as per Green Building concept, i.e. it is based on eco-friendly material. It has an effluent treatment plant, will produce green energy from a gas-based turbine power generation plant of 2.5 MW capacity. The exhaust gases will be used for airconditioning. Other features include grid interactive solar power generation, heat insulation, conservation of water through rain water harvesting (from ground and roof top). The stadium has a green cover all around.

Other notable features include a Media Centre, five tennis courts (3 clay, 2 synthetic), a competition and training venue for netball, training venue for athletics, a synthetic athletic track, a medical and physiotherapy centre. The Chief Minister said that the new stadium will now become an integral part of the city's legacy and will be used for many years to come. She said that the effort of the Public Works Department (PWD) in raising this construction was laudable, and this marvelous piece of sporting infrastructure would go a long way in successfully hosting international sports events.

A look at the stadium both from the outside and inside is awe-inspiring and spectacular. The newly laid athletic track is second to none in the country. Inside, the seating arrangement around the netball court is brilliant, and designed for maximum comfort. The seats are adjustable, and so is the hall itself. Which means other indoor sports can be held here, and depending on the dimensions of the court the seats can either be pushed back or forward. The overhead indoor lighting arrangements are excellent. The outdoor lights bathe the athletic tracks. Such is its quality of the Thyagaraj Stadium that even Union Sports Minister Dr M S Gill commented that it was the best of its kind in the world. It does appear that world class sporting infrastructure is finally here to stay in the national capital.