Fiscal Deficit Reduction Target Encouraging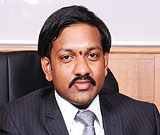 By Jagannadham Thunuguntla
When last year the Government proposed the fiscal deficit target of 5.5%, it appeared a little unreasonable. However thanks to the additional collection in 3G spectrum the Government was able to achieve 5.1% which is a great performance. Selling the assets may not be the most ideal way to reduce the fiscal deficit but never the less that shows the eagerness and intention of the Finance Ministry to keep a tight check on the fiscal deficit levels.

The road map for the fiscal deficit reduction in the coming 2–3 years is laid to make it reach close to the FRBM target of 3%. This is every encouraging. Global investors and capital market is expected to welcome this.
Although on the disinvestment front the target fell short this fiscal year, the Government has shown the momentum and aggression by maintaining Rs. 40,000 crore target for the current year also. This is encouraging from the PSU, IPOs and FPOs front
From the taxation structure point of view there was not much difference for the corporate sector as there is direct tax loss of Rs. 11,500 crore. But there is an indirect tax gain of Rs. 11,200 crore. In a sense it is neutral for the corporate sector.

However from the individual point of view there is a little bit relief for the individual and senior citizen as it may provide some extra money in the hands of the general public as a cushion against inflation.

Further lot of thrust have been given on the agriculture front showing that the Government is keen to ensure balanced growth in all the verticals resulting in inclusive growth.

No increase in excise duty is a very bold move. That shows the Finance Ministry is betting clearly on growth.

There are 3 crore tax payers in India which works out to about 3% of the Indian population. This time it is appearing that the Finance Ministry has concentrated on the remaining 97% people than on the tax payer.


—The author is Strategist & Head of Research, SMC Global Securities Limited. He may be contacted at jt@smcindiaonline.com