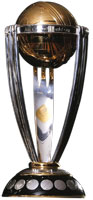 Who Will Lift The World Cup?
Even at its initial league stage, at the time of going to press, the World Cup competition of cricket is nicely poised. There are no clear winners, even though it is already apparent which teams will fail to make the cut to the quarterfinal stage. There are some with big outside chances too. Let's take a look at each of the real contenders separately
India
India's durability and strength lie in its deep and powerful batting, in the astuteness of its wicket-keeper captain, and the calmness that its South African coach brings to the team. Its weakness is clearly in its bowling, besides there are at least half a dozen fielders who need to be hidden in the field at all times, so slow are their abilities to pick up and throw in one swift motion from the outfield. Some of them just do not know how to dive, unpardonable in today's day and age of sliding saves and relay throws. It is in its fielding that India is turning out to be an embarrassment. One can appreciate that the slow movers will not quicken up overnight, but it is the lackluster manner in which they continue to field—without a sense of urgency—that makes its appalling and sad to watch. Even crowds in excess of 40,000 are not enough to inspire them to show more urgency. Some of the slow movers are carrying niggles, and there are injury concerns, so India's policy right now is not to stretch its fielders too much in the field, not until if the team makes it to the semi-final that is. But surely, one expects better agility from young legs.
| | | |
| --- | --- | --- |
| | | |
| Sehwag: Red hot | Kohli: Mr Consistent | Dhoni: Canny Captain |
| | | |
| | | |
| Tendulkar: The legend goes on | Amla: In top form | Yuvraj: Can be the player of the tournament |
| | | |


Virender Sehwag's belligerent knock against Bangladesh shows how quickly he can take it away from the opposing team on his day. His batting is fearless, and he still confounds every purist with his lack of feet movement, and with his frequent playing away from the body. But the rule book is only for some, for Sehwag manages to score at over a run-a-ball in one-dayers in spite of the marked absence of copybook cricket in his style. He makes his own style, and has devised his own shots (the upper cut for six, for instance, is something he first gave the world), and makes batting look so ridiculously easy at times with an array of aggressive shots that it does leave bowlers across continents wishing that they didn't have to bowl to him.

Virat Kohli is another who's in good touch and played an innings of substance against Bangladesh (100), Yuvraj found his in his knock against England in the tied encounter after Sehwag provided the initial burst, Gambhir played a solid knock, and, of course, the Great Tendulkar played an innings that was paced out superbly to reach his 47th ODI hundred, and his 5th in the World Cup—making him the highest century maker in World Cups as well. What a player!

M.S. Dhoni had a superb knock against New Zealand in the warm up game, and we all know that he can be very lethal, with or without the helicopter shots that he's made his own, especially when he promotes himself up the order. Like Sehwag before, or Pathan after him, he can demoralize attacks with savage hitting. These three are some of the most powerful strikers of the cricket ball, and to think that they play for the same country at the same time can be pretty nervy for bowlers. Especially when they also have to contend with Tendulkar, Yuvraj, Kohli and Gambhir. What a line up!

The bowling department, by a far stretch, is not looking good. Zaheer is carrying far too heavy a burden on his shoulders, and the expectations of millions. He is susceptible to niggles and injuries. One shudders to think what India will do if Zaheer were to miss a game or more, especially with the business end of the tournament opening up soon. Harbhajan Singh has looked India's second best bowler, and can often be dangerous, but this is ODI cricket, and one cannot expect him to have a good bowling day each time he comes on. He is being restrictive, but not taking wickets. The rest of the bowling lacks class, and potency. India gave away given away 828 runs in its first three matches (only Netherlands had given more, and even Canada had given away less) and these were not against the best sides. Most of the good teams have at least three good bowlers, India has two. That makes India a less dangerous side, and they can be weak with 30 overs that must be shared by the rest after Zaheer and Harbhajan have finished their quota. On current form, and the way Bangladesh knocked up 270 odd against them, and the manner in which England held the upper hand during most of the run chase in the exciting tied encounter in Bengaluru, it is clear that India's bowling worries are there to stay. Someone has to really lift his game as a bowler.

A word about Yuvraj Singh is in order. Against Ireland in a match that India won after a labored chase, Singh came good with a five wicket haul, and an unbeaten 50, following up on his 50+ against England. He looks very solid with the bat, and is willing to bide his time before unleashing some of his elegant assault with a vast repertoire of shots. But importantly, considering that he's beginning to strike form with the ball, he may be the third vital bowling option India so desperately needs.
Australia
The world's number one ODI side is playing good cricket. Its batting has never looked more ordinary than at present, as compared to the line-ups in the last three World Cups where the team went on to lift the Cup. But the likes of Shane Watson and Cameron White and even a fading Ricky Ponting can lift the side on their day. But man to man this side cannot compare to the team that won the last Cup, or even the one before (2003) with the likes of Matthew Hayden, Adam Gilchrist and Mark Waugh in the fold. It is in the bowling department, though, that Australia is once again looking very good. They have the sharp pace of Brett Lee, Shaun Tait and Mitchell Johnson, some of the best one day quicks in the world. As a fielding unit they are really turned on, and look very sharp. And even though Ricky Ponting is not quite as good as he was in the last two World Cups, and Michael Clarke does not look like a bully with the bat at all, and even without Glenn McGrath and Shane Warne, Australia looks a side that can go the distance. It'll have one or two bad days, and its opponents will hope that those days happen towards the later stages of the tournament.

| | | |
| --- | --- | --- |
| | | |
| Deschate: This Dutchman can make balls fly | Johnson: Fast and furious | Strauss: Not just a 1 day wonder |
| | | |
| | | |
| Tahir: The new spin sensation | De Villiers: The ruthless run machine | Benn: Windies need him now |

In the run up to the World Cup, Australia thrashed England in the one-dayers back home, and played some consistently better cricket than their opponents. England is a side that is not easy pickings, yet Australia just muscled them out in five of the six games that were played. Let us not yet forget that Australia is the best one day side in the ICC rankings by some distance. As the tournament gets into the business end, watch out for this side.

England
Enigmatic indeed, this English side is. They had a great Ashes Test series, and beat Australia convincingly in its own backyard. Player for player, England looked the better side, and just when the world was announcing that England would be the team to beat at the world stage, and would challenge India for the number one position, they simply faded away in the one-dayers in Australia.

England's trouble in the ODI format is much like India's. While they have muscular batsman at the top of the order who can heave and hoick around, their bowling is a real worry. Let's talk about the batting first. England has tried the South African combination at the top—Andrew Strauss and Kevin Pietersen—and it has worked wonderfully. But Pietersen is going back home with a hernia inflammation, and is ruled out of the rest of the Cup. They have got off to solid starts, and Pietersen has scored at more than a run a ball, so he'll be sorely missed. Strauss has found a way to turn into a star one-day player, and his 150 plus knock against India at Bengaluru underscored this point. He is now the long innings player in the Tendulkar mould, and not only is capable of finding the boundaries almost every over, but is also able to accelerate rapidly as the innings progresses. He also saved England blushes in the gamed against Netherlands which went down to the wire. The middle order with Trott and Bell looks solid, though Collingwood is a liability with the bat that England has been carrying for very long. In fact, he was dropped against the game against South Africa.

But the bowling—it is simply going to pieces. James Anderson, their first strike bowler, went for over 90 against India, and over 70 against Holland. If this is the state of England's premier seam bowler, one can argue that the side is certainly not pushing to be among the top claimants for the title. The first match was tied against India, but Ireland chased down a record 327 to beat England in the next one. In its very first match, England let Holland pile up 292 runs, and managed to top it with just about one over to spare, that too due to the solidity of its captain. Match after match, England is leaking runs, almost like India, and it is unlikely that they can restore a modicum of sanity in their attack in a hurry. Tim Bresnan had a good game against India, but the damage he did with his five-for was way too late, by then India had managed to rake up a huge score.

In its match against South Africa, though, England came back from a hopeless situation to register a win by 7 runs. It was a fantastic game for the English bowlers, and both Anderson and Broad impressed. If England is to lift its game, the bowlers now need to come good consistently. And Pietersen's replacement Eoin Morgan has to replicate his form in the Ashes series.

Sri Lanka
Sri Lanka is a rising force in world cricket. It is fourth in both the Test and ODI rankings, and has been consistent over a period of time. In the initial encounters of the World Cup it managed to play well, but the game against Pakistan which they lost narrowly would have hurt them. After all they were playing before a large home crowd and needed to win.

Dilshan is a brilliant opener who on his day can get a hundred in 80 balls. They have the two Mr Consistents—Mahela Jayawardene and Kumar Sangakkara—who are used to delivering match after match, and are also arguably two of the finest batsmen in the world, even though they are not always spoken off in the same breath as the Tendulkars, the Gayles, the Sehwags and the Pontings. Between the two, they have over 35,000 Test and ODI runs, and they have so often lifted Sri Lanka when the chips are down.

| | | |
| --- | --- | --- |
| | | |
| Trott: Cantering to big scores | Afridi: Bowling his heart out | Jayawardene: Among the best |

Sri Lanka has some hard-hitters in the middle order who can take the game away very quickly from the opposition, but it is in the bowling department that they are capable of running through sides, and alongside Australia and South Africa must rank as among the best attacks in world cricket today. In Muralitharan, Mendis and Malinga, Sri Lanka has three match winners, and the rest of the attack is capable of much damage too. So even if they are defending smallish totals, Sri Lanka can never be ruled out of the game, especially if the veteran, Muralitharan, begins to spin webs around batsmen. And Sri Lanka plays a lot of games in home conditions.

Pakistan
Pakistan is capable of coming good any time. In its first three matches, Pakistan displayed team unity to win all games. Their captain Shahid Afridi has led from the front as a bowler, and has had reasonably good support from his quicks and spinning unit. The team was expected to run through Canada and Kenya, but the manner in which it beat Sri Lanka was commendable. Sri Lanka is a side that is way ahead in the points category in the ICC ODI rankings, but during its match in Colombo, Pakistan was playing more than just catch up. In the end, Sri Lanka lost by just 11 runs, but all through Pakistan looked like a unit that was dictating the course of the game.

Younis Khan, Misbah ul Haq and the Akmal brothers are consistent, whereas if either one of Abdul Razzaq or Afridi himself explodes, Pakistan can take on any team and upset all calculations. But what remains Pakistan's problem is its inconsistency. On any given day they can suddenly play poorly as a unit, as the match against Canada in which they folded up for only 184 showed. They managed to win the match, but there was every chance of an upset.

If Pakistan can hold its nerve, it can go a long distance. Yet, even though it has won 3 out of 3, it remains a team that is unsure of itself. Will Afridi inspire them to greater heights?

South Africa
The world's third best ODI team beat India in the recently concluded one day series in South Africa. The side is an excellent unit, solid in batting, and with two of the best quick bowlers in cricket. And now, the recent inclusion, Pakistan-origin Imran Tahir has done wonders to the side with his spinning ways, match after match. A.B. de Villiers is in excellent form, continuing from his fantastic series against India. He had a superb game against the West Indies, getting a ton and helping his side chase down 222 with more than seven overs to spare. In the match against Netherlands, de Villiers, this time in the company of Hashim Amla, exploded and helped his side post 351 on the board. Another fierce ton was scripted from his blade. Tahir was the wrecker in chief in the bowling front once again, and the Europeans were skittled for a mere 120. Even against England, Tahir was the bowling hero, a crucial match that South Africa should have won, but lost.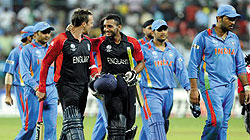 TIED UP: The Indian players are not smiling after the finish of the exciting tied encounter against England. The two English players, Swann and Shahzad, on the other hand look happy with the result. During the majority of the chase, though, England held the upper hand before collapsing towards the end

South Africa looks like a solid unit, well-oiled, and ready to go the distance. Its opening batting pair of Smith and Amla is very experienced, and they have a string of seasoned campaigners in the middle. Duminy's had two decent games, remaining unbeaten during the massacre against Netherlands. Kallis who did not come good in the first three games with the bat is surely due for a big one, he too like de Villiers had a tremendous series against India.

As a fielding unit South Africa is second to none, but it is in the bowling department that they look like the side that can run away with the honours. At the moment, when it comes to bowling there is very little to choose between the Australians and the South Africans. In Dale Steyn they have a bouler the world fears.

West Indies
It seems so long ago that the West Indies used to be an all conquering unit. And it seems for so long it has been an average side, unable to function as a unit, like during the heydays of Lloyd, Richards and before them Sobers and the three Ws. It has heritage, it can produce some flair, but does it have the will? It can have its good days, but against quality sides West Indies is a predictable loser. Its ICC ranking has also plummeted embarrassingly, and the side has a string of ordinary bits-and-pieces players in their side.

GALAXY OF SKIPPERS
Fourteen captains and the coveted Cup. One of them gets to lift it on April 2. Can't wait to find out

For explosive power and raw hitting the side is too dependent on Chris Gayle at the top, and Kieron Pollard in the middle. Darren Bravo had one good innings against South Africa, but it is still too early to say that West Indies has any real threat-value to compete meaningfully against the top sides, which they no longer themselves are.

The team's captain Sammy has to start leading by example, thus far he's heading the bits-and-pieces category with nothing of real substance to show. It is time he stood up.

The bowling looks nothing extraordinary, and even though West Indies crushed Bangladesh (another woefully inconsistent performer) and Sulieman Benn had a very good game, it is doubtful if it will pose any real threat to the top sides as the tournament progresses.
GUTTED


Dwayne Bravo of the West Indies hurt his leg, Kevin Pietersen has a swollen hernia, Doug Bollinger has torn fibres and all of these key cricketers will play no further part in the World Cup

GLORIED

Lasith Malinga claimed a hattrick, his second in World Cup, Kevin O'Brien smashed the fastest hundred ever in World Cup (100 of 50) and Yuvraj Singh became the first man to scalp 5 and score a half century in World Cup
New Zealand
Another side that is hopelessly looking for inspiration is New Zealand. They've had a poor run in the last one year, having lost to Bangladesh 0-4 and to India 0-5 and then at home against the Pakistanis 2-3. Like the West Indies, NZ too has not been able to pull itself from a quagmire of disappointments. They no longer have the services of Shane Bond, and no one of the caliber of Nathan Astle or Stephen Fleming to anchor the side, innings after innings. The all round abilities of Chris Harris gone, NZ are struggling to find ace players that could win them matches consistently. Jacob Oram can be a very good bowler when conditions are good, but more often than not these days finds himself giving away far too many runs. They have a bunch of ordinary quicks, and Daniel Vettori's spin is about the only thing that is world class. The likes of Ross Taylor and Bredon McCullum can rip apart bowling attacks with their bats on their day, but they too have to learn about consistency in a hurry if NZ are to make a dent in the World Cup. On current form, they are really no threats, even though they are likely to make it to the quarter-final stage.

The Battle Ahead
Given the situation at the early stages of the tournament, it remains to be seen if Ireland's was a one-off performance or not. It has already lost to Bangladesh, which in turn has lost very badly to the West Indies. The quarter-final line-up looks like having the eight teams discussed, unless something majorly goes awry. Having said that, the least likely teams to go through to the semi-final stage are West Indies, NZ, England, and one of Sri Lanka and Pakistan. Australia and South Africa should easily go through. India should go through, purely because its batting is so strong, and it will have plenty of home support. Then on, it is that one game that will determine who is battling for the Cup. It is still an open tournament, but don't rule out Australia. They are fighters, they are up for a scrap, and they have been wounded recently in Test matches. South Africa, despite its loss to England, has also looked very consistent, and if they need to win the Cup and make a statement, the time is now. And India will somehow have to find the bowlers to take it home. Where from, everyone's asking?