Sachin and India
Tale of two majestic growth stories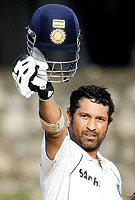 The 1990s was a time of awakening for the Indian economy. It was a time of VCRs, Walkmans and Maruti-800s. It was an age when still cameras needed roll film, there was only one Bachchan, Air India was still making money and the gift-toting NRI uncle was treated as a VIP. It was also the era of Sachin Ramesh Tendulkar.

If Manmohan Singh broke the shackles of the nation's economy in 1991, the same happened on the cricket field through the bulky bat of a 5-foot-5 batsman with a squeaky voice and the most vicious on-drive ever. Tendulkar, with his middle-class upbringing in suburban Mumbai's Sahitya Sahawas, went where no man had gone before.

As our economy began its majestic rise, the nation saw hope in this genius from Indian cricket's capital. Finally, we had a player who went after the impossible. If Gavaskar was the man who staved off defeat, Tendulkar was the prodigy who always eyed victory... he was the competitor who gave the opposition a taste of their own medicine. Cowed down for years, it was time for India to hit back, whether in business or on the cricket pitch — and hit back we did, with aplomb.

Batting for posterity
Sachin has scored highest aggregate runs and maximum 100s and 50s in both Tests and ODIs game. He also holds the record of most 90s in ODI, getting out 18 times in the 90s
Has hit 1,943 ODI and 1,892 Test fours, which is the highest for any batsman
Played 177 Tests and 446 ODIs, the highest by any player
His 21-year, 71-day career is the longest among current players as well as cricketers who have played more than 100 Tests
Is the only player to score more than 1000 Test runs six times and 1000 ODI runs seven times in a calendar year
In the 2002-03 ICC World Cup, he scored 673 runs, the highest for any player
In 1998, he scored 1,894 runs in ODIs, the highest number of runs scored by any batsman in a calendar year
Has scored 9 hundreds against Australia, the highest against any team by a single batsman
Has scored 1,778 runs in the 42 innings he has played at the Sharjah Cricket Association Stadium in UAE, his highest on any ground
Has faced 778 different bowlers, of whom 528 have failed to get him out even once
Of the 250 bowlers who managed to get him out, Brett Lee has been the most successful, scalping him 14 times
Sachin has scored 600 runs off Muralitharan, his highest off any bowler
Has faced 47,788 balls in international cricket. This is equal to 7,965 overs
In his over 21-year career, he has spent 1,145 hours on the pitch
The total distance he has run to score all these runs works out to 711 km
Breaking loose
Where It All Began: New industrial policy announced on July 24, 1991, opening up several sectors to private players and doing away with licences in many others
Coming of NSE: Incorporated in Nov 1992, recognized as stock exchange in April 1993; debt market trading begins in June 1994, equity market in Nov 1994
Privatization of Skies: 1992 private airlines allowed to fly scheduled flights. East-West, Air Sahara, Modiluft, Jet Airways among the early entrants
FIIs Enter Market: Jan 1993 (just $200,000 over the whole month)
Growth Rate: In 1994-95 (6.4%), 1995-96 and 1996-97 (8.0%), GDP grows at 6%-plus for three years running for the first time. In 2005-06 (9.5%), 2006-07 (9.7%) and 2007-08 (9.2%), it grows at 9%-plus for three years in a row
Internet entry/penetration: VSNL offers dial-up net connections in six cities on Aug 14, 1995. The number of users in India has now crossed an estimated 100 million
Delhi Metro Launch: DMRC incorporated on March 5, 1995, construction starts on October 1, 1998, first segment (Shahdara to Tis Hazari) inaugurated on Dec 24, 2002
Golden Quadrilateral: In 1999, work starts on project to link Delhi-Mumbai, Mumbai-Chennai, Chennai-Kolkata and Kolkata-Delhi through four-lane highways totalling over 5,800 km
IT Superpower: Infosys and NIIT become first IT scrips in sensex on Nov 16, 1998; Satyam follows on Apr 10, 2000, HCL Technologies on Jan 10, 2002, and Wipro on Nov 10, 2003
Malls/multiplexes: Crossroads Mall opens in Mumbai in Sep 1999, perhaps the first such complex in India
NREGA: Enacted on August 25, 2005, scheme launched on Feb 2, 2006 from Anantapur in Andhra Pradesh
Mobiles cross 50-million mark: In 2005. In Oct 2004, no. of mobile subscribers (44.51 million) crossed no. of fixed line subscribers (43.96 million) for the first time
Auto Sales: Annual passenger vehicles sales cross 1 million for the first time in 2004-05. Sales of all categories of vehicles cross 10-million mark two years later in 2006-07
Sensex crosses 10k mark: February 6, 2006 intra-day, February 7, 2006 close
Dish TV: First allowed in India in July 2006, there are now six DTH service providers with total subscribers estimated at 20 million.
—Courtesy: TNN