New Swaminarayan Museum opens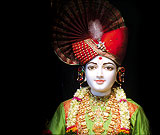 LORD SWAMINARAYAN JI
A unique Swaminarayan museum that will showcase exhibits dating back to over 200 years has been set up in Naranpura. The museum was inaugurated on March 5, and the ceremony lasted till March 9. The museum, built by authorities of Swaminarayan temple of Kalupur has on display 1,200 artefacts which were used by Swaminarayan himself more than 225 years ago. The exhibits have been collected from various places across the country which he had visited.

At the museum's inaugural ceremony, a document about the temple's inception will be shown to the visitors. The land for the Kalupur Swaminaryan temple was donated by the British government more than 200 years ago. The land documents will also be put on display at the inaugural function. The subsequent celebrations will be held in Thaltej. "After the land documents were signed and handed over to the devotees, they were sent back to England to be embossed in a particular manner," said acharya of Kalupur Swaminarayan temple Kaushlendraprasadji Maharaj. The museum also houses a well-equipped laboratory for preservation of the artefacts.

More than eight lakh devotees from various parts of the country and abroad will participate in the event. "Some 1,000 NRI families from different countries have already reached Ahmedabad," said Maharaj.

The museum will have a section devoted to the heritage of Ahmedabad city. This section could be a hit among children as a huge glass map of Gujarat has been fitted on the floor. "Here, one can get a quick glimpse of the topography of Ahmedabad and get an idea about various places in the state within minutes. This section is specially meant for children," he said.

The museum building has been built on an eco-friendly concept. Instead of bricks, fly ash blocks have been used for the structure, while solar energy powers most of the facilities inside. "Fewer windows are constructed to ensure less wood is used," said Maharaj. A huge kitchen has been set up for the event which is equipped to cater more than 1 lakh devotees every day. More than 5,000 volunteers have been pressed into service at the kitchen. They are camping in 350 tents near the museum at Naranpura.