Huge Payday for Pandit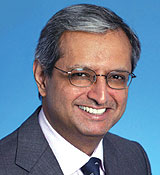 Vikram Pandit, the chief executive of Citigroup—the third largest U.S. bank—was paid $14.86 million in 2011, compared with $1 in 2010, according to a filing with the Securities and Exchange Committee.
The 2011 payout included salary of $1.7 million and cash supplemented by a cash bonus of $5.3 million and options valued at $7.8 million. In 2009, Pandit's total pay package was $128,751. The pay recognizes Pandit's shepherding of the company to profitability after the bank was bailed out by the government in 2008. Citi, which had net income of $11.1 billion in 2011, has had eight consecutive quarters of profitability, Citigroup's compensation committee said in the company's annual proxy statement.
"The committee awarded annual incentive compensation, in addition to salary, to Mr. Pandit for the first time in four years in a manner commensurate with his responsibilities and the success of his implementation of Citi's long term strategies," the proxy statement said. About $8 million of Pandit's 2011 pay is split between deferred stock and deferred cash. The awards, meant to retain the executive, vests in four annual installments beginning January 2012, the proxy said. Pandit, 55, has been CEO since December 2007 and refused to accept compensation in 2010 beyond the token $1 payment.
---

Mittal drops out of Forbes' top 10 list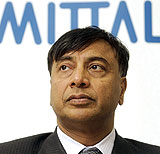 Lakshmi Mittal, the Indian-origin steel tycoon, has dropped out of the top 10 rich list for the first time since 2004 after suffering the biggest fortune loss of anyone in the world, The Telegraph reports.
He has slipped to the 20th position on the Forbes list of the world's exclusive billionaires' club with a 20.7 billion dollar wealth, after losing 10.4 billion dollars in the past year.
Mexican telecoms chief Carlos Slim Helu, 72, has emerged world's richest man for the third time despite a decline in his fortune from 74 billion dollars to 69 billion dollars.
He is followed by the Microsoft owner Bill Gates and American tycoon Warren Buffett, possessing 61 billion dollars and 44 billion dollars respectively.
JK Rowling, author of Harry Potter has been excluded from the world's exclusive billionaires' club due to Britain's high tax regime.
She was touted as one of the world's richest women in 2011 but her fortunes depleted to such an extent that she is no longer a dollar billionaire, which implies that she has less than 640 million pounds in her bank accounts.
The decline in the spending power of Britain's rich emerged as the global number of billionaires rose to 1,226, and their combined wealth surged to a record 4.6 trillion dollars, despite the impact of the world economic crisis.
---

80 per cent NRIs in the U.S. would vote for Obama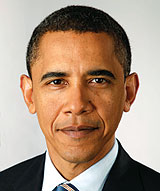 In an opinion poll / online survey conducted between February 22 and 26, a total of 80 per cent of US-based NRIs said they'd vote for President Barack Obama in the upcoming presidential elections in the USA. The poll-survey was carried out with respondents across the country. Mitt Romney came out as the Republican favourite among remaining respondents.
The study conducted by Boston-based INE Media Inc. - the publisher of IndUS Business Journal and INDIA New England newspaper stated: 'Former Massachusetts governor Mitt Romney leads his nearest rivals Ron Paul by 24.1 percentage points and former Senator Rick Santorum by 33.4 percentage points. "But if the presidential elections were held today, an overwhelming 80 per cent of Asian Indians would vote for President Barack Obama." Upendra Mishra, publisher of IndUS Business Journal and INDIA New England told the Hindustan Times: "This is the first survey of Asian Indians during this presidential election season."
"Indians have been primarily known in the United States for their entrepreneurial skills with excellence in the academic, scientific and technology fields, but now they're making their mark on both the local and national political scenes."
In the survey, Romney got the maximum support among the Republican candidates with 51.9 per cent votes. President Obama, though, came out on top with 80 per cent behind him when pitted against the Republican candidates with Romney securing 14.7 per cent of support from the participants.
---

Ravi's messages land him in trouble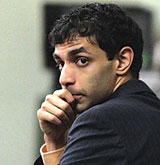 Indian American student Dharun Ravi apparently tried to make amends with his estranged roommate after spying his sexual encounter with another man with a webcam, according to text messages revealed in court.
Former Rutgers New Jersey State University student Tyler Clementi committed suicide soon after the texts were sent. It is not clear if Clementi ever received the messages, a New Jersey court was told in March.
"I've known you were gay and I have no problem with it," read messages sent by Ravi, according to authorities. Ravi apparently sent the messages after he learned that Clementi had requested a room change. They were sent Sep 22, 2010, the same night Clementi took his own life by leaping from the George Washington Bridge, which spans the Hudson River between New York and New Jersey.
Prosecutors have said Ravi and another student placed the camera in the dormitory room without Clementi's knowledge to spy and humiliate him because he was gay.
Ravi's lawyer, Steve Altman, has said his client had switched on the webcam to monitor his personal items because he did not trust his roommate's visitor.
The mystery visitor, identified only as M.B., testified last week that after one encounter he "could hear people talking in the courtyard. People joking, people laughing."
Ravi, 20, now faces a 15-count indictment in Clementi's death that includes charges of bias intimidation and invasion of privacy. If convicted, he faces up to 10 years in prison.
---


Designers team up
From filmmaker Akbar Khan, singer Anoop Jalota to model Diana Hayden and cartoonist Sudhir Tailang walked the ramp on March 7 to support the Save The Girl Child initiative cause. At the same event, Indian and Omani fashion designers came together to create awareness against female infanticide through a fashion show.
"I am a very strong believer of this because Prophet Mohammad stood for this cause. In ancient Arabia, the moment a girl child was born they would bury her alive and he is the man who created awareness against it," Akbar Khan told the media. "He said there are two creators, one creator is above and the other is on earth and that is mother. A mother's value is no less than the almighty. A woman is stronger than a man," he added.
Omani designer Anisa Moosa Al-Zadjali showcased a collection dedicated to confident women, which included a variety of heavily embroidered salwar suits in bright colours with the dupatta draped in traditional Islamic style.
Her show was followed Indian designers Pallavi Mohan, Zubair Kirami and Sulakshana Monga—they presented a range of dresses and gowns dedicated to modern women.
Diana, who walked the ramp as the showstopper, said: "The more awareness created, better it is. It is disgusting to see so much female infanticide happening. It is important to attract attention, whether it is through fashion or any other medium.
"It is lovely that Oman has collaborated with Indian designers. If other foreign countries get involved, it would be great. By doing this if you can save one life, it's so worth it." The event was conceptualized and organised by Vinay Gupta of Lifestyle Impresario in association and Al Qalam Foundation to support the cause of Save the Girl Child and Back to Nature and Wellness respectively.
---


NRI to invest Rs 10 crore in native place
It's a call of the motherland for Ravi Harsoor, an N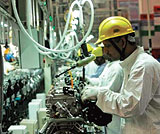 RI hailing from Gulbarga and settled in the US, who has come forward to set up an auto ancillary unit in north Karnataka and contribute his bit to the industrial development of the region.
At the North Karnataka Investors' Meet held in early March at Hubli, Harsoor expressed his intent to set up an auto ancillary unit at Belur industrial area in Dharwad at a cost of Rs 10 crore. It will be a pilot project and based on the response, the NRI plans to expand it further. Born and brought up in Gulbarga, Ravi Harsoor is an engineering graduate settled in America for the past 18 years. He worked for a few years at the Tata Consultancy Services in Mumbai before moving on to the US. Speaking to the media about his project, Ravi said he was waiting for some opportunity to set up an industrial unit in north Karnataka. It came in the form of the North Karnataka Investors' Meet.
"I was invited by the industries ministry to attend the meet. I decided to tap the potential of the region in the auto sector," he said. "If the pilot project takes off well, we are keen on setting up a permanent auto ancillary establishment investing Rs 50 crore more," he said. Two of Harsoor friends, Virupannavar and Goutam Chopra are also joining hands with him in this venture. Now, the team is in the process of identifying land in Belur and finding prospective buyers. They plan to start the unit by the end of December.
Harsoor is running real estate and health care projects in the US. He is also owns a BPO in Mysore.
---

Journalists shine in the USA
With two of them governors, four billionaires and over a score sitting in high places in government, Indian Americans not only keep making news but have also emerged as major players in American media
| | | |
| --- | --- | --- |
| | | |
| Bobby Ghosh | Fareed Zakaria | Sanjay Gupta |
| | | |
| Vinnie Malhotra | Nisid Hajari | Kevin Negandhi |
| | | |
| | Davan Maharaj | |


Take Indian-born Aparism Bobby Ghosh, for instance, who was last week named by Time magazine as 'Editor-at-Large'. In naming Ghosh, Time Managing Editor Richard Stengel, called him "one of Time's greatest assets and this past year was one of his best yet."
Then there is Fareed Zakaria, who too was introduced as Editor-at-Large of Time Magazine in October 2010 after spending 10 years overseeing all of Newsweek's editions abroad. Called "the most influential foreign policy adviser of his generation" by Esquire Magazine, Zakaria hosts what has been dibbed one of the most intelligent shows on American TV, 'Fareed Zakaria GPS' on CNN every Sunday.
Equally ubiquitous is Sanjay Gupta, the multiple Emmy-award winning chief medical correspondent for CNN. A practicing neurosurgeon, Gupta has reported from earthquake- and tsunami-ravaged Japan, earthquake devastated Haiti and covered live the unprecedented flooding in Pakistan.
Vinnie Malhotra, a former programme development executive at ESPN and long-time ABC News producer, has just joined CNN as senior vice president for development and acquisitions. Last month, Raju Narisetti, credited with creating Mint, the successful business daily out of Delhi, returned to the Wall Street Journal, where he had spent 23 years earlier, as Managing Editor of its Digital Network.
Nisid Hajari, Managing Editor of Newsweek is busy writing "Midnight's Furies," a dramatic history of the Partition of India and Pakistan, told through the characters of Gandhi, Jinnah, Nehru, Churchill, and Mountbatten. Rajiv Chandrasekaran is the National Editor of The Washington Post, where he has worked since 1994. His first book "Imperial Life in the Emerald City:Inside Iraq's Green Zone" published in 2006 won the 2007 Samuel Johnson Prize and was a finalist for the 2006 National Book Awards for non-fiction.
ESPN's sports anchor Kevin Negandhi is the first anchor of Indian-American descent to be on a national sports network in American Television history and Ali Velshi, son of Murad Velshi, the first Canadian of Indian origin elected to the legislative assembly of Ontario, serves as CNN's chief business correspondent.
Other names include Davan Maharaj, managing editor of the Los Angeles Times, Stephanie Mehta, Fortune magazine Executive Editor overseeing technology, and Nikhil Deogun, Senior Vice President and Editor in Chief Business News, CNBC, the most-watched business TV network in the world.
Peter Bhatia, editor of The Oregonian, one of America's top regional newspapers, is the first South Asian to run a major US daily. Hundreds of lesser known Indian Americans are among the producers, reporters, copy editors and production assistants, bringing Americans their daily news -showing how far Indian-American have come in the media world where only a few of them commanded bylines in the 1990s.
---

Sun Mark listed in Profit Track 100
Sun Mark Ltd, winner of three consecutive Queens Awards for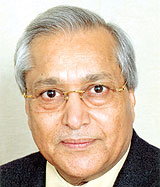 Enterprise in International Trade has been listed in the prestigious Sunday Times "Profit Track 100" for a second year running. The company ranked 33rd last year and has improved its position to 25th on the table, signifying its tremendous growth.
The Chairman, Dr Rami Ranger, MBE, paid a tribute to the Sun Mark team who share his vision for the company and continue to work hard to provide excellent customer service. He was delighted with the company's standing and the significant increase in its sales and profits, given the economic downturn in global markets.
He is optimistic about the future growth of the company as it has now set up a base in Dubai to service its growing presence in the Middle East and North African regions. The company exports British supermarket products to over 100 countries and its motto is "we only succeed when our customers succeed".

---

Engineer steps on the gas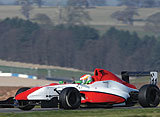 Indian car racing rookie Shahaan Engineer continued to deliver an exceptional standard during the latest Certina Formula Renault 2.0 UK Championship test of the pre-season at Oulton Park Island Circuit, the single-seater rookie ending both days third fastest—a mere fraction shy of the outright pace.
On Tuesday, 13th March, the 16-year-old Fortec Motorsports racer built further on the superb progress made at Snetterton in Norfolk last week. After choosing to sit out the first session, he took to the Oulton Park circuit – his first ever run on the 2.23 mile configuration – in the second morning run and, with very old tyres, lapped in 1m20.479 seconds (120.42mph).
With new rubber for the first afternoon outing he improved to 1m18.195 seconds (122.80mph) and then in the fourth and final session of the day, the young Mumbaidriver posted a quickest time of 1m17.811 seconds (124.54mph).
Ultimately placing him third fastest overall, only 0.188 seconds shy of the top of the timesheets, he did have a chance on his final lap of the day to post the best time of anyone. Producing the quickest first sector, the smallest of errors in sector two proved costly so he had to settle for third fastest.
"It felt quite frustrating not to have ended the first day fastest, we were on course to do that but I made a small mistake on my last lap and that made the difference", explained Shahaan, "It was a very good day for us overall but you always want to be quickest if you can. The car was working really well, we had a different engine from the one damaged at Snetterton and it all felt good."
Shahaan was never out of the top three all day on Wednesday, 14th March, and was actually second fastest in two of the day's four sessions, which were shared with slower cars from the InterSteps and Formula Ford championships.
Beginning day two with a best lap of 1m18.564 seconds (102.00mph), a session in which he sat atop the times for a large chunk of the 55-minute period until others elected to take new tyres, Shahaan improved to 1m18.395 seconds (102.22mph) in session two to go second quickest.
Session three proved pleasing and frustrating in equal measure. The Formula Renault 2.0 UK racer set consistently impressive times once again but was prevented from snatching the top spot when the session was red flagged. He concluded the run third fastest with a time of 1m18.417 seconds (102.19mph), only 0.1 seconds away from the head of the timing screens.
Rounding out the afternoon with another top two performance in the final run, posting his quickest lap of the day of 1m17.947 seconds (102.80mph), Shahaan concluded Wednesday third overall once again and within just over 0.2 seconds of the outright pace.
"Day two was good again for us, we were very consistent and always challenging in the top two or three so I'm quite happy with that", he added, "We're definitely moving in the right direction and the team is very happy with what we've achieved so far, that's always what you want to hear. It's been a good couple of days, now on to Brands Hatch next week!"
Officially timed pre-season testing continues on Monday, 19th March, and Tuesday, 20th March, at Brands Hatch Indy Circuit in Kent which will also be the venue for the first two rounds of the Certina Formula Renault 2.0 UK Championship on 31st March / 1st April.