It's breathtaking. Headed south from Saint Denis in Reunion Island on the N1 at speeds that remind you of your seat belt often enough, one is flanked by the mountains of Reunion Island to the left, and the deep blue Indian Ocean to the right. It's an awesome feeling, especially for those who do not get enough of either the mountain or the sea. The weather will hardly get very warm, but in any case you can seriously cool off in less than 30 minutes. Just scale up to heights of 800 metres or more, and there is a perceptible winding down in temperature, in fact its hill-station cool. A little further up, and it can get deceptively chilly, so please keep your windbreakers ready. No wonder they call this beautiful, scenic island—an overseas department of France—a place of micro climates. You can go from warm, to cool to very cool in a matter of an hour.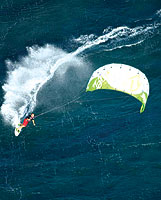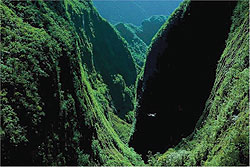 And if you were to be up on a parapente, you could go from 1,000 m to sea level in less than an hour. The sport is awesome, the cool breeze on your face wakes you up quickly, and the heights remind you that life is precious. As you fly like a bird in the sky, sometimes yelling a lot, and over the oceans and the hills, it is an experience to remember. For those not chicken-hearted, there is a variety of aerial calisthenics that your guide may offer you, including a mind-blowing fast spin at half tilt over the blue ocean. During some of the sharp twists and turns there will often be moments when you'll wonder whether life will be the same again. And of course the earth looks very round from up there.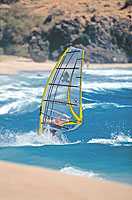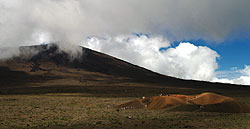 There are helicopter rides available in the island, and they could take you over the volcano—Reunion has active volcanoes which erupt gently every three to four years. In fact the highest points in Reunion that are over 3,000 metres, receive snow at times, usually on the barren top mountains from where the volcanoes emit their lava. Do not miss out on the volcano museum, it is a treat for all those interested in history, geomorphology, geography, geology, anthropology and sociology. If you love hiking, mountain climbing or biking, Reunion is the place for you. Given the cleaner air all around, energy levels are usually very high.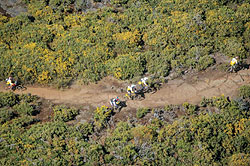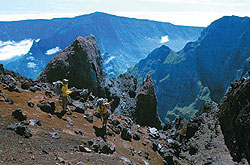 Reunion's traditional market is Europe. But with a downturn in some European economies, Reunion is softly promoting a Look East policy. "We are trying to sell Reunion with the help of tour operators in Mauritius to the travelling audiences in India and China," says Mr Stephan Ulliac from Reunion Tourism, responsible for the local market as well as the Indian Ocean region. At present a study has been commissioned by Reunion Tourism to gauge how many tourists from the Asian market can move into Reunion Island based on the current availability of hotel rooms, taxis, and other tourism infrastructure. In the short to medium term what Reunion Island will be looking at is that optimum numbers from upper middle and high-end travelling segments of Asian tourists that are visiting Mauritius drops by to this Indian Ocean getaway. Later they could look at expanding tourism for budget travellers as well.