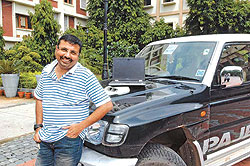 Mr Nishikant Dubey, M.P. from Godda in Jharkhand
"Am working for a 100-year-old plan for my constituency"
He talks straight from his heart. A keen observer of the political happenings in the country, the Bharatiya Janata Party M.P., Mr Nishikant Dubey, maintains a fine balance between his engagements in New Delhi and his Lok Sabha constituency in Godda, Jharkhand. The budding young parliamentarian maintains that it is the primary duty of every elected representative to look after the well-being of his constituency. He has earned the distinction of being one of the finest speakers who talks facts straight from his heart. That's why there have been many occasions when the party chose him to speak on some of the pressing issues concerning the country. A key strategist and a thorough planner, Mr Dubey told India Empire's Sanjay Kaw that in an era of communication revolution, both in terms of internet connectivity and mushrooming growth of 24 x 7 news channels, all political parties have failed to connect to the aspirations of the common masses
What message you derive from the results of the recently concluded Assembly elections in five states?
There have been drastic changes in Indian politics during the past 5 to 6 years. Earlier there was no awareness among the masses. Now people have access to internet, mobile phones and 24 x 7 news channels. It is through these channels of communication that people are forming their individual opinion. But all political parties seem to have failed to connect to the aspirations of the masses. Today, our youth is worried about itself. He or she does not want to take tensions any more. But at the same time the youth has started identifying himself/ herself with transparent institutions.

What impact do you think the Anna Hazare-led agitation against corruption had in these elections?
The agitation did highlight the menace of corruption in the country. It was due to this agitation that corruption became a central point in these elections. But whether it translated into votes, remains unanswered.

Do you think that coalition politics has played a role in changing the mindset of the Indian voters ?
The goal of all political parties is to eradicate poverty, address the problem of unemployment. But we do not see the commitment of any party to address to these issues in the Lok Sabha. The main reason for this is that people have started looking at these crucial issues with partisan politics, which is a very dangerous trend…Now, coalition politics has become a reality in Indian politics. It has both plus and minus factors. All regional parties want to address to the aspirations of their respective vote-banks. There is a total disconnect in the federal structure. What is required is a better coordination between the states and the Centre.

What you have to say about dynastic politics and rise of son Akhilesh Yadav ?
The Mandal agitation has changed the course of Indian politics. The dynastic politics has gone to the roots of our system. Today, the youth are treating ``Raja's'' as their symbols/ icons. This is a very healthy sign. When we talk about the rise of Akhilesh Yadav, he has grown on his own merit. Mr Mulayam Singh is still active in politics. The dynastic politics is played only by Gandhi's in this country. And, I am sure the roots of the dynastic politics will be weeded out of the system in the next 25 years. The loss of the Congress in Amethi and Rai Bareilley constituencies is a first step in this direction. In future, you will see our democracy will be youth-driven and mature. Nitish Kumar ji, Mamata Banerjee, Lalu Yadav ji and now Akhilesh—all have risen on their own steam.

How you rate Dr Manmohan Singh as the Prime Minister of this country ?
Dr Singh has not done justice to our system. He has no practical knowledge of things which are happening at the grass-root level. He is a bookworm. He lacks practical approach. He has become a directionless PM. There is a lot of disconnect between the people and the administration. But one thing goes in his favour. There is no stain on him. And he is a very humble person.

Under Dr Singh's leadership, the government has projected 9 per cent growth in the 12th Five Year Plan….
I don't think we can achieve this target. But even if we manage 7 per cent growth, it is a very good progress. But the main problem is that the growth is not reaching out to the end users. The divide between the rich and the poor is growing. We must ensure that the growth reaches out to the poorest of poor in the country.

What has been the growth index of your state ?
I must admit one thing that even after 12 years of the formation of the state, there is no future roadmap. And all political parties are responsible for this. And BJP is to be blamed more as it has ruled the state for a maximum period. We must prepare a vision document for the state.

What all you have done for your Godda constituency ?
I am working towards a 100-year plan for my constituency. We have already got sanctions for the National Highway, power plants, technical institutes, agriculture college, medical college and many other things.

What role you think the NRIs can play in various developmental activities ?
NRIs have always played a role in the country. They played a major role when we had been facing severe dollar-rupee parity. They helped us during 1962 and 1971 wars. But we should also create a cordial environment to attract more NRI investments. We should set-up a coordination desk between the states and the centre to facilitate NRI investments in social and infrastructure sectors. We should give them free access to invest heavily in health, education and power sectors.