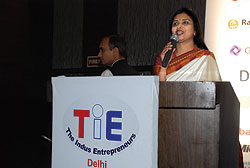 Ms Geetika Dayal, Executive Director, TiE Delhi-NCR
"Striving to create better positioning for NRIs and entrepreneurs"
She is one of the proud members who has been associated with The Indus Entrepreneurs (TiE) right from the beginning. Since its inception in 1992 in Silicon Valley, USA, TiE has emerged as the world's largest not-for-profit organization promoting entrepreneurship. TiE Executive Director (Delhi-NCR), Ms Geetika Dayal, says the TiE Network, which started with a group of successful entrepreneurs, corporate executives and senior professionals with roots in the Indus region, has now 57 chapters spread across 14 countries. With a membership base of about 13,000 people, including over 2,500 charter members, TiE has emerged as one of the largest pools of intellectual capital globally. Talking to India Empire's Sanjay Kaw, Ms Dayal said the primary aim of TiE is to foster entrepreneurs globally through mentoring, networking and education
What is the Indus connect of TiE?
Our Network was started by a group of professionals, with roots in the Indus region, way back in 1992 in Silicon Valley. That's why it is called The Indus Entrepreneurs.

What is the primary objective of TiE ?
Our mission is to foster entrepreneurship globally through mentoring, networking and education. And our philosophy is to generate and nurture our next generation of entrepreneurs. We are also dedicated to the virtuous cycle of wealth creation

What is the total membership of TiE?
We have a membership base of about 13,000 people, spread across 14 countries. For the past couple of years, the number of influential and successful business leaders has gone up to over 2,500.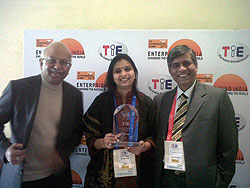 What is the basic criterion for becoming a TiE member?
Anyone can become member of our network. Our members are basically entrepreneurs or aspiring entrepreneurs, professionals from different faculties, students interested in networking with mentors and industry veterans and those who want to gain knowledge about their field of interest and learn from the stories of successful business tycoons.

It appears that your membership is more IT-centric…
That's not correct. We did start with a group of professionals who were from IT field. Many of our members are from IT sector. But over the years, our membership base has spread to different sectors. We have quite a good number of members from health and education sectors. There are members who are into retail, infrastructure and telecom sectors as well.

What type of events TiE holds every year?
In Delhi-NCR alone, we hold about 65 events every year. These include group discussions, seminars, workshops and mentoring clinics. We hold regular interactive sessions with successful entrepreneurs and businessmen. Every year we hold a global event, in which successful professionals from diverse fields participate. Very soon we will be organizing a huge event called ``India Internet Day''. Top professionals from IT and mobile phone sectors, from across the world will be participating in the event.

What is the success mantra of TiE?
We believe in ourselves. The spirit of entrepreneurship is imbibed in us. We do not want to earn wealth only, but we do believe in contributing back to the society. We have grown rapidly only because the energy and excitement that entrepreneurship fuels, is unparalleled.

Does Government support your activities?
We are a neutral network. That's why Government has also been supporting us. Government officials do participate at TiE platforms.

What is your take on the economic health of the country?
All of us are concerned about slowdown in the economy. We are also concerned about the growing inflation. In such a situation, we need to create a conducive environment for start-up ventures. We are also an emerging economy. That's why our drive for innovation is much higher.

What steps we should take to attract more foreign investors?
We should have a policy framework to create better positioning for NRIs and entrepreneurs. We should also create a single window clearance system.

What role you see of women entrepreneurs in the business development initiatives?
Many women are playing a critical role in the entrepreneurial arena. A successful women not only transforms her family, but also mentors entrepreneurship in different fields. Today, we have three strong women as chief ministers of important states. We have a woman as the President of the country. The UPA chairperson is a woman. And in Lok Sabha you have women holding positions of Speaker and Leader of the Opposition. It is high time we value the power of the women in this country.

What is your take on the political climate of the country?
By nature we are extremely optimistic. Sometimes hardships and challenges do create hunger to score better. That's precisely what's going on in Indian politics.

What role do you see for TiE in building Indian economy in the coming future?
We will have a tremendous role to play in the success of sustainable business models. Many people are quitting jobs to get into entrepreneurship. And we at TiE are nurturing and shaping future entrepreneurs.