From an ordinary party worker to the entry into Lok Sabha, please throw some light on your political journey…
I believe I had leadership qualities right from the beginning. From Class IV onwards, I was the monitor of my class. When I joined the Corp. of Signals in the Army, I was the leader of my squad. I left Indian Army in 1982 and started my own cottage business. I started living in an unauthorized colony in Delhi's Vijay Enclave. I first became the general secretary of the unauthorized colony and later became its president. Soon I became the president of the Federation of Unauthorised Colonies. It was in 1997 that I got a Congress ticket to contest the municipal poll from Dabri ward. I won the election. Again, in 1998, I got elected to the Delhi Assembly from Nasirpur seat. I won the election by a margin of just 1,446 votes. In 2003, I won by a margin of 5,600 votes. In 2008, I won the Dwarka assembly seat by 14,780 votes. Finally, in 2009, I won the West Delhi Lok Sabha seat by a margin of about 1.28 lakh votes. It was after a gap of about 25 years that the Congress managed to win this seat.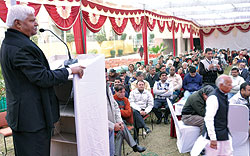 What was the reason that you managed to win this Lok Sabha seat so convincingly?
I am accessible to one and all. People had seen my work in the area. And it was my sheer commitment towards my work which helped me to win this seat. Also, I was the member of the DDA for about 10 years. I was thoroughly involved in preparing the New Master Plan for Delhi. This, work of mine had a very positive impact on my voters.

What changes you see in the politics of 1990s and that of 2012?
Today, politicians have become greedy. Earlier, people used to visit politicians. Now, people want us to be at their door-steps. Whether it is a civic issue or any policy-related problem, people come up with all sorts of problems to me. That's probably because they have immense faith in me.

Has the approach of the voters changed over the years?
Now, people no longer vote for slogans. They want good governance. They want quick results. Today's voter cannot be taken for granted. All voters have become politically very sound. There is no bulk voting now. Today each voter thinks a hundred times before casting his vote.

You say voters have become politically sound. But you don't see sound / quality discussions in Lok Sabha. Why ?
I fully agree with you. We need to raise the bar of discussions in Lok Sabha. Whatever the issue is, MPs should discuss it freely and with all fairness. But our Parliament is plagued with the walk-out culture.

Do you think the quality of the people elected to the Parliament is not up to the mark?
No. I do not agree with this. What I mean is that all MPs should be given enough time to discuss all issues. Let people know how Parliamentarians are debating these issues. Today's politicians are short-tempered. Many do not have any roadmap or vision.

What is you take on the outcome of the recent Assembly elections in five states?
People want stability. They look at the candidates as well as the parties they feel are capable of forming a stable government. That's precisely what happened in these elections.

Do you think the caste-based politics has gone deep into our system?
The caste-based politics has plagued our entire system. We need to get rid of this disease. Time has come when we should focus more on issues related to education, health care, hygiene and human development. I am also against caste-based reservation. We should give reservations to those who are economically very poor.

Do you think the rise of regional parties has led to an imbalance at the Centre?
The manifestos of both regional and national parties are different. I personally think that the Centre should be run only by the national parties. If there is a gap between the regional partners in the states and the national parties at the Centre, it is a very dangerous situation for the country. There should be no clash of interest between the states and the Centre.

What do you think about the Anna agitation?
When Anna ji launched the agitation, it was focused on corruption. We all supported it. But now Team Anna has distracted from its path. It is holding gun from the streets on all Parliamentarians. This is not an acceptable situation. In my view, the Anna factor has dried off.

See corruption is one issue. But your government at the Centre has failed to bring down prices of essential commodities …
We have made all possible efforts to bring down the prices of all essential commodities. We have taken several measures to improve upon the financial health of every citizen of this country. The spending power of each individual has gone up. Majority of the people are now going for branded items. The bank balance of people has also gone up…

You don't seem to be using latest technologies to reach out to your people?
I feel that Governments cannot be run by SMSes and on the internet. Our 80 per cent population lives in villages. And 95 per cent people in these villages do not use these mediums. I believe that a real politician should have direct access to his people. That's why I have always been saying that we should involve grass-root level politicians in the day-to-day governance.

How does Mahabal Mishra share his time with his family?
A real politician has hardly any time for his family. For him, his constituency is his family. And my family fully understands this.