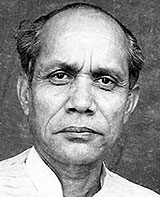 Mr Ram Sundar Das, M.P. from Hajipur
Parliamentary seat and leader of the JD(U) in Lok Sabha
"The young have to rebuild this country"
He is respected by one and all in the political circles for upholding high, old-school standards. The 80+ politician from Bihar receives each and every guest in his Lutyen's bungalow with lot of respect and dignity. The Lok Sabha M.P. from Hajipur constituency, Mr Ram Sundar Das, who once held the office of the Chief Minister of Bihar is now the leader of the Janata Dal (United) in the Lok Sabha. In an interview with India Empire's Anjay Sinha, Mr Das was of the view that majority of the political parties were only power-hungry as they were not following any ideology
Why do we sense that there is political instability in the country?
Earlier, each and every political party had an ideology. Now, only a few talk about ideology. Majority of the parties are power-hungry. The country is facing political instability as majority of the parties are without any ideology. We have a peculiar situation at the Centre. The government is run not only by the Congress, but by several other coalition partners.

What role you see of the regional parties at the Centre?
With each passing day, the regional parties are getting stronger. The politics, in a way, has become static. The formation of any Government has become a mere formality. Now, two or three political parties come together to form the Government.

Your party is also running the Government in Bihar with the support of the BJP… What you have to say on this?
The Nitish Kumar-led Government has shown the country how one should run the state administration. We have taken effective steps in the field of education, healthcare and infrastructure development. We have been successful in bringing down the crime rate in the state. Now, girls can move freely. This was not the case earlier. There has been overall development in the state, that too without any significant financial help from the Centre.

What has been the most significant achievement of Mr Nitish Kumar?
Mr Kumar worked on several fronts. We gave 50 per cent reservation to women in state panchayats. A large section of people had been marginalized in previous regimes. We tried to rope in people from all walks of life in the day-to-day functioning of the Government. Those who had dissociated themselves from all political affairs, are now actively participating in various political activities. That's perhaps one of the major achievements of Mr Nitish Kumar.

What is your take on the Anna agitation?
Team Anna should know where to draw the line. Branding all politicians corrupt is not on. They should not use un-parliamentary language. What right does anyone have to term all politicians as thieves and murderers?

Back to Bihar. What role you think the NRIs can play in the development of Bihar?
We have time and again requested NRIs to come forward and invest in our state. We are trying at different platforms to bring in good investors. NRIs are welcome to invest in any sector. We will provide them any help / assistance they would require in any venture in our state.

Many parties are focusing on youth-centric politics… Your view…
The country belongs to everyone. My generation has now retired. It is high time for the young ones to come forward in active politics. After all, young people have to rebuild this country.