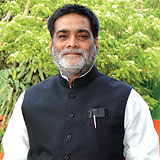 Mr Ram Kripal Yadav, Rashtriya Janata Dal M.P. in Rajya Sabha
"NRIs feel Bihar is unsafe for investments"
He is worried about the way things have gone in the Budget session of Parliament. A staunch supporter of Mr Lalu Prasad Yadav, RJD M.P. in the Lok Sabha, Mr Ram Kripal Yadav is also critical about the way Team Anna had been branding all politicians as "corrupt, murderers, looters and rapists." Talking to India Empire's Anjay Sinha, Mr Yadav said he was not only pained, but also worried over the recent developments in the Indian Army
What are your views on the on-going Budget session of Parliament?
We witnessed many unfortunate things in this session. It was for the first time in India that the Union Railway Minister was made to resign soon after presenting his Rail Budget. This is the most unfortunate thing for any democratic set-up. It would have been better if the minister was made to resign after the Budget session. The second unfortunate thing was the way things are going on in the Indian Army. The Army Chief's bribery charge and his explosive letter to the Prime Minister was a matter of concern for one and all in the Parliament. And the most unfortunate thing was the way Team Anna had been branding all politicians as "corrupt, murderers, rapists and looters''. There are few bad elements everywhere. But that does not mean we should put all in one bracket. That's why I along with other members moved a privilege motion against Arvind Kejriwal.

Do you think the quality of debates and discussions has gone down in Parliament?
Yes I do think so. There were times when only meaningful debates were held. Now it has become a formality to corner the Government on each and every issue. But these are all democratic ways to express one's views. There are many top leaders in Parliament. But there are a few bad elements also. It is high time that we take measures to ensure that people involved in heinous criminal cases are not allowed to enter Parliament.

But the same thing is being said by Arvind Kejriwal. Then why this hue and cry against him?
Mr Kejriwal's thinking is not good. He is terming all politicians as criminals. He has been accusing all members of Parliament. Team Anna wants a select section of people to sit over the heads of elected people. This is unacceptable. They should make specific charges against specific people. They should look into politically motivated cases as well.

Do you think that Anna movement has lost its steam?
This movement has lost its direction. That's why it is losing the support of the people as well.

What is your reading of the recent Assembly results in five states?
Each state has its own set of issues and problems. In Punjab and U.P, regional parties were clear winners. But one thing was clear in these elections—the votes were not cast on the national issues. Also, people now do not vote for slogans. They want good governance.

What is the role of caste-based politics is India?
The caste-based politics has always been a major factor in Indian democracy. And it will remain so in future as well. There is an imbalance in our society. The poor have been neglected for ages. That's why caste-based politics has become a major factor in our system. How do you rate the performance of Dr Manmohan Singh as the Prime Minister of this country? He is an honest man. He is also a noted economist. But there have been some problems in the UPA-II government. The cases of corruption against some ministers have tarnished the image of this government. Also, the floor management of UPA-II has not been up to the mark.

Now tell us about the performance of Mr Nitish Kumar in Bihar?
What you see on television and read in newspapers is totally different from what is going on at the grassroots level. When we were in power, we used to spend about Rs 10 crore on advertisements. But Mr Nitish Kumar has been spending about Rs 120 crore to Rs 130 crore on publicity every year. He is controlling the media. Press Council of India's chairman Justice M Kathju also criticized him for gagging media persons. Mr Kumar had promised during his election campaign that he would provide better law and order and curb corruption in the state. But the law and order has deteriorated during his rule. There is corruption at each and every level.

But there is an impression that Mr Nitish Kumar has brought development in the state?
This is another myth created by the media. He has not introduced any new scheme. Only Centre-sponsored schemes are going on in the state. He has failed to spend the entire planned budget this year.

Many NRIs feel it is not safe to invest in Bihar? Why?
The law and order is a major problem in the state. There has been no effort to improve infrastructure in the state. There is no electricity. There are no quality hospitals. That's why the recent NRI summit in Bihar was a total failure.

People from Bihar and U.P. had been facing problems in Maharashtra. Why?
There is a mindset against Biharis. We are a poor state. That's why we have moved out to different parts of the country to earn our livelihood. Many of us have settled outside the country. We have made a mark in different fields. It is unfortunate that we are being targeted in our own country. Even Mrs Sheila Dikshit had once passed remarks against us. We all should condemn such things. And I request all successful NRIs to invest in Bihar. After all it is their motherland.

Back to politics. The regional parties have grown over the years. Why?
The regional parties are getting stronger as the Centre has time and against failed to meet the aspirations of the regional forces. There is an imbalance between the Centre and the states. That's why regional parties are getting stronger. The stronger the regional parties become, the better it is for our country. I strongly believe that regional parties will become stronger in near future. This is perhaps the beginning of the downfall of the national political parties.

What you have to say about dynastic politics?
The dynastic politics is not good for any democratic set-up. But there have been situations where people have accepted dynastic politics. This has been going on in both national and regional parties.

Last question. Do you see mid-term poll?
No. I do not see any mid-term poll in the near future.